TransMemory Pro USB 3.0 Flash Drive Delivers Secure 200+ MB/s Read/Write Speeds
---
---
---
Gabriel Roşu / 7 years ago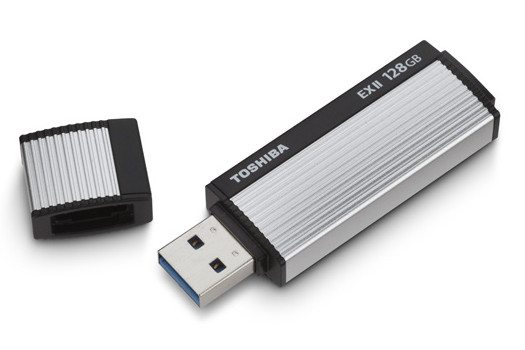 Toshiba has introduced a new TransMemory Pro USB 3.0 Flash Drive having large storage capacity of up to 128 GB which also offers secure ultra-high-speed data transferring and sharing.
"Featuring the best performance, highest speed, and largest capacity of any Toshiba USB flash drive to date, this storage device offers blazing fast data transfers while ensuring that all digital information is securely protected," said Maciek Brzeski, vice president of product marketing and development, Branded Storage Products, Toshiba Digital Products Division. "We wanted to create a better on-the-go storage solution."
The TransMemory Pro USB 3.0 Flash Drive is said to come with a build-in security software and encrypted password protection in order to provide maximum security, as well as having huge transfer rates of up to 222 MB/s and write speeds up to 205 MB/s. Another key feature stands in creating user specific private and public partitions, which can be password protected for safeguarding purposes.
With its plug-and-play feature, ultra-fast capabilities and security provided, the TransMemory Pro USB 3.0 is perfect for people who need a secure and convenient mobile storage solution to keep their documents, data and digital content secure and on-the go. The industries targeted by such a solution consist of business, sales, photography and advanced users.
Having a long-term durability ratio, a compatibility with PC and Mac environments and coming in two sizes, a 64 GB and 128 GB version, the TransMemory Pro USB 3.0 Flash Drive is said to be the best solution to suit today's demanding needs.
Toshiba's TransMemory Pro USB 3.0 Flash Drive is available at select retailers for a price of $129.99 for the 64 GB version and $199.99 for the 128 GB version. More details of availability and where to buy can be found on Toshiba's website here.
Thank you TechPowerUp for providing us with this information
Image courtesy of TechPowerUp