18-Karat Gold Apple Watch to Cost A Small Fortune
---
---
---
Chris Smith / 7 years ago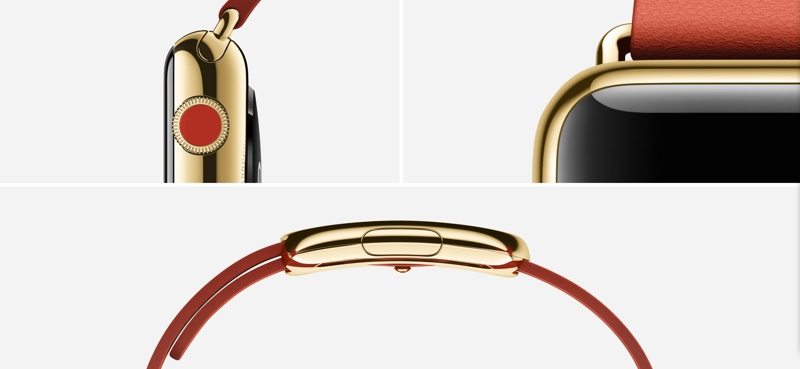 Gold Apple Watch
Ok, I'm heading out for a conference. Designer leather wallet, check. Keys to the gold Bugatti Veyron, check. Wayfarer Leather Ray Bans, check. the only thing I'm missing now is an 18-karat gold smartwatch device, isn't it obvious?
For those looking to splurge a little, your fashion prayers may be answered sooner rather than later with an 18-karat gold Apple Watch on the horizon, complete with a Red Modern Buckle band.
TechCrunch talked to some "jewelers familiar with the material" about these Apple Watch plans and reported:
"Chad Rickicki, a watch expert in Pittsburgh, Pennsylvania said that a case the size and shape of the Apple Watch in 18 carat gold would cost about $600 to make. The rest — the electronics and markup could double that price.

That doesn't mean that all of the Apple Watches will rest in the rarified air of haute horlogerie. The lower end sport versions will start at $349 and presumably the standard versions, simply called Apple Watch, will receive a premium over that. The Edition watches, however, are expensive because gold is expensive, even at 18K and intermixed with Apple's alloys."
We're told that the price mentioned in the title is only a rough estimate and there is no actual release date set for this piece of kit.
However, if a thousand dollar watch isn't quite your style, Apple is reportedly working on cheaper alternatives to the stock Apple Watch. Configurations such as the Apple Watch Sport is a popular choice, said to replace the normal sapphire iWatch screen with an ion-x glass and a lightweight aluminum frame.
The Apple Watch will be launched in 2015, starting at $349 USD.
Image courtesy of MacRumors