1996 Was The Golden Year… For Gaming!
---
---
---
Peter Donnell / 10 years ago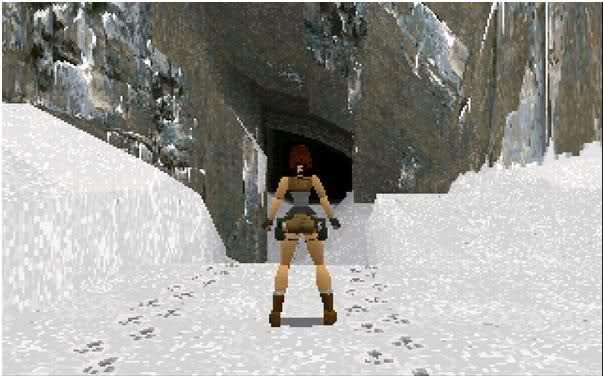 1996, the year football came home and Gazza thrilled at Wembley; the Spice Girls hit number one with Wannabe, Oasis played Knebworth; the nation was drinking alcopops, Take That and Charles and Diana went their separate ways and a buxom British icon called Lara Croft entered the homes, lads mags and imaginations of millions of Brits. Maybe that's why 1996, the year the first ever Tomb Raider was released, has been voted the most memorable year for gaming by British gamers.
Retailer GAME asked 2,000 self-confessed console and PC aficionados to consider the biggest landmarks in the history of video gaming with 1996 voted the top vintage year. It was the year that saw Lara Croft become a household name and the release of seminal titles such as FIFA 96 (the first in the most successful football franchise to use real player names), Resident Evil, Tekken 2, Crash Bandicoot and Super Mario 64. Meanwhile the Nintendo Wii (15%) topped the poll as the best ever home gaming device of all-time ahead of the Playstation 3 (9%) and Xbox360 (10%) in a field of 25 including consoles and PCs such as the ZX Spectrum and Atari 2600.
Runner-up nostalgic gaming year was 2002, the year Rockstar games shocked and delighted gamers worldwide with Grand Theft Auto: Vice City. In fifth place was 1980, the landmark year Space Invaders appeared in homes on the Atari 2600 console and PacMan debuted in arcades causing mania, bunked school lessons and pocket money shortages among British teens.
In tenth place was 1975, which despite being beyond living memory for most gamers and a world away from 3D graphics, motion control and online gameplay, saw the release of the first ever home video game Pong; the bat and ball that started it all.
Top five years for gaming:
1996 (14%): Tomb Raider and Crash Bandicoot on the PlayStation and Nintendo 64 launched. We were singing along to Baddiel and Skinner's Three Lions and Brit Pop was at its height
2002 (13%): Halo and Elder Scrolls III on the Xbox and Grand Theft Auto Vice City. BBC 6 Music arrived on our airwaves and Arsenal won the FA Cup
1991 (12%): Street Fighter II and Super Mario World on SNES and Lemmings was out on the PC. It was the start of the Iraq war and the year Bryan Adams made history when (Everything I Do) I Do It For You entered its 15th successive week at number one
1985 (11%): Super Mario Bros, Duck Hunt and Donkey Kong Jr on the NES and Ultima IV and Oregon Trail on the PC. It was the year Eastenders went on air and the mullet was considered the most desirable hairstyle for men and women alike
1980 (10%): Pac-Man and Centipede in the arcade, Space Invaders on the Atari 2600 and Zork on the PC. It was the year John Lennon was shot dead and David Bowie was at number one with Ashes to Ashes
Craig Ting, Community Manager at GAME said: "It's been brilliant fun looking back through the archive with the gamers of the UK and reminiscing on what a corker of a year 1996 was. It's great to see that the classic games of yesterday strike a chord just as much as the latest releases.

We know how passionate the gaming community is and it just goes to show that no matter how old or new and advanced a game or console is, each individual has a strong attachment to their favourite games and the memories associated with them. We look forward to continuing to fuel that passion and share many more gaming moments into the future. With all the amazing developments in the pipeline for 2013 and beyond, there are likely to be many more golden years to come."

Tom Butler, Social Media Editor for the UK's largest games website, IGN.com commented "When you look back at some of the iconic titles released in 1996, it's not hard to see why it topped the poll. With Tomb Raider, Resident Evil, and Crash Bandicoot, Super Mario 64, Pokemon Red & Green, Duke Nukem 3D, Diablo, and The Elder Scrolls II all out in the same year – 1996 was truly a vintage year for gamers."
The top ten consoles of all time
1. Wii (15%)
2. Xbox 360 (10%)
3. Playstation 3 (9%)
4. Playstation 2 (8%)
5. Sega Mega Drive (7%)
6. Playstation 1 (6.5%)
7. Super Nintendo (6%)
8. Game Boy (5%)
9. N64 (4.5%)
10. Nintendo DS (4%)
I'll sum this one up, the Wii at the top? really! Well on that bomb shell…