MSI Infinite A 8th Gaming Desktop PC Review
---
---
---
Mike Sanders / 5 years ago


A Closer Look
---
Exterior
In terms of the design, I really love this chassis. It has a nice angular design which really sets off the features. You may want to make a particular note of the glossy panel to the front of the system. While it looks a little uninteresting when the system is switched off, it gets massively more impressive when you turn it on!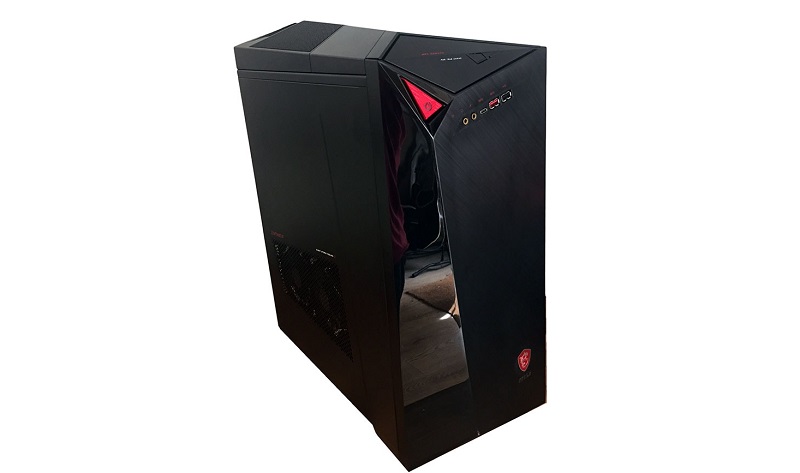 The top of the case again has the nice angular design. You will note the large black mesh area which is essentially a large vent at the top of the system. In addition, you also have a carry handle to the rear which feels nice, strong and durable.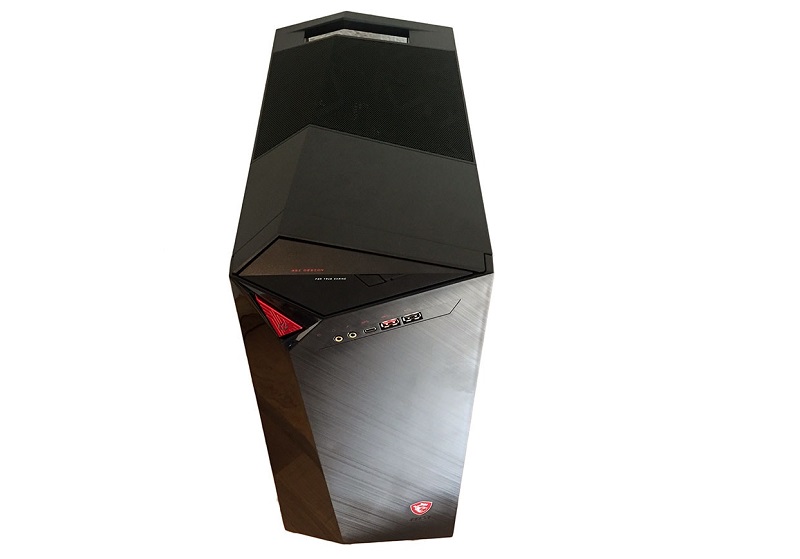 The front of the case has a great selection of connectors including a USB 2.0, USB 3.0 and a USB-C input. The latter of which, although getting more common, is still relatively unusual for a front tower input. You will also find a nice large red power on button with a smaller reset switch top centre. You also have some nice understated branding in the area.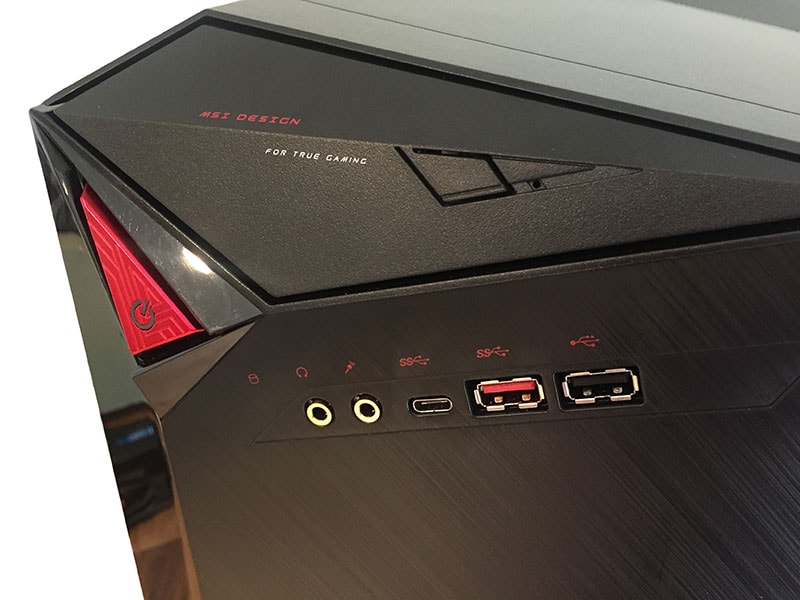 A closer look at the top rear of the chassis highlights the carry handle and that nice vent covering. The angled design may also, at least in terms of our photographs, look clearer and more stated.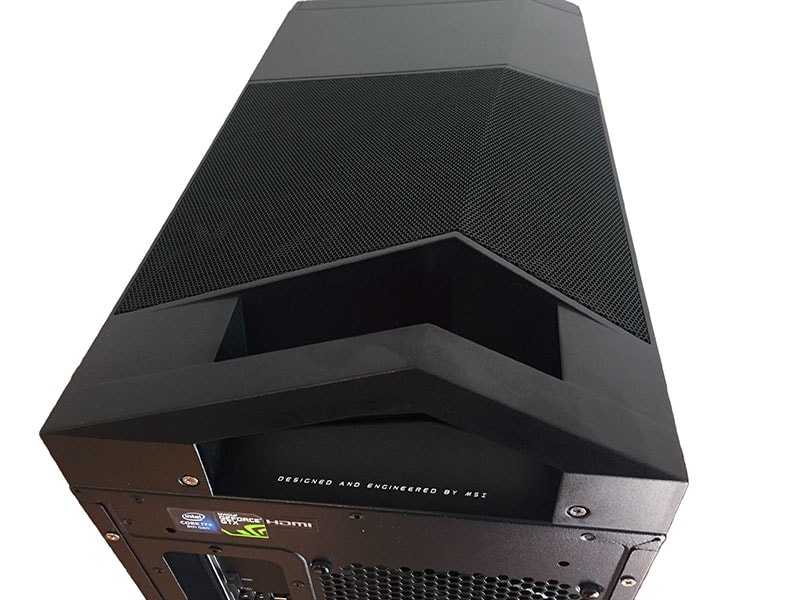 It's a small touch, but the working to the rear of the case (underneath the carry handle) can see seen clearer below. It's a testament to understated branding. This might be an MSI system, but they're not screaming it at you. They're gentle whispering it in your ear.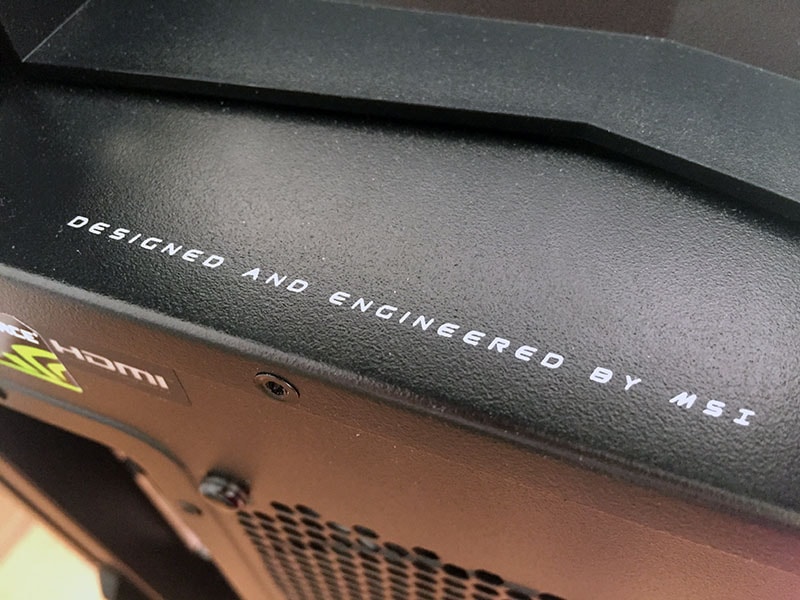 The rear of the case is well organised and again is well designed. It sounds crazy, but even the exhaust vent looks good and sleek. In terms of design, this chassis has no weak points as far as we can tell!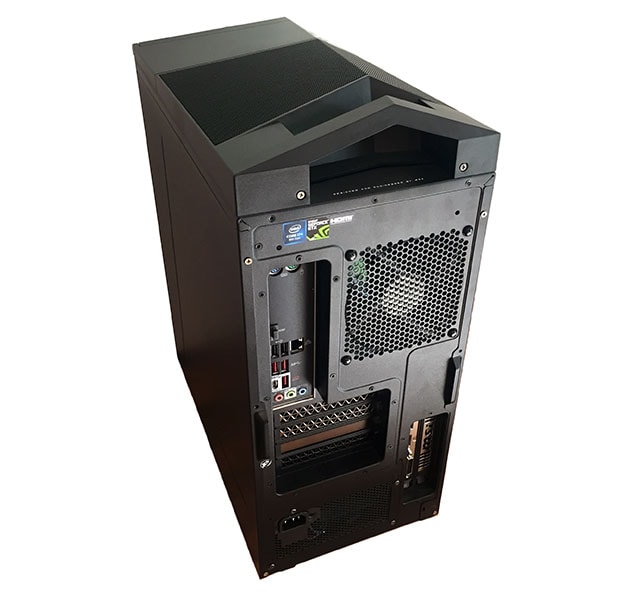 A look inside!
If the outside of the case is for looks, then the inside is all business. A sleek black design can be seen throughout. In terms of MSI components, they're certainly sticking to their guns here!
From a design aspect, this looks brilliant. The cable management is top notch with no a single one out of place or notable. In addition, the panelling areas give a nice compartmentalised design. Bear in mind though, this system has MSI sync lighting, so prepare for this to look massively better when the light show begins!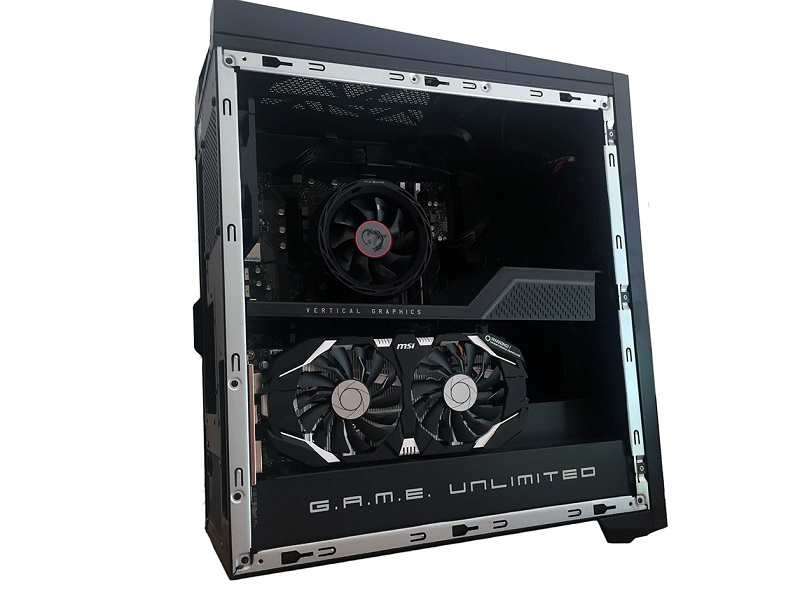 This system has an upwards mounted Nvidia 1060 GPU. While vertical mounts are a little more common these days, they are still relatively unusual and in terms of looks, they're really fantastic when done well. In addition, though, this should also help keep the exhaust venting at an optimal level. Particularly if you opt for the metal side panel which vents directly matching the GPU.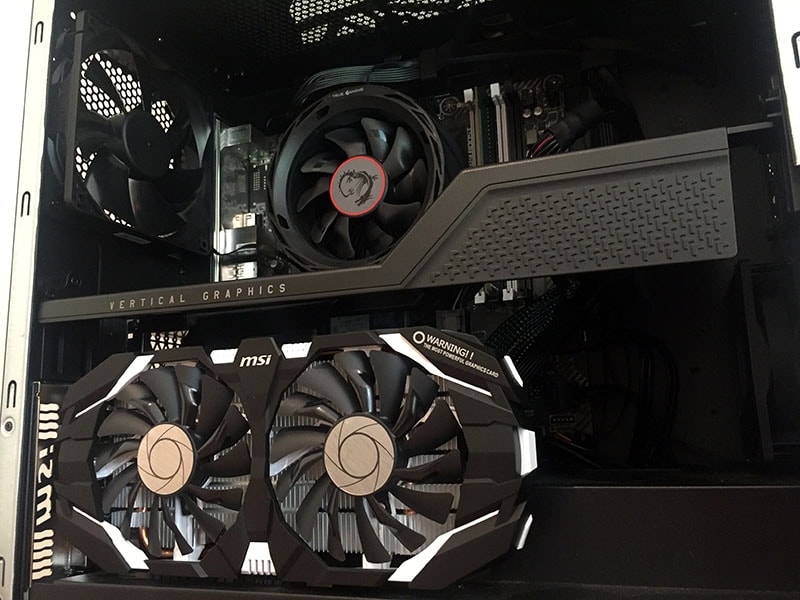 The graphics card itself has a fantastic design. One that really goes to suit the overall design of the system. MSI has clearly put a lot of effort into this build to make it a perform as impressively as it looks.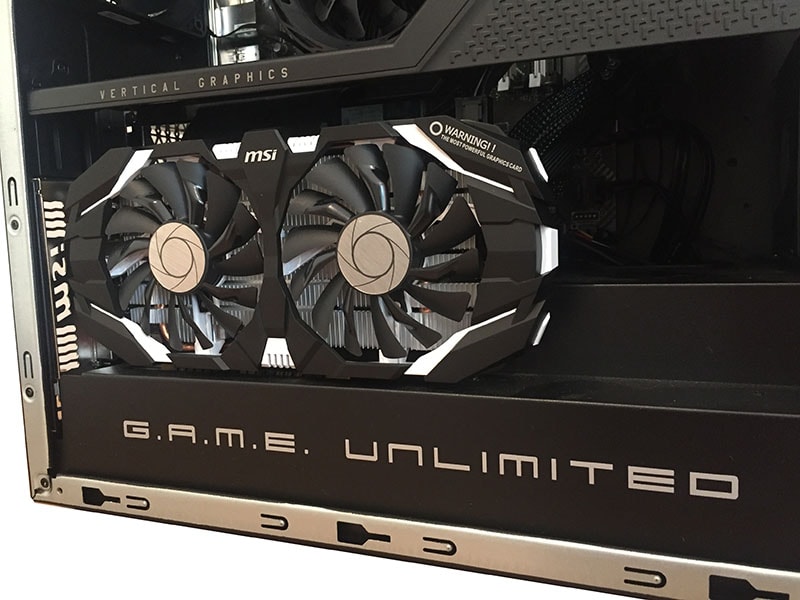 A closer look in the top half of the system reveals the CPU cooler, motherboard and exhaust fan. In terms of design, this again really fits the remit of the overall design.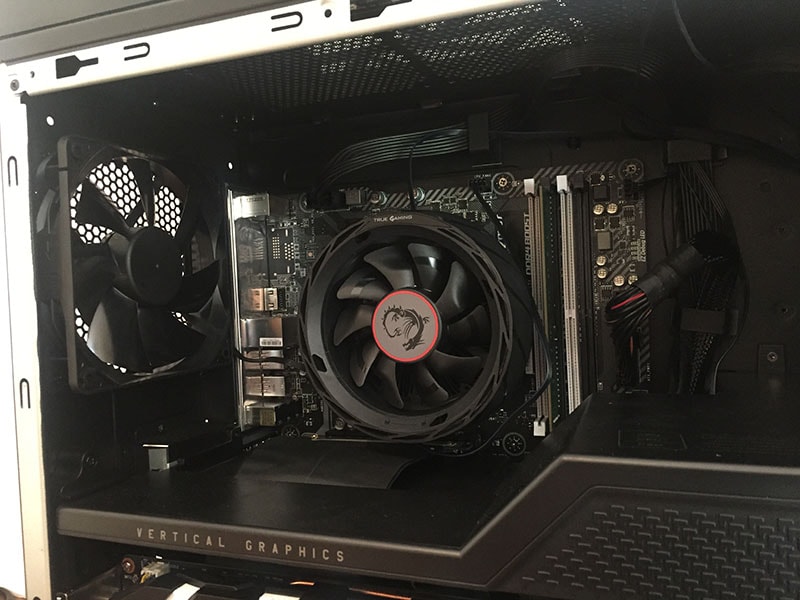 Despite how it appears in the images, this is actually quite a beefy cooler. Given that Intel processors don't generally tend to have too many problems in terms of heat though, this should more than suit the job at hand. Perhaps even a little overclocking.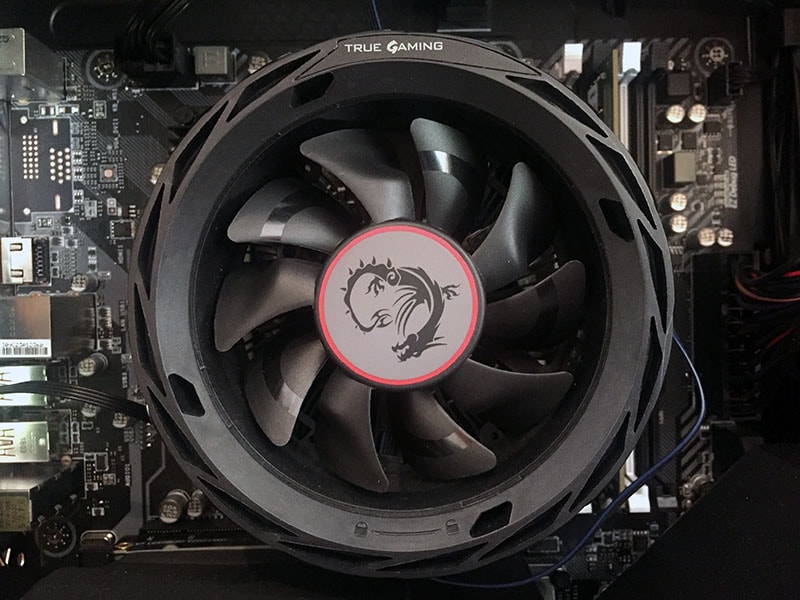 In terms of the design, we can only find one caveat. The RAM, this system built has 1 slot of some of the most generic, boring looking RAM out there. It's a real pity that they couldn't have put something in a bit prettier, let alone the fact that it is just 1 single stick. Now, the cooler could very likely cause some issues in terms of RAM clearance, but that doesn't really excuse this. I think you would be able to get a decent looking set of RAM in here with no problems.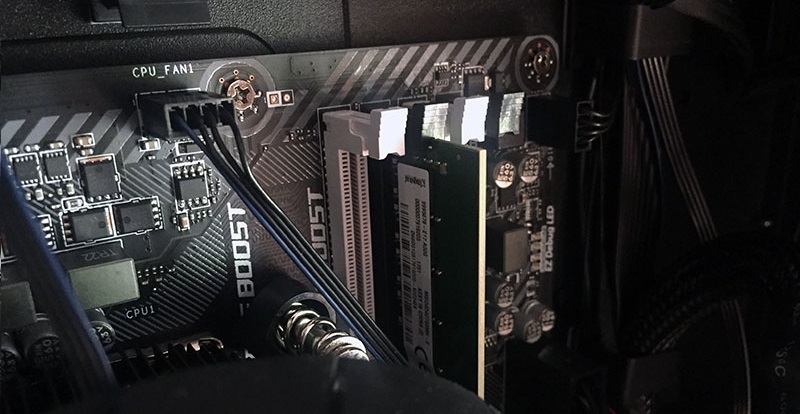 Lighting
If you think that this system looks good so far, you ain't seen nothin' yet! Once you hook it up and the power goes on, the light show begins. RGB listing on a system or component is always a subjective matter. Some like it, others don't. In this regard though what you have is nice, bright, vivid, but also dare I say understated.
Remember as well that all of this is compatible with the MSI sync which can be controlled in great detail from the pre-installed application on the system. From there you can set the colour, patterns, brightness or even switch it off. Why would you want to do that though when it looks this good!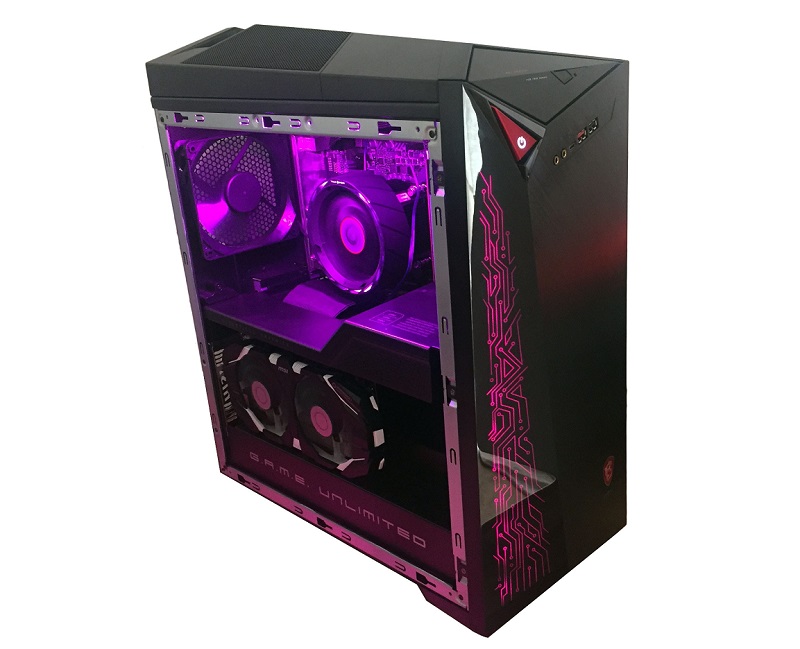 The front of the case is a particular highlight with that circuitry style lighting. This lighting is set slightly behind the front to give a really nice visual effect. Even the most ardent haters of RGB lighting will have to doth their cap to this.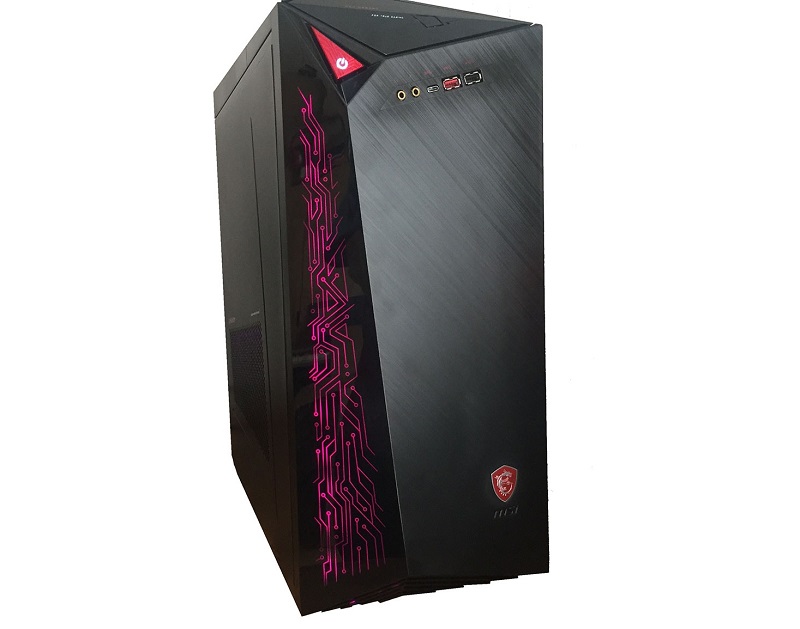 The interior lighting is conducted by the cooler. With the panelling and surround though, this gives a really nice effect to the overall build of the system.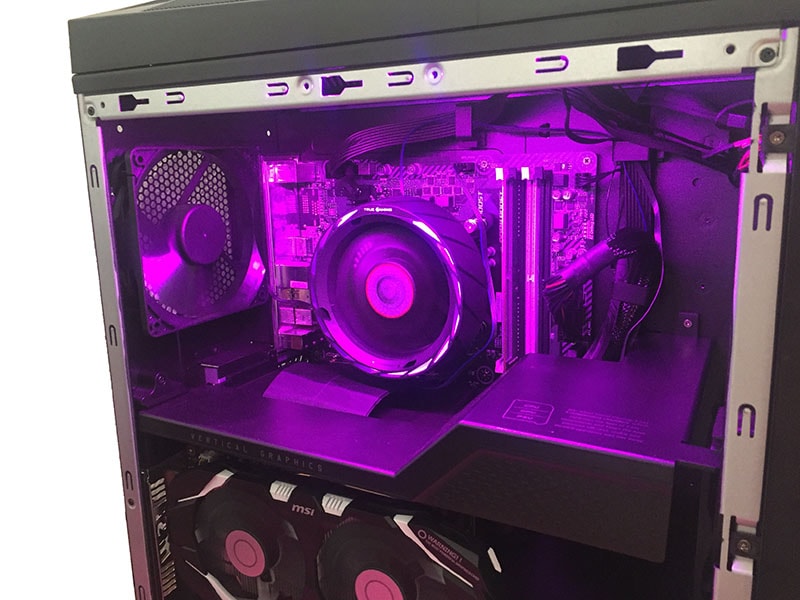 Design Hits It Out Of The Park
In terms of overall design and presentation. This system is nearly faultless. It certainly looks fantastic, how will it manage with our performance tests though? Let's find out!