3D QLC Yields Much Lower Than Predicted
---
---
---
Samuel Wan / 4 years ago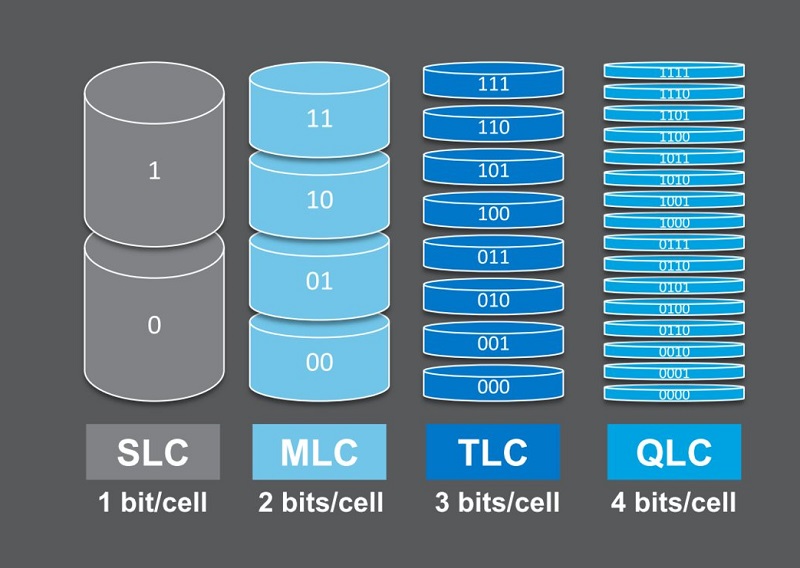 3D QLC Yields  Reportedly Holding Back Mass Market Launch
As a silicon product, NAND faces the same challenges processors face in terms of shrinking lithographies. In order to get around the imitations, memory firms have developed new techniques. Chief among them is the move to QLC and 3D NAND to build and improve density. Unfortunately, it looks like that there is an industry-wide roadblock to 3D QLC. The new report suggests it goes beyond any one manufacturer. In fact, the delays are due to low yields and are slowing down the adoption of 3D QLC, potentially leading to price hikes.
When 3D NAND launched, the goal was to bring improved density. By building memory cells tall instead of wide, you can fit more per chip. QLC aims to solve the density problem in a different way.  QLC improves density since you can fit more bits (data) per cell compared to TLC and MLC. The problem with both is that the complexity of both technologies means that has been trouble rolling them out. Once you combine both, the challenges start to snowball.
NAND Yields Industry-Wide Problem
According to the report, the yields were already a problem with 3D TLC. However, the magnitude of the problem is greater for 3D QLC. QLC is tough since the memory cell must store 8 bits. Due to quantum tunnelling, the quality of the cell has to be higher. The problem with it is that going 3D hasn't been enough to solve the problems with QLC SSDs. The problems with yields also appear to be fundamental. Yields are reportedly a problem at Samsung Electronics, SK Hynix, Toshiba/ Western Digital and Micron Technology/Intel, basically the entire industry.
With 3D QLC yields down, we can expect prices to go up. At this point, it doesn't look like the new NAND is ready for prime time. With low yields, more dies per wafer must be diverted from SSDs to things like USB drives. This cuts into supply for SSD NAND, potentially raising prices. We may see a situation similar to the Intel 14nm to 10nm transition, where the low yields in the new technology cause shortages of the current generation, bumping up costs.