A Day With the Roccat Cross Headset
---
---
---
Peter Donnell / 4 years ago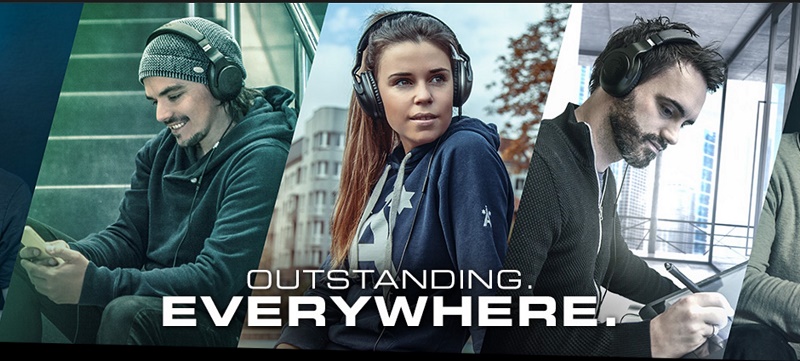 Roccat has worked hard over the years to deliver many great headsets for desktop gaming, and in recent years, they've even pushed into the mobile gaming market with some of the best in-ear headphones/headsets on the market today. From their award-winning headset ranges, Roccat is now set to become that master of all platforms with the Cross, a multi-format gaming headset that's not only versatile when it comes to the platforms you play on, but as versatile as your day-to-day life.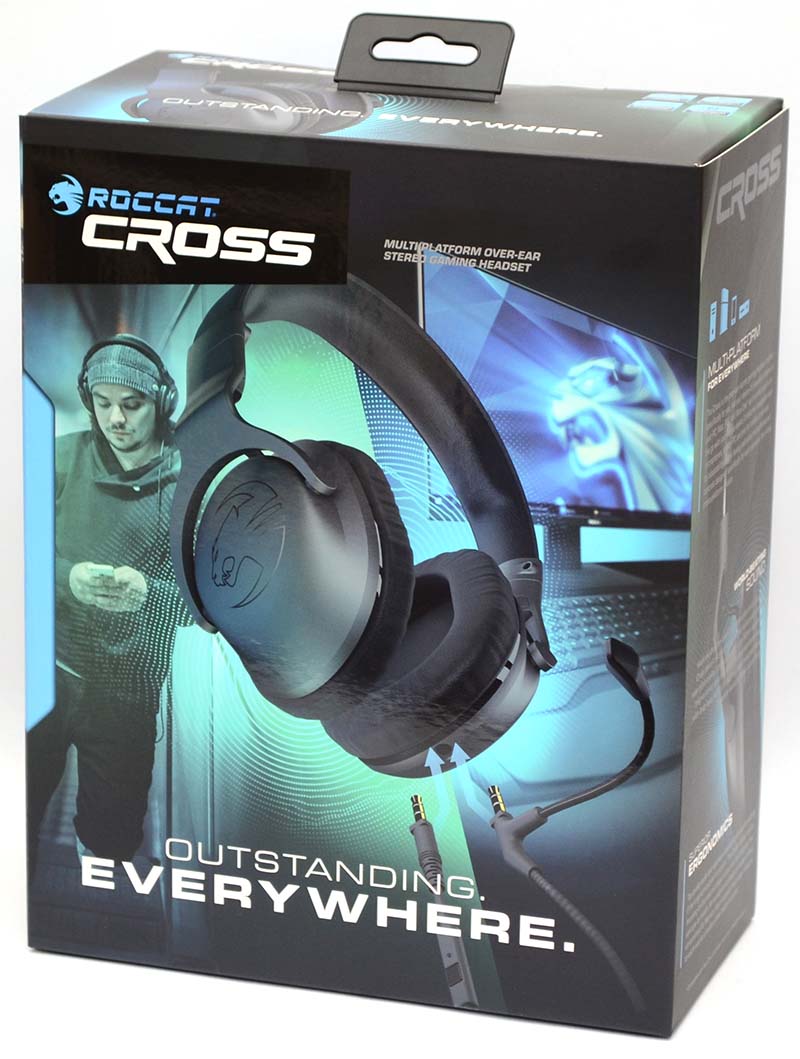 "As gamers ourselves, ROCCAT® understands that times have changed and gaming has evolved. Gaming has gone multi-platform and become ubiquitous. Gamers want a refined, fluid experience that they can enjoy everywhere rather than awkwardly swapping between expensive peripherals that are limited to a single device. They want one single headset that replaces all of their other ones – one headset for everything, with nothing else needed. That's why we developed the Cross specifically for YOU, not your device. The Cross is the multi-platform over-ear stereo gaming headset that's equally at home on your PC, Mac, PS4 and Xbox One* as it is when you're on the go with your mobile device. It's the headset that's outstanding, everywhere." – Roccat
9 am – TIME TO START WORK
It's Monday morning and I step into my home office. My Skype is stacked with notifications for work, it's a nightmare picking through them all and you can bet that the chimes of a few Skype calls will be ringing within a few minutes of me grabbing my first coffee of the day.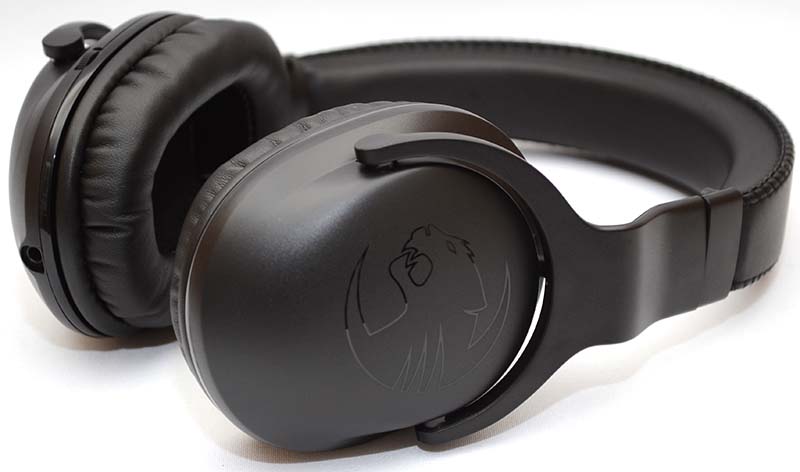 I grab the Roccat Cross, hook it up to my PC and take my pick of audio cables to suit the task. It comes with a 4-pole 3.5mm cable that's great for mobile use and consoles, but also a much longer dual 3.5mm cable that's perfect for us on desktop systems. There's small boom microphone while is uniquely mounted right on the jack plug, so no longer do I have the burden of a fixed microphone on the headset or have to go looking for both a cable and the microphone.


Paired up in Skype, the headset works perfectly straight away. The microphone is responsive and gives me great chat audio for chatting with the eTeknix team about today's upcoming schedule.
The cross uses a closed back design to the ear cups, so it does a great job of blocking out background ambient noise. Since I work from a home office, that can mean the kids running around with Nerf guns or anyone else in the house watching TV, talking on their phones and more. All is forgotten with the Cross, leaving me in near perfect isolation to focus on my work. The microphone doesn't have active noise cancellation, but it still does a great job of honing in on my voice for the call and helping me monitor my own voice levels.
11 AM – THE REAL WORK STARTS
I've had the headset off for an hour now that my Skype calls are done, but it's time to start focusing on writing up some review content for the site. Reaching for the headset, which is still hooked up to my PC, I can load up PLEX and throw on a few of my favourite albums. This quickly became the best part about testing the cross… so far. The bass response from the powerful drivers really shines while listening to heavier music, yet still gives me all the mid-range and high-end thrills of the vocal track. The closed back driver design really helps tighten up that lower end a lot, and before I know it, I'm through two full albums and it's time for lunch!
1 PM – SO, ABOUT THAT LUNCH?!
Nothing really on tap for lunch today, so it's time to get out and about with the Cross. I'm not the sporty type, so I won't say how I put on my shorts and went for a brisk jog through the woods, or hopped on my BMX for a vigorous ride through the village, because I didn't. Big coat on, gloves, and a plan to walk to the local village bakers for a pork pie and a beef sandwich it is then. I unplugged the headset from the PC, swapping out the desktop cable for the 4-pole 3.5mm cable to hook it up to my Xperia XZ phone. I've got some lovely FLAC recordings on there to push high-res audio to the Cross while I'm out and about.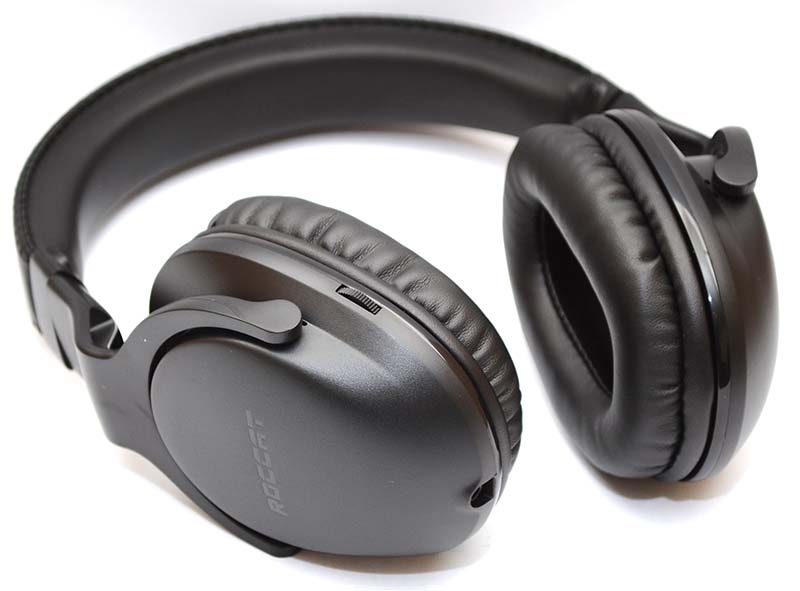 The headset is very durable with a metal reinforced headband, that gives it a rigid feel and helps keep it firmly in place on your head. This is further enhanced by the thick and plentiful memory foam padding on the headband, which stops the headset slipping free while you're out and about, BMX'ing or heading out for pies like me. The soft padding of the ear cups is great too, and kept the drivers snug and in place while also keeping comfort levels up for the long walk. The headband is easily adjustable too, and the ear cups have a pivot mount to ensure you get a clean fit; there's even enough room for me to extend the headset and wear it over a beanie on cold days.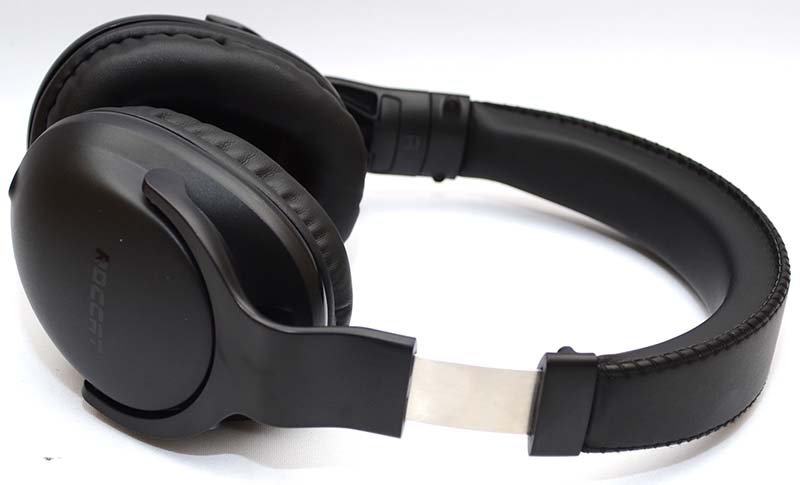 I can get out of the office, but I can't get away from work. On the way back, it was time for a group staff call with the rest of eTeknix, a perfect time to test the on-cable microphone while I was out and about. Amazingly, it sounded just as good as the boom microphone did, albeit with a slightly less direct sound as it was hanging at neck height, not in front of me, but still very clear audio for phone/Skype calls on the go.
2 PM – ON MY WAY HOME
Lunch is done, and it's time to head back to the office. Wasn't needing music on my walk home, so it was time to bundle the headset into my bag. As you can see below, the headband is incredibly strong yet very flexible, so if you're worried about it taking a few knocks and bumps while being thrown into a backpack, don't be, it can take it!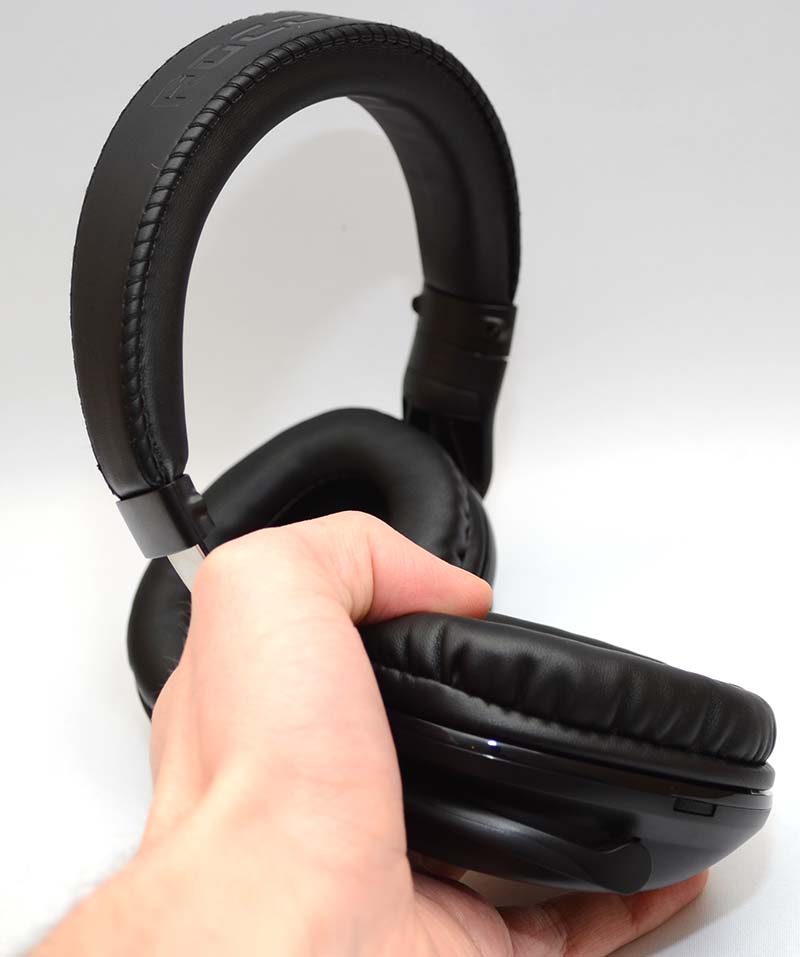 3 PM – MORE WORK, MORE MUSIC, MORE SKYPE
It's turning out to be a busy day, from breaking away from my desktop to photograph some products, to back at my desk checking up on our news team, to even more Skype calls from companies and our team. Between 3 PM and 6 PM I called upon the support of the Cross quite a few times. A little music at my desk? Reach for the Cross. Another Skype call coming in? Reach for the Cross. Need to have a phone call while moving chassis around in the stock room? You guessed it, I reached for the Cross. It's a versatile headset, and the very lightweight design and sturdy fit hold up well to various work scenarios, so far so good!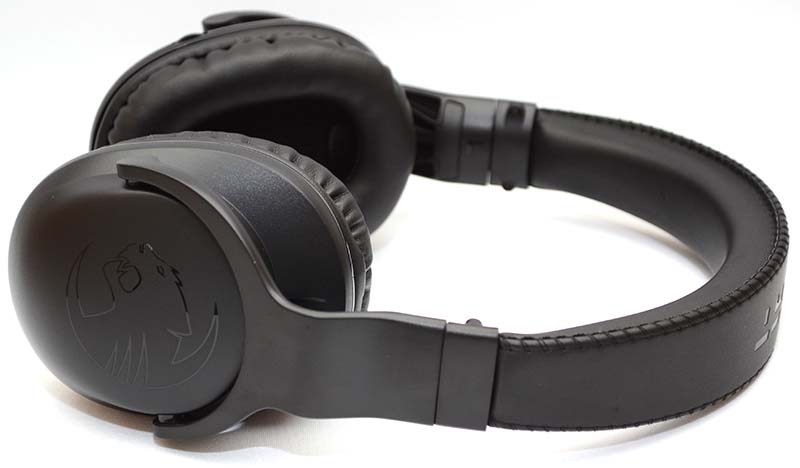 8 PM – THE CHILDREN ARE ASLEEP – THE TIME TO GAME IS NOW
I've been at my desk a lot today, so to break away from it (if only a little) it's time to grab my Shield Tablet, sit on the couch and play some games there. Grab the 4-pole 3.5mm cable for the Cross and I'm good to go, enjoying my games on the couch, but also keeping my gaming audio to myself while my SO watches TV and also enjoying the seclusion the headset's ear cups give me; I can't hear the TV, no one else can hear my games, win win.
9 PM – TIME FOR SOME HALO?
We've already played with the headset on Skype, for music on the desktop, out and about to do some shopping while enjoying some tunes, and tolerating more calls, as well as gaming on my tablet. Now it's time to hit up some friends on the Xbox One for some Halo multiplayer. Of course, little needs to be changed here to get it working, so I simply take the cable out of my tablet, plug it into the Xbox One controller (or PlayStation 4 controller, it works there too!) and I'm good to go.
For gaming on the Xbox One I used the in-line microphone, and it works perfectly. The boom microphone is a dual jack design, so not really suitable for console use as they need a 4-pole 3.5mm jack.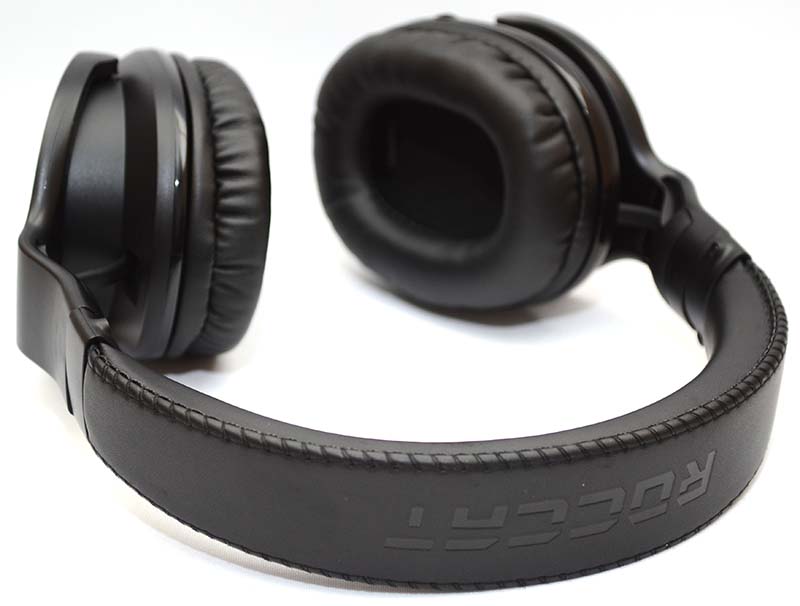 The gaming audio on this headset is killer, and since I'm already impressed with the audio quality for music and voice chat, it was time to listen to the action in a bit of campaign on Halo. Thick bass rips from the 50mm drivers, and there's certainly more than enough volume to keep you happy. Don't worry if you need to turn it up or down though, as there's a handy volume dial right on the side of the headset to make quick adjustments. The headset may look quite small and feel fairly light, but the sound is anything but small or light, and it's sure to put a smile on your face while gaming.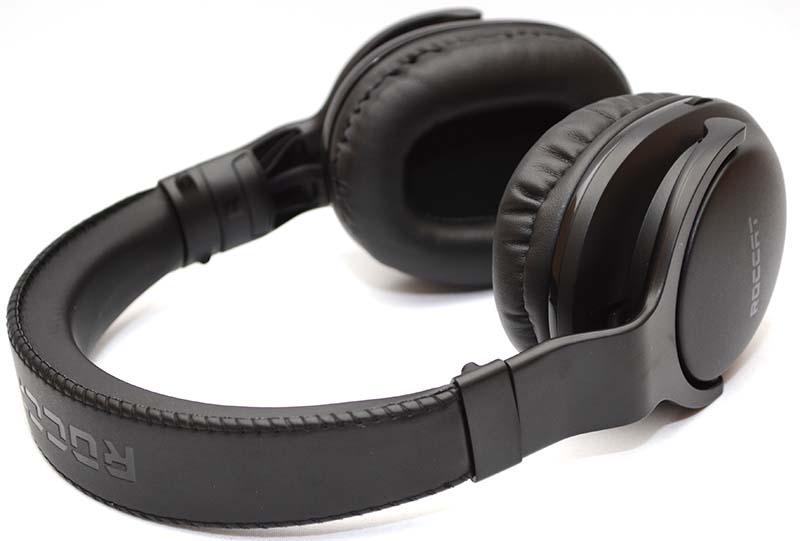 At just £64.99 (or £58.49 Roccateer price), it clear that Roccat is onto a winner here. It's not the cheapest headset on the market, but it's far from expensive. Given that it delivers multi-format support, and works just as well at home as it does when you're out in the wild, this is a one-stop shop for those who only want one set of headphones/headset in their life for all their devices and activities.
A day in the life of the Roccat Cross has been fun, and it won't be my last, as it'll be in my bag and ready to rock as I suffer a 16-hour long-haul flight next week, and I'm confident it'll help keep me entertained no matter what I'm doing while I'm away.
For more information head over to the Roccat Cross product page and webstore here.