All Aboard The ASUS ROG Bus!
---
---
---
Mike Sanders / 5 years ago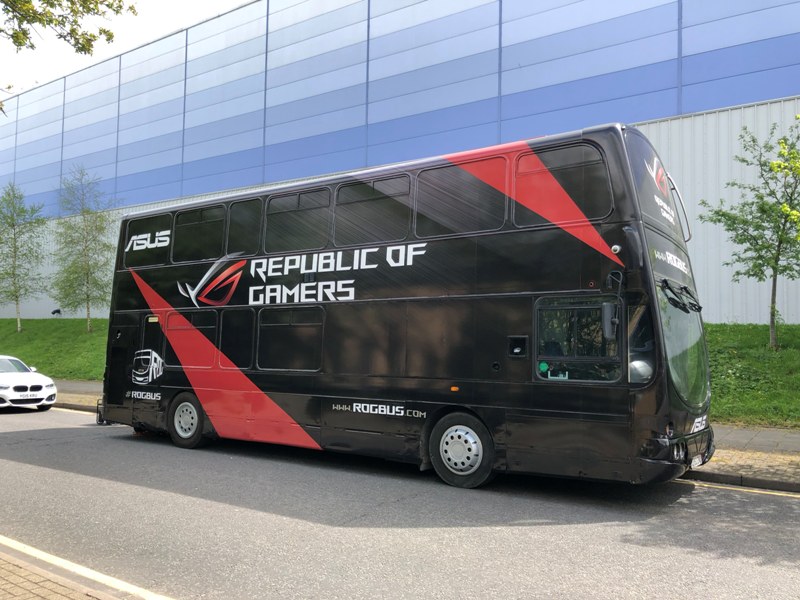 ASUS Republic of Gamers Reveal the ROGBUS
It can sometimes be a little tricky having a look at some of the latest tech on or coming to the market. There are not, after all, that many places that put their best wares out on display for the public. ASUS, however, has decided that it would just be a lot simpler and better to bring the technology to you.
As such, ASUS has introduced the ROGBUS. A portable showcase of all their latest and greatest technology for you no only to look at, but also try out. Within reason of course. I doubt they'll let you drive the bus no matter how politely you ask.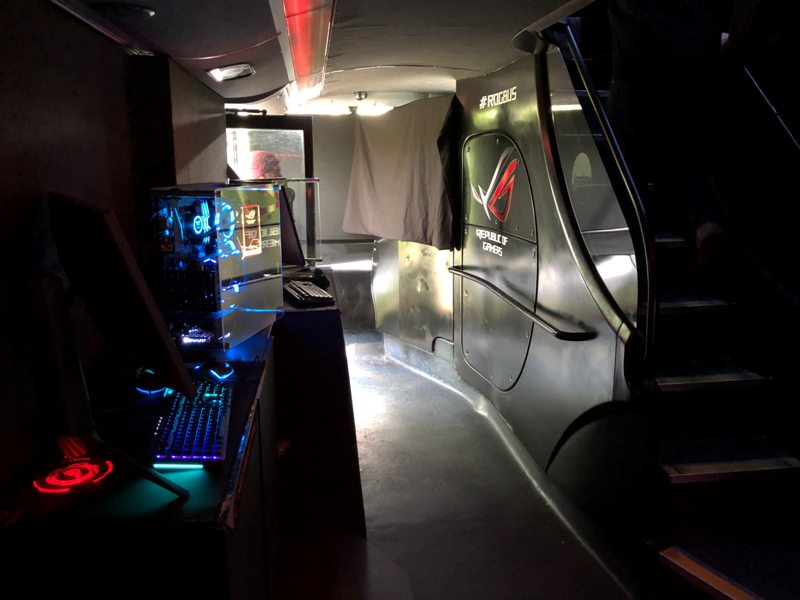 Whats inside the ROGBUS?
Using a double-decker bus ASUS have spared no expense in making this a fantastic place to visit, but don't let that fool you. While it might look fantastic, over the 2 floors ASUS have a wide variety of Republic of Gamers products for you to check out and better still, try out.
The first thing you notice on entering is the lighting throughout with 2 large strip lights on each side of the bus. It's a nice touch that they just happen to carry the ROG colors. With all the systems and components on the go you're not going to know where to look first, but trust me, there's plenty to take in.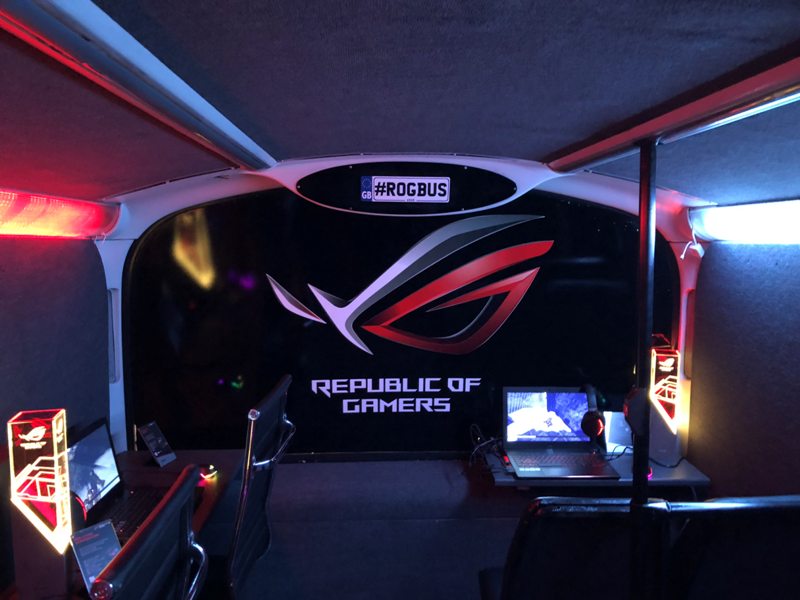 Laptops and Gaming systems as far as the eye can see!
Once you get past how awesome the bus looks, you shouldn't forget that ASUS didn't just buy a bus to drive it around. On the inside, from front to back, you'll find an amazing plethora of products on display. These include systems, monitors, peripherals and laptops and all presented with some extreme style.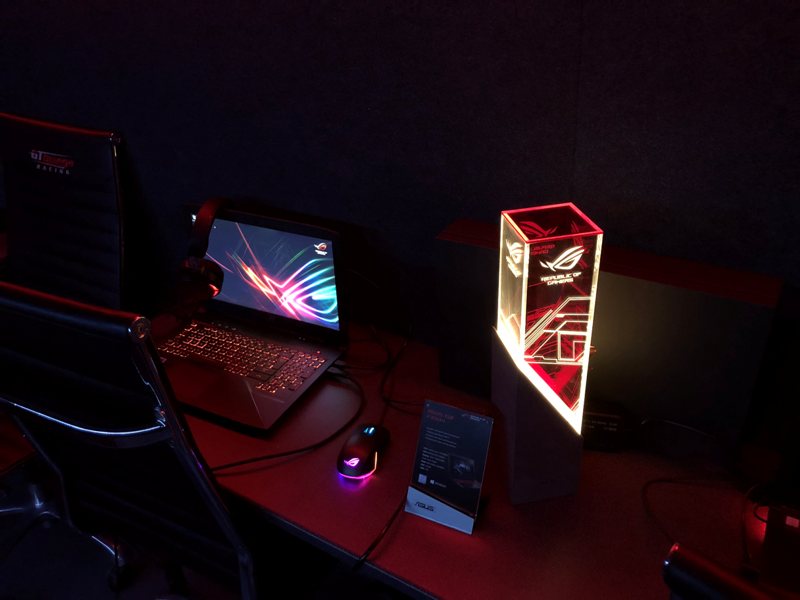 With clear paneled chassis casing you can see a lot of the system components in action. It's also a great touch that ASUS has taken the lighting into consideration to try and show these running at their best. What is a gaming PC or laptop these days without the 16 million colors in the RGB rainbow?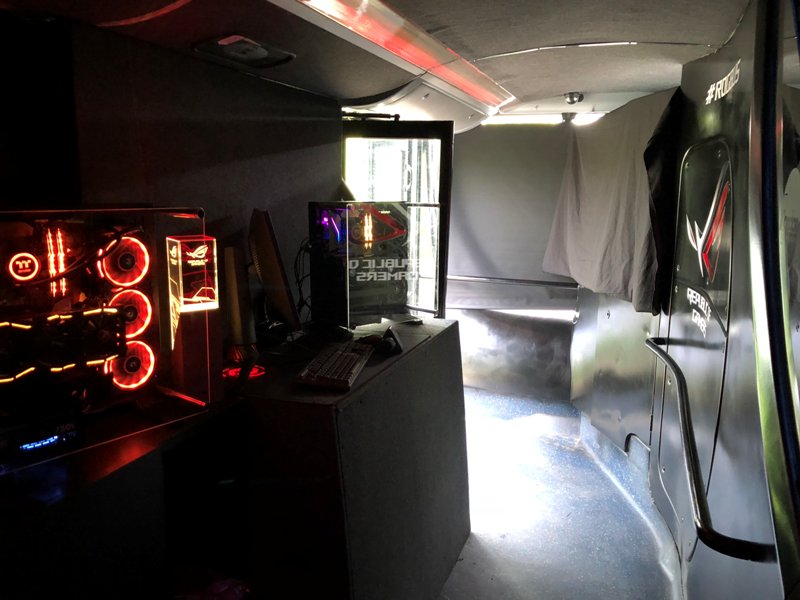 Gaming Laptops
With all the systems on display, you'll also have a chance to have an up close and personal look at the amazing ASUS ROG Zephyrus gaming laptop.  This is by far and away one of our favorite and best laptops we've seen. Combining both a slim design with incredible performance, it is, without doubt, one of the best laptops currently available for those looking for panache and performance.
You can check out our full review in detail on the laptop below.
Speaking of laptops. The ROGBUS is crammed full of various models for you to try out. Each laptop has its own independent area with individual headsets and chairs so that you can try it out exactly as you would at home. Now, of course, the ROGBUS is going to be highly popular, but you shouldn't struggle to get all the information you need from the excellent staff on hand to assist you.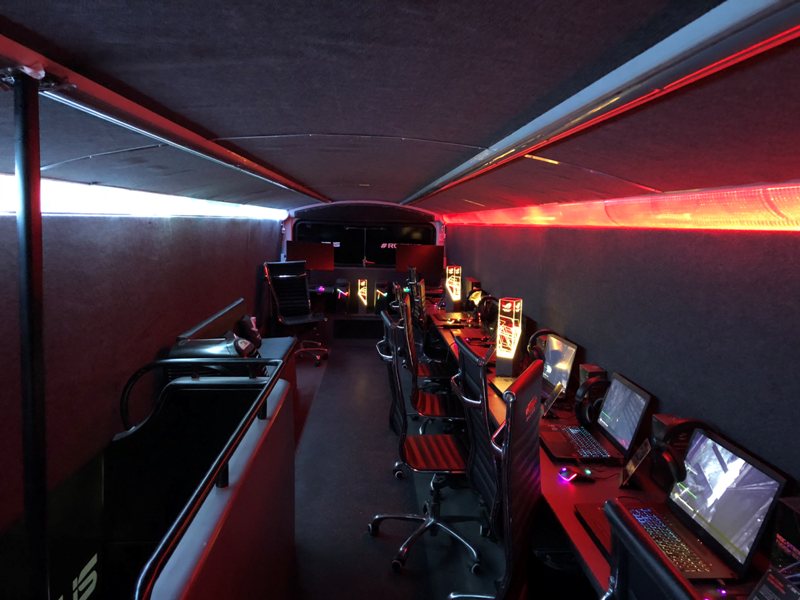 Gaming Systems
Although not quite as numerous, the ROGBUS does carry a variety of their gaming PC systems. As per the laptops, each one of these is at a station with a monitor and headset to ensure that when trying it out you get the best experience possible.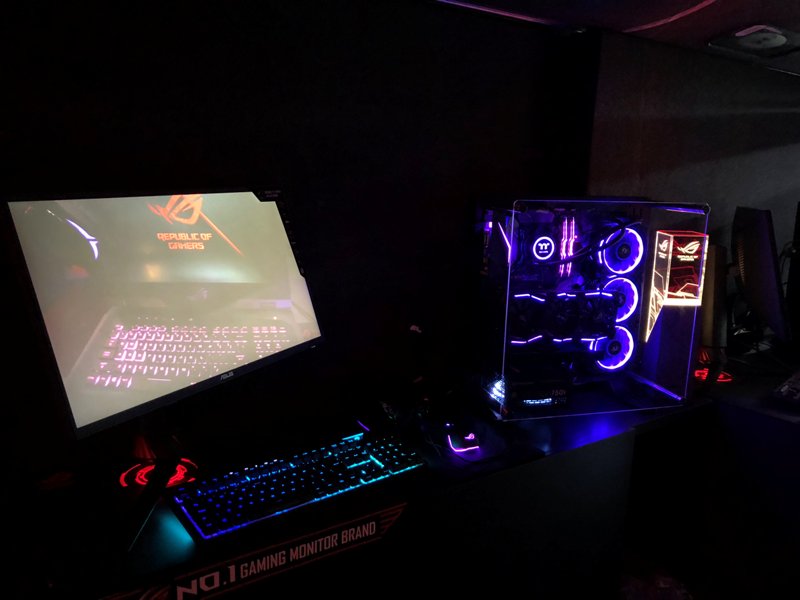 A brand like ASUS is known for producing quality products and systems and as such, they have made a great effort to show the best range available to suit all needs and purposes. With so many different systems and set-ups available, ASUS show you some of the best they have to offer.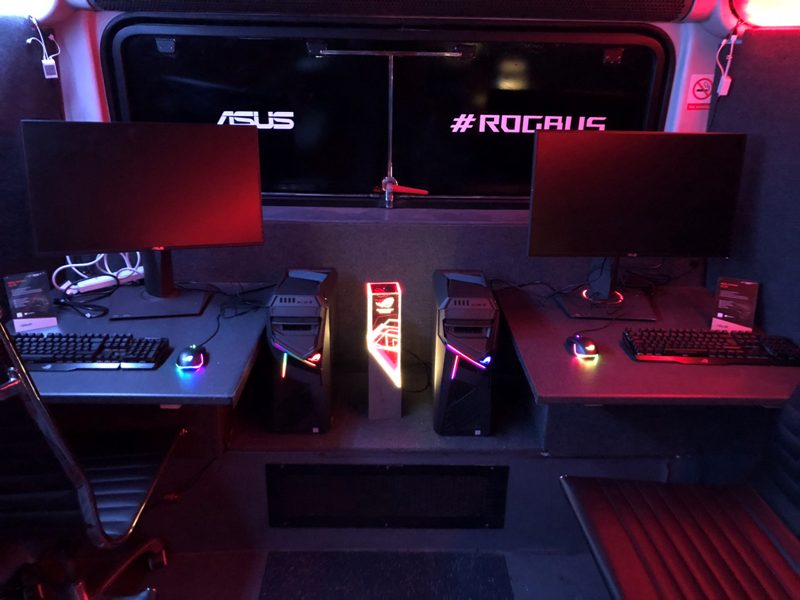 Gaming and Refreshments!
Gaming can be thirsty work. As such, the ROGBUS also comes equipped with a mini bar of all your favorite energy drinks. They also take the opportunity, whilst you sip on a RedBull (as ASUS have partnered with them at the RedBull Gaming Sphere) to check out some of their individual components available for purchase including their motherboards, peripherals, coolers and much, much more.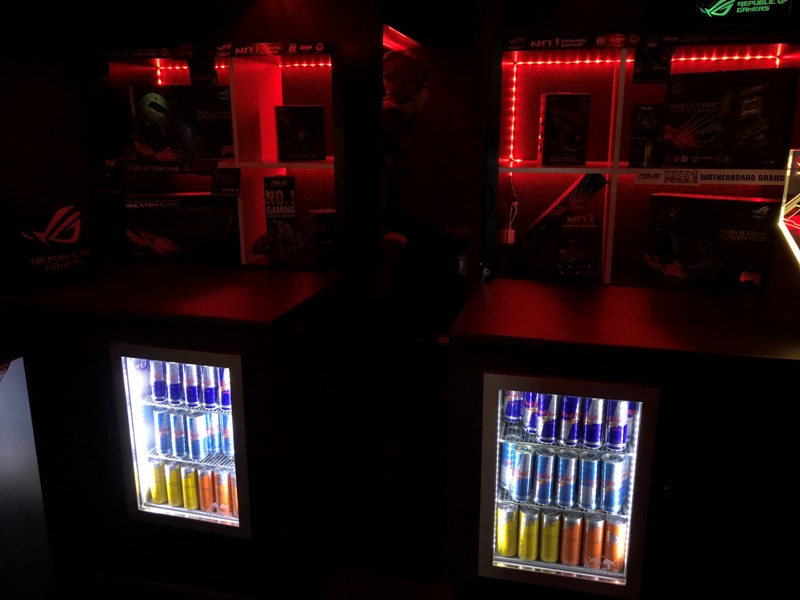 Seeing all this much ASUS technology in one place could be a bit overwhelming. Particularly if you're not of a gaming disposition. If that is the case for you though, never fear. ASUS has provided a nice little seating area for you to take a load off and catch your breath.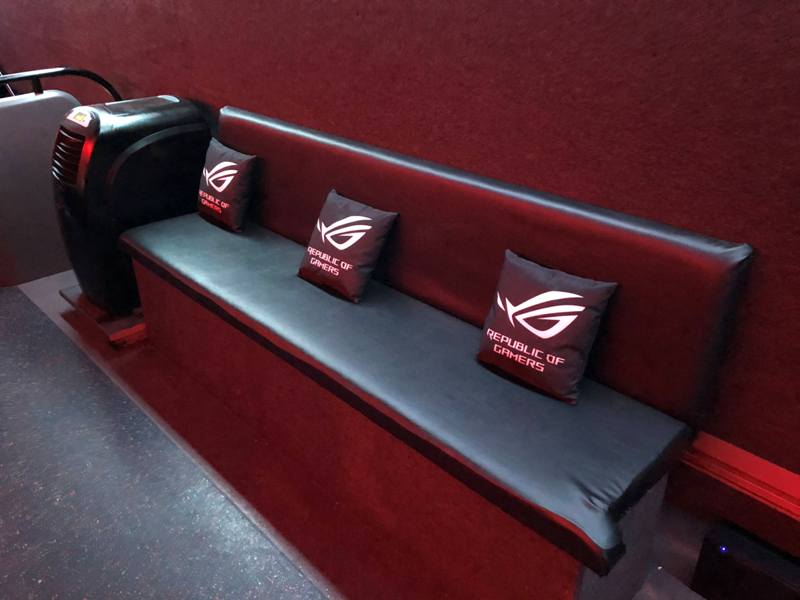 What do we think?
When it comes to systems, laptops, and components, it can be really difficult to know what you're dealing with until it arrives at your door. The ASUS Republic of Gamers ROGBUS is a great step towards bringing their best technology to you. With helpful staff and a friendly atmosphere, the ROGBUS is going to be traveling across the UK.  This will allow you to get a hands-on look in a comfortable environment. It's perfect for those ASUS fans amongst you and better still for those looking to make a purchase.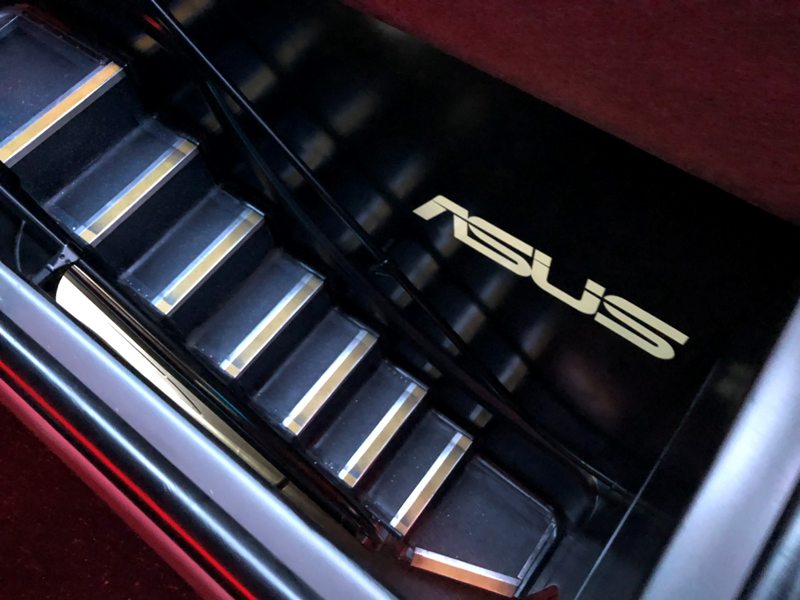 Where can I check it out?
The ASUS Republic of Gamers ROGBUS hasn't quite nailed down the details for its itinerary yet. This was a sneak peek after all. The ROGBUS is, however, planning to visit as many cities and towns possible throughout the United Kingdom. The schedule is due to be released shortly. With that, you should find that it should be arriving close to you and in the very near future.
For details on the ROGBUS, you can, of course, check out the official website here. Although details on it are sparse at the moment, this will be the first place the schedule and location dates will be announced.
What do you think? Are you impressed with the ASUS Republic of Gamers ROGBUS? Now you know about it, planning on making a trip? – Let us know in the comments!