Acer 38″ Predator X38 3840×1600 IPS 175Hz 1ms G-Sync Ultimate Curved Ultrawide
---
---
---
James Cusworth / 9 months ago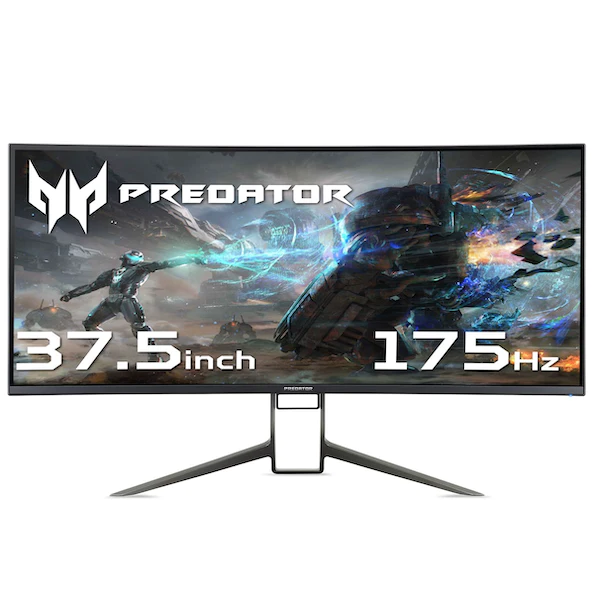 AGILE-SPLENDOR IPS
Few displays can match the speed of this display. Using fast crystal liquid technology and a wide color gamut, the X38 can achieve up to a 0.3ms1 response time while maintaining a high color gamut – meaning all the on-screen action comes through nice and smooth with almost no ghosting or color banding.
LET'S GET HYPER
If you want seamless gameplay at absolutely ridiculous levels of speed, you've come to the right place. With a lightning-quick refresh rate and NVIDIA® G-SYNC® ULTIMATE – your sessions will be fluid, unbroken and unmatched. Now you can land those reflexive shots with pinpoint accuracy.
NVIDIA® G-SYNC® ULTIMATE
ARE YOU FAST ENOUGH?
Want to be at the top of the competitive ladder? Use NVIDIA®'s Reflex Latency Analyzer4 to measure exactly how long it takes for your click to register on screen. Finally, a way to accurately measure the bond, or lack thereof, between mouse, PC and your display is all yours.
HOW IT WORKS
By detecting the clicks coming from your mouse and measuring the time it takes for a resulting display pixel change (i.e. gun fire) to happen on the screen. A measurement and report ensues.
WHAT YOU GET
GeForce Experience's new Performance Overlay reports the latency metrics in real-time. The analyzer then breaks the system latency measurement up into Mouse Latency, PC + Display Latency, and System Latency.
FUTURISTIC DESIGN
The silver-hued arms span out in two directions – holding the display aloft, welcoming you to the world of curve while allowing you to tilt, swivel and vertically adjust the monolithic display to find that ergonomic sweet spot with deadly ease.
PUMP UP THE VOLUME
No speakers? No problem. Two powerful 7-watt speakers have your back.
ZEROFRAME
Less bezels means more visible display for you to enjoy.
PORT HAVEN
HDMI 2.0, DP 1.4 and a USB 3.0 HUB for four other devices.
PREDATOR GAMEVIEW
Accessed via the OSD (on-screen display), GameView provides a number of useful features, such as setting the level of dark boost, ambient lighting, gaming profiles (up to 8), and more. Using this will optimize the display for the type of game you are playing.
DARK BOOST
Gain an edge over the competition and fine-tune your visuals with greater details in dimly lit environments.
AIM POINTS
Minimize misfires with aim-points. You have three options to choose from through your OSD or GameView settings.
GAME MODES
There are three game modes to choose from: action, racing and sports. Use the default profile or customize your own to fit your preferences.3
TECH FOR THE EYES
Long game sessions, editing videos and staring at excel sheets puts a lot of strain on the eyes—we know. Protect your vision with Flickerless™ and BlueLightShield™.
FLICKERLESS™
This technology works by providing stable, consistent power to the display and eliminating any chance for noticeable flicker.
BLUELIGHTSHIELD™
Choose from four filter settings via the OSD if you suspect that blue lights, being emitted from the LED panel, are causing eyestrain. We know the X38 is impressive but we never said don't blink!
Now £1399.99

---
eTeknix uses affiliate links, which means we may earn commission from our links.