ADATA DashDrive Elite UE700 64GB USB 3.0 Review
---
---
---
Andy Ruffell / 8 years ago

We've had a lot of USB flash drives pass through our offices and deep down I have a soft spot for them. They are small devices than can pack a punch in terms of capacity and speed and lately we've seen a whole host of different designs that are exciting that market segment just a little bit.
Under the DashDrive branding, today the Elite UE700 64GB USB 3.0 drive from ADATA has graced us offering a stylish device with speed, high-performance and value at the heart of it. Coming in 16GB, 32GB and 64GB, you'll be hard-pressed not to find the right model for you especially with the price points of £15, £30 and £50 respectively
Coming encased in stylish, brushed aluminium casing with leather strap allowing you to attach it to your keychain, you'll be sure not to lose it when needed the most. Measuring in at 63 x 22 x 7mm and weighing a modest 11g, it certainly won't weigh you down.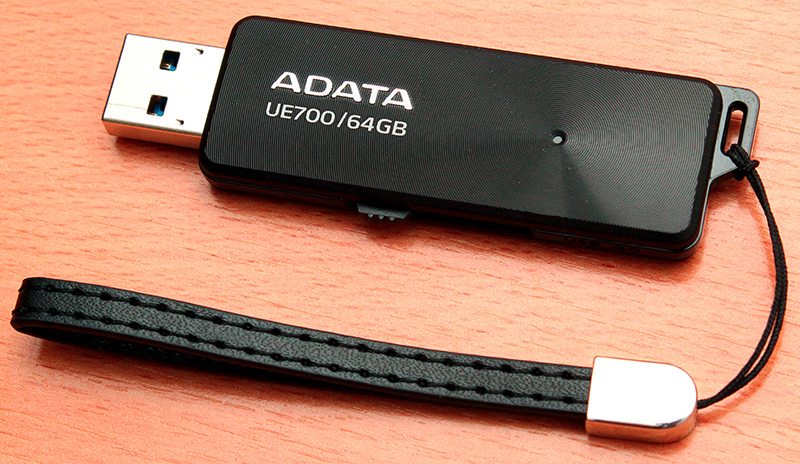 The design also features a nifty slide mechanism that locks the USB 3.0 connector into place when not in use, protecting it from dust and other foreign elements.

ADATA show the rated speeds at 200MB/s read and 100MB/s write for the 64GB models, though the lower capacity drives perform slightly slower with the 32GB having a 190MB/s read and 50MB/s write speed and the 16GB coming out with 155MB/s read and 25MB/s write speeds. Luckily we have the 64GB model with us today, so lets see how it performs in our own testing by booting up ATTO to get the ball rolling.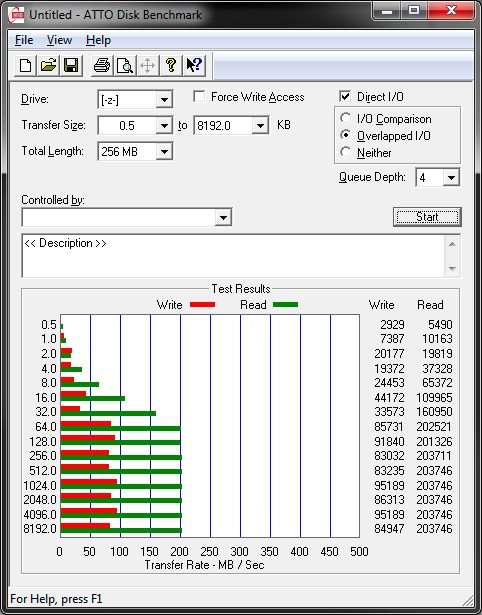 After we saw the drives theoretical max read and write speeds, we started up CrystalDiskMark to see if the UE700 flash drive could hit those rated speeds.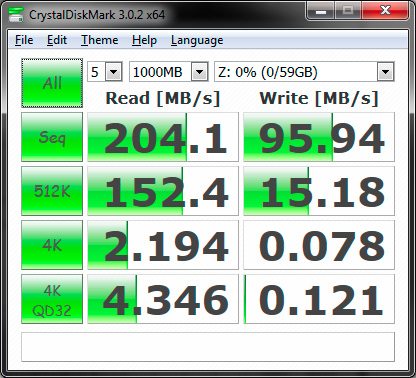 Performance on the 64GB model was bang on the money with 204MB/s read and 95MB/s write speeds in CrystalDiskMark and 203MB/s and 95MB/s in ATTO when looking at a 1024 block size.
With a massive selection of flash drives to choose from, we find them being aimed at different markets, for those wanting capacity and others wanting pure raw speed and performance, though the UE700 seems to signify both together.
The drive is certainly one of the best looking we've had grace us with its stylish, lightweight design and brushed aluminium finish, and performance is certainly a major highlight too, while offering some handy features at the same time. The slider mechanism that retracts the USB connector is a personal favourite as it alleviates the need for a cap or cover for when the drive is not in use and adds a unique style point to the product. The addition of the leather strap allows it to easily be attached to your keys, meaning the chance of losing it is dramatically decreased.
Value wise, it's not the cheapest USB 3.0 flash drive on the market, though when you look at the performance on offer, it certainly is attractively priced, and coupling this with a lifetime warranty as standard, and the value behind the drive is raised quite dearly and at £50 it is worth recommending for those wanting a large capacity with good speeds, though based on the performance, we'd be inclined to recommend the 64GB model we had today, opposed to the smaller capacity 32GB and 16GB variants.
eTeknix Says: A a good looking, stylish unit that packs a punch when it comes to performance, putting it at the top of the stack, and while it's not the cheapest on the market, when looking at price based on performance, it comes out top and you simply won't go wrong with the UE700 64GB USB 3.0 flash drive.
Thanks to ADATA for providing this review sample.