ADATA launches HC500 External Hard Drive for TV & PC
---
---
---
Bohs Hansen / 6 years ago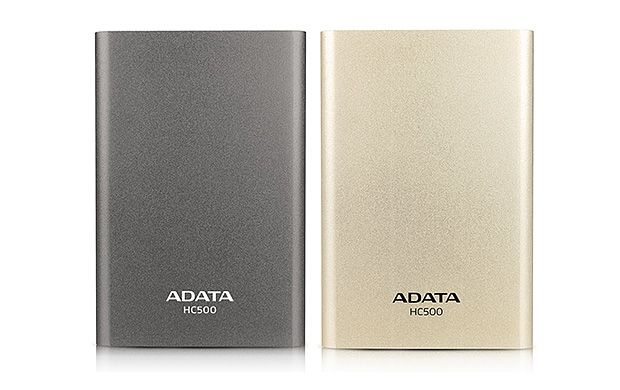 Ever since the digital TV signal was launched, most set-top boxes and TVs have supported broadcast-recording to USB devices. ADATA has just launched the latest addition to their external drive line-up in form of the HC500 2.5" Hard Drive with TV recording support features.
The new USB 3.0 hard drive is housed in a sand blasted metal case and will be available in the colours Gold and Titanium-black. The available capacity choice is 500GB, 1TB or 2TB. Besides just being an ordinary external drive, it has one additional feature you might find useful, or not. The built-in G-Shock sensor will use the activity LED to warn you with a flashing red light when a shock with too much G-force occurs and it will stay red if the disk has been damaged. This won't really help you protect your disk more than usual, but it will at least tell you if there is a problem.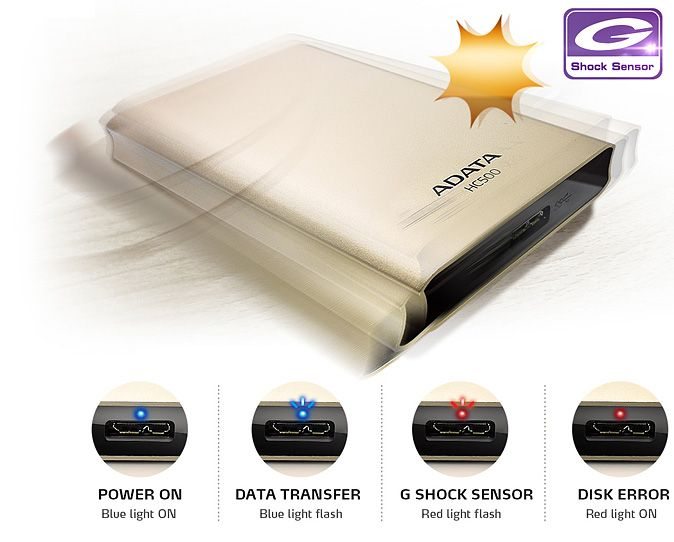 The new drive comes bundled with some software as well. With NTI's Backup Now EZ you can easily create backups of your valuable business and personal files while NTI's MiST cloud software allows you to create your own personal cloud-drive on this hard drive. NTI's Backup Now is available for most platforms including mobile ones where the MiST cloud software is a windows only system. The free personal-cloud software is only free for the first year after which you'll have to pay to continue to use the service.
The physical dimension of this drive are 115 x 77.6 x 15.5 mm and it weighs between 178 and 216 grams depending on capacity. The HC500 USB3 drive comes with a 3-years warranty. There is no word on pricing or availability yet. There aren't any transfer speeds mentioned either, but it can be assumed that it's a 5400 RPM drive that is being used inside the housing.
Thank you ADATA for providing us with these information
Images courtesy of ADATA