ADATA Launches HD710 Pro Rugged HDD
---
---
---
Bohs Hansen / 6 years ago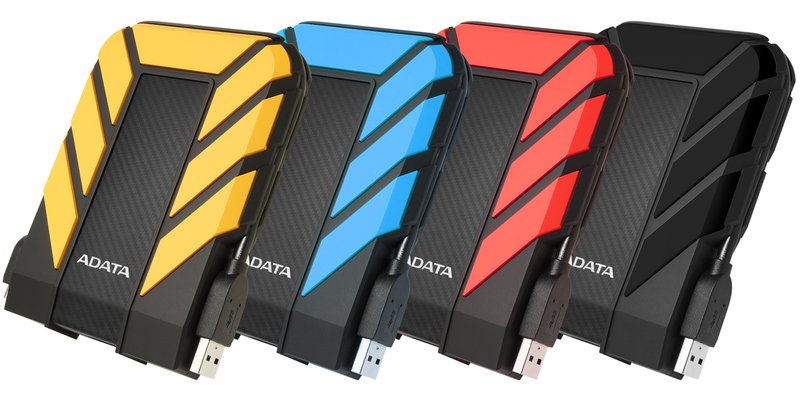 ADATA launched a new rugged and durable hard disk drive, the HD710 Pro. The new drive is an improvement over the current HD710 and HD650 series. The new HD710 exceeds the IP68 dust and waterproofing plus Military-grade shock resistance.
There aren't a lot of vendors on the market who deal in the portable and rugged drives. As such, it is nice to see more options enter the market. Especially with ratings like the ADATA HD710 Pro features.
ADATA HD710 Pro Ruggedness
The new drive is completely dust-tight and able to withstand up to 60-minute submersion in up to 2 meters of water. Those are numbers which exceed the IP68 requirements, and the features will keep your data safe while you're on the go. The drive also meets the MIL-STD 810G 516.6 requirements, surviving shocks and impacts associated with drops from up to 1.5 meters.
The HD710 Pro uses a custom triple-layered protective build and implements G-Shock sensor technology that stops and restarts drive activity when shocks or vibrations are detected to prevent data corruption. The drive features an ergonomic USB port cover for effortless open/close, and a useful wraparound groove for storing its USB cable.
Capacity and Connection
It probably won't come as a surprise to anyone that these new drives use the USB 3.1 interface and connectors. That brings along some advantages over the previous standard generations, and among them, an increased power supply.
That makes it possible for ADATA to deliver a drive with up to 4TB capacity that's fully bus-powered. There's no need for external power supplies here. After all, where in the rugged world can you find a power outlet? It's also a general milestone and quite the achievement to deliver this option.
Availability and Pricing
ADATA didn't announce an availability at this time, but the new HD710 Pro should be available shortly. The 1TB version can be yours for £59.90 and the 2TB for £93.00. The 3TB will cost you £129.00, and you can get the 4TB for £154.90. A very reasonable pricing.