ADATA Launches Impressive ICFS314 CFast 2.0 Card
---
---
---
Bohs Hansen / 6 years ago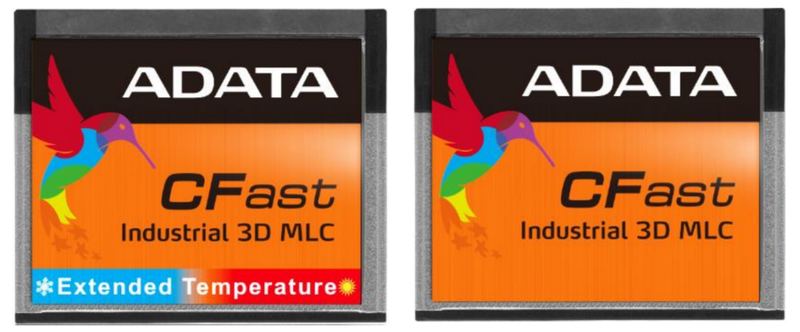 Memory cards aren't the most exciting product as such, but once in a while, an impressive card comes along. Such a card is ADATA's new ICFS312 which features both speed and capacity.
Fast and Large through 3D MLC NAND
ADATA's ICFS314 is built with 3D MLC NAND which allows it to achieve the impressive figures that it comes with. With Fast 2.0, we have the full SATA III protocol available, or at least very close to it. The new ADATA cards can deliver up to 550MB/s when reading and 520MB/s when writing. That's a lot for a memory card.
At the same time, the use of MLC NAND over TLC gives it a better endurance while the 3D stacking allows for higher capacities. Those features in combination allow ADATA to release the ICFS314 in capacities from 32GB all the way up to 512GB. The best of all, the card won't draw a lot of power either and it can make do with about 2W.
Built for Industrial Use
The ADATA ICFS314 sounds like a great card, but it isn't intended for the consumers as such. While that's a true statement, there won't be anything stopping you from using the new ICFS314 cards for personal usage too.
The ICFS314 has been designed for applications such as automation, points of sale, medical equipment, and casino machines. The ICFS314 can operate in a wide temperature range of -40 to 85 degrees Celsius. It can also withstand 20G vibrations as well as 1500G/0.5ms shocks.
Common but important features such as S.M.A.R.T diagnostics and hardware-level error correction to boost data integrity are also present. There's even a wear-levelling technology which prevents uneven NAND stress, leading to a longer product lifespan and better return on investment.
Pricing and Availability
ADATA didn't announce a price nor a market availability at this time, but you shouldn't have to wait long to find that out from your favourite memory card seller.