ADATA XPG PRECOG Gaming Headset Review
---
---
---
Peter Donnell / 4 years ago
ADATA have been on the market for many years now producing high-performance memory products. However, their gaming division 'XPG' has been making aggressive moves to push into the enthusiast gaming hardware market. From high-end gaming PC cases right through to their high-performance gaming peripherals. With the launch of their new PRECOG gaming headset, they look set to take this to new heights, as this is one of their most high-end launches to date. Of course, they're not the first brand to bring audiophile-grade hardware into a gaming headset, but that doesn't diminish from the fact that is an awesome idea and we hope to see even more brands follow suit.
ADATA XPG PRECOG
While many headsets featured dual stereo drivers, the PRECOG headset features dual-dual drivers! The first set of drivers are your high-end dynamic drivers. These deal with the meat of the sound. Then we have the second set, which are fantastic electrostatic drivers. The combination of the two allows the headphones to output from 5 Hz all the way to 50000 Hz; far beyond the range of your typical high-resolution audio drivers.
While I'm eager to review this headset, I had the pleasure of trying it out at an event and was suitably impressed by that short demo. Of course, that was a noisy environment rather than in the office, but it's nice to have had some experience with this headset in both environments.
Product Trailer
Features
The good features just keep on coming as well. This headset is wired and can be operated over a 3.5mm controller cable or over USB using its DSP sound car, giving you plenty of connectivity options. If that wasn't good enough, it uses a USB type-c, giving it some future-proofing right out of the box. As for other technologies, there's an environmental noise cancellation microphone, 7.1 virtual surround sound, gaming mode, and a carry case; the list just keeps going on… So why not get it out of the box and take a closer look at what this headset has to offer!
Dual Drivers including (Electrostatic and Dynamic)
Hi-Res Audio Certified
Built-in FPS / Virtual 7.1 Surround Sound / Music Modes
Environmental Noise Cancellation Technology for Microphone
Ergonomic Ear Cushions & Auto-Adjust Band
Rotatable Ear Cups
Cross-Platform Compatibility
Specifications
For a complete list of the specifications, please visit the official XPG PRECOG product page here.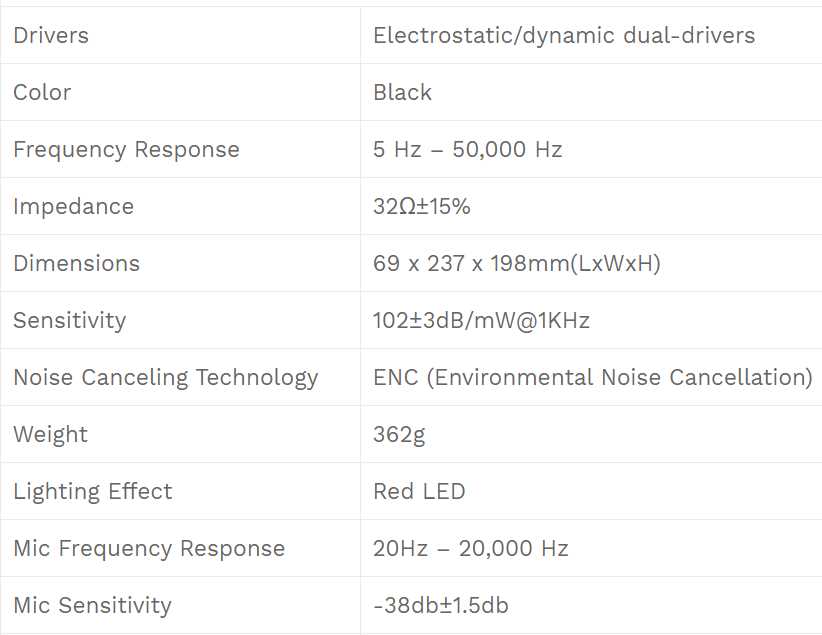 What's in the Box?
The headset comes beautifully packaged in its very own carry case, the headset comes with a lot of high-end features, so it's only right that you would want to keep it safe and sound. Of course, if you travel with your headset, it'll keep it safely stored away at home or on the go.
Included in the carry case are all of the cables and accessories you could possibly require so use the headset.
There is a USB Type-C cable which features an inline DAC and amplifier. Plus, because it's Type-C, it can be used on PC and a whole range of other devices. Don't worry if you don't have the correct connection, an extension cable which converts it to a Type A connection is included.
Fancy using the headset with a more traditional audio jack? There's a beautifully braided 3.5mm cable too. This is ideal for plugging it into just about anything else that features an audio output. Personally, this one's for me as I tend to use my own dedicated desktop amplifier.
———————–
A Closer Look & Performance
The headset itself looks pretty fantastic at first glance, it's got a fairly unique design or at least unique within the restraint of still being a headset. I'm not overly keen on some of the glossy finishes on the side as they're actually plastic rather than metal which is a bit of a shame. They're not bad quality, they're not flimsy or weak, so don't take that as a slight against the build quality of the headset as it is very well made. Perhaps this is to offset the cost of the drivers.
Update: XPG has since clarified that this is actually aluminium with a dark tone electroplating finish. So the build quality is much more premium than it looks. I stress that, as I do think it just looks like plastic, even feels like it with that coating. I guess this is a subjective quality though.
XPG
Stamped into the side of the ear cup you'll find the XPG logo. The backs are just a sculpted shell. On that note, the drivers are enclosed rather than open at the back which often helps improve the lower frequencies on the headset. There's Red LED lighting on those groves when used in USB mode, but not in 3.5mm mode.
The shroud above the ear cups has a nice chrome finish that helps give the headset a more premium look. This also helps hide some of the mechanical aspects that allow the ear cups to be rotated inwards and outwards.
Inputs
I like headsets where you can fold the ear cups in like this, as it's comfortable to wear around your neck between games. On the bottom of the ear cup, you will find the USB Type-C, 3.5mm jack and microphone connection. Overall, it's all pretty straightforward stuff.
Inside of the mount, you can see that the cable is routed through the headband. Also an elasticated inner headband mount, allowing for automatic size adjustment for a quick and easy fit.
The inner headband is heavily padded, which should provide you with all the comfort you need for those long work and gaming sessions. There's a nice little detail on the edge too, with stitching matching up with the XPG logo on the side of the ear cups.
The outer headband comprises of two very flexible yet durable arches. They help the headset clamp to your ears with a reasonable force, but also have plenty of give in them for added comfort.
Weird Flex, But OK.
As you can see here, you can really bend the hell out of them, but it flexes immediately back to true with confidence.
The ergonomics just keep getting better too. Here we have some very soft leather padding around the ear cups. They are designed to fit around the ear rather than on the ear and there's a good size cut out in the middle to accommodate you. they're padded with a soft memory foam, which is very forgiving and provides a clean and comfortable fit.
Hi-Res
Overall, it's a nice looking headset. There are some "cheaper" materials used, but it does feel pretty robust and lightweight, which is a good thing. The real money was obviously spent on the quite frankly jaw-dropping drivers. If you're a fan of Hi-Res audio, then you're in luck, as these extended-range drivers will handle all the bass, mid and treble you can throw at them without distortion. They'll EQ pretty hard too if you so desire, but that's pretty subjective on how you tune your sound.
Electrostatic
They're really powerful for gaming and come with quite a few unique quirks. There are two sets of drivers here, so you can use the Electrostatic purely for team chat, which is neat. Or you can use both for gaming audio, or you can use the Electrostatic for FPS gaming; it makes it very treble-heavy, but easier to localize enemy footsteps too. Then we have virtual 7.1 surround, which is pretty decent, but I still prefer Dolby Atmos Headphone processing on Windows 10; that's a subjective quality again though. What matters is just how much range of configuration you have here. You can really dial in what sounds right to you fairly easily. I should point out though, only use their virtual mode with actual surround sources, it doesn't upscale stereo to surround very well, especially with music.
Rocking Out
It doesn't matter if you choose 3.5mm for consoles or mobile, or the USB Type-C, the drivers are pretty consistent. I've been using them on my Samsung S9+ to listen to Amazon Hi-Res music, and I'm very happy with the results. They're a little glitzy looking to use as headphones while I'm out for a walk, but sitting at home with a cool beer and my feet up, they're very pleasant to music headphones. I've rocked through Rush – Moving Pictures, Gojira – From Mars to Sirius, Devin Townsend Project – Deconstruction, and Steve Vai – Erotic Nightmares to name but a few from just this morning and the extra detail those electrostatics bring out is amazing.
Microphone
The microphone isn't exactly lacking either. It uses a unidirectional pickup, with a frequency response of 20Hz to 20,000 Hz. That means it basically captures the full range of your voice with ease. You can sound like Barry White or PeeWee Herman and it'll do just fine. I often find many gaming microphones are very weak sounding, but not this one. Plus, with ENC, it'll dull out the racket of your keyboard or a crowd quite well too.
———————–
How Much Does it Cost?
The ADATA XPG PRECOG Dual-Driver headset is available now, but it seems the price is all over the place. It's currently £180 on Amazon UK, but it's just $150 on Amazon US (down from $250). I suspect stock is still rolling out, and things will settle down soon. That's not cheap, obviously, but it's about on-par for budget set of Electrostatic Headphones, which are typically around £200 for something like the Mitchell & Johnson GL1. However Electrostatic Headphones of a good quality start more like £500+ making the PRECOG a very tempting option. Of course, this also has a microphone, and USB amp, and carry case, and more. So expensive, yes, but pretty competitive when you consider what they offer.
Overview
ADATA is masterful when it comes to memory products. However, their gaming brand XPG is moving in the right direction to bring the same quality to gamers too. The PRECOG is one of the most interesting headsets I've tested in ages, but it's not without its flaws either.
Dual-Driver
The dual-driver setup is pretty expensive to integrate, albeit worth every penny once you've had a bit of time to try them out. It seems they've cut a few corners along the way to prevent the price from being too extreme. The in-line controllers are functional, but also feel a bit cheaper than I think they should. It doesn't contrast well with the premium cables and the metal housing on the USB headers. A little aluminium or brushed steel goes a long way, and the headset is so light, a little extra weight wouldn't be an issue. It would put the price up, but in the enthusiast market, people will pay for perfect quality.
Beating the Competition
Let's not beat them down too much though, because frankly, it's unfair. There are many headsets in this price range and beyond with equal build quality. The Turtle Beach 800, the Astro A40 and the SteelSeries Arctis are the first that spring to mind and the XPG can thrash them on price too by £50-100, and while delivering drivers that can beat them with ease.
Amazing Sound
The sound quality is astonishing. The only way you'll get equal sound quality is by buying a set of Electrostatic headphones, such as something from Beyerdynamic or Sennheiser. However, they're just headphones and lack the extra gaming features, connectivity and processing you get from XPG.
Should I Buy Them?
I don't think the style is quite as sharp as it could be, and perhaps XPG will improve on that in years to come. However, if you care about amazing sound quality, they're a bit of a bargain. The build quality is competitive, and they're damn comfortable for those long gaming sessions. Most of all though, it's great fun to see a gaming brand push the boundaries and try something new in the gaming headset market; and successfully at that.