ADATA XPG SX300 256GB mSATA SSD Review
---
---
---
Chris Hadley / 9 years ago
Introduction
---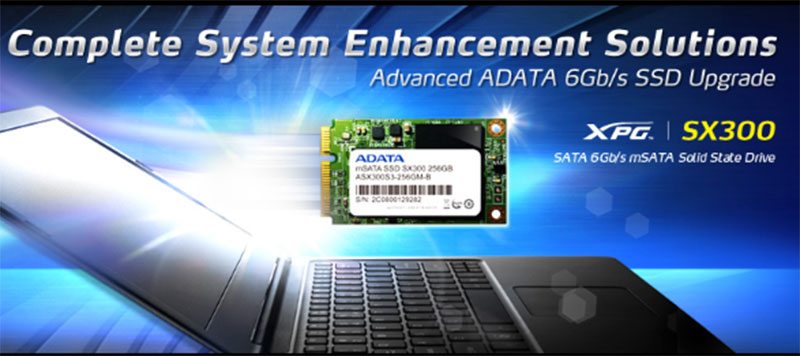 Over recent years, mSATA drives have typically been a component that has not been on the forefront of the consumer market, seen only really by OEM manufacturers or by those who opened up their systems. With the market shifting towards smaller and smaller systems, and advances in technology allowing for denser storage and computing power as a whole, we are now seeing mSATA drive appear on the consumer market in greater numbers and more importantly, bigger capacities.
This is not the first time I've looked at an mSATA drive, a few months back I had a look at one of ADATA's smaller capacity drives, the SP300 24GB –  aimed more for SSD caching and small OS footprints that require little read and write speeds such as POS systems.
With speeds and capacities now at a level that most users would deem acceptable for day to day use, and the number of systems and motherboards that support them such as laptops and ASUS' ROG motherboards growing and more importantly the introductions of Intel's Next Unit of Computing (NUC), seeing what is out there in the mSATA market is something very worth while.
As a manufacturer, ADATA need little to no introduction as they are known to be one of today's leading manufacturers with products ranging from flash drives to system memory for both the desktop and server markets, as well as SSDs in many different forms plus much more. Having spent such a long time in this field of engineering, ADATA knows what it takes to build a quality product, both on the performance side, as well as the pricing side of things as well.
Moving over to today's product in hand, the SX300 256GB mSATA SSD, those who took a out NUC review a couple of moths back with recognise this as one of our third party components that we used to test these next generation systems out. and from the outside, the performance that we experienced from the drive didn't seem all that bad. What's important though is getting a more in-depth feel of how well these drives perform – mainly against their full blown 2.5″ counterparts that now dominate the consumer storage market.
Like memory, there is nothing included with the drive as it is an as-is product that requires no additional parts or accessories to be included so sliding the drive out of its case, its a quick installation process with only a couple of screws needed in some cases to hold it in place.