Aerocool Strike-X Cube Micro-ATX Chassis Review
---
---
---
Peter Donnell / 7 years ago
Introduction
---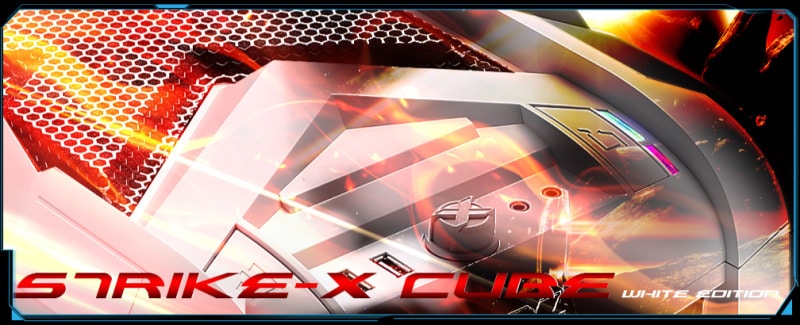 Aerocool is well-known for their funky chassis designs and it looks like today will be no exception. Their latest creation is the Strike-X Cube, a micro-ATX form factor edition of their popular Strike-X chassis series. Aerocool have proven time and time again that they can cram an incredible amount of features into their products at a very competitive price and we're expecting a similar performance from them today.
The Strike-X Cube chassis may be relatively small, but its capabilities are anything but. You'll find the chassis is capable of housing a Micro-ATX motherboard, two graphics cards of up to 345mm, tall CPU coolers up to 187mm, up to a 280mm water cooling radiator, a built-in fan controller, removable storage bays and more!
1. Super cube gaming case solidly built with 0.7mm Steel.
2. Unique side bar design to take the strength of chassis to the next level.
3. PSU bracket makes installation of PSU easier.
4. Largely increased airflow front and top panels.
5. Completely removable ODD rack for ease of installing water cooling system.
6. Supports DUAL 240/280mm water cooling radiators.
7. Pre-drilled holes for cable management to reduce cable mess.
8. Pre-drilled holes for water cooling tubes.
9. Supports internal 3×3.5″HDD (also compatible with 2.5") and 2×2.5″HDD/SSD under ODD rack.
10. Supports dual high-end graphic cards up to 320mm ( 345mm when front 20cm fan removed).
11. Supports max. CPU cooler height of 187mm.
12. Supports all PSU lengths.
13. Super-silent 20cm fan and 14cm fan included for front and rear cooling.
14. Supports up to 1 x 20cm, 2x12cm, or 2x14cm fans on top panel.
15. Supports up to 1x 20cm, 2x12cm or 2x14cm fans on front panel ( 1x20cm pre-installed).
16. Supports up to 2x12cm or 2x14cm fans on rear panel (1x 14cm pre-installed).
17. Magnetic PSU dust filter can be easily removed for cleaning.
18. HDD rack is double-secured by 2 screws to ensure the precious data don't get damaged during transportation.
19. Shock-proof rubber pads for 3.5″ HDDs and PSU.
20. 2x USB3.0/ HD Audio & MIC.
21. Separate fan positions for exhausting the heat from HDD and motherboard.
22. Large Acrylic window for clear viewing.
23. Includes fan controller knobs controls fan/s up to max. 15W/channel.
The Strike-X Cube is available in both black and white, but we obviously have the white model at our disposal today. The left side panel is really nice, not only does it have a stunning white finish, but there's also a huge side panel window, which will be perfect for showing off your fancy new graphics card.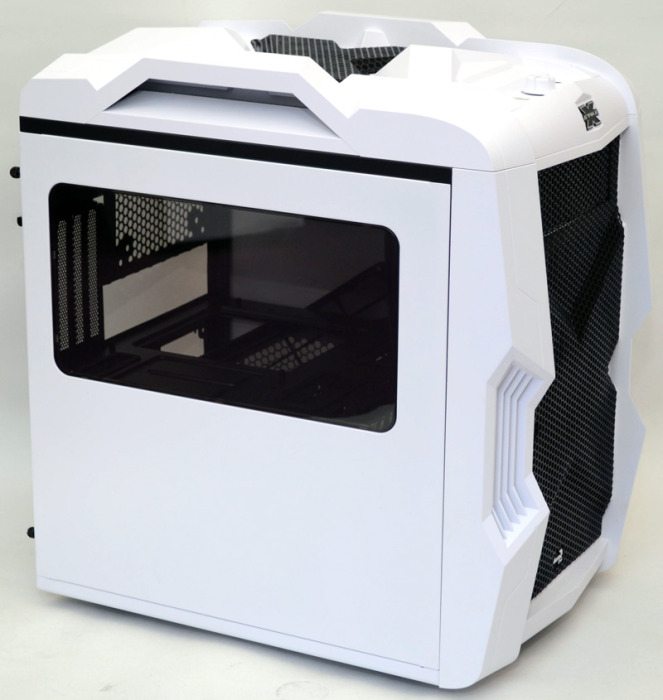 The power supply is mounted on its side on the interior of the chassis, to accommodate this, the right side panel has a ventilated section in the bottom right corner which comes fitted with a magnetic dust filter.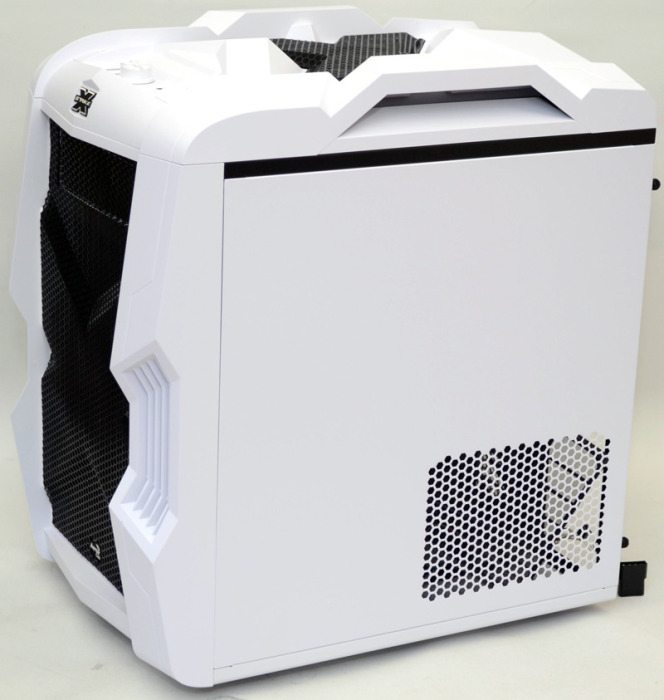 The front panel has a very aggressive design, mixing the black mesh with the brilliant white of the exterior panels. There's some blue LED lighting tucked into the vents on the left and right side, for a little added flair, and you can hardly miss the giant "X" shape that runs across the front of the chassis.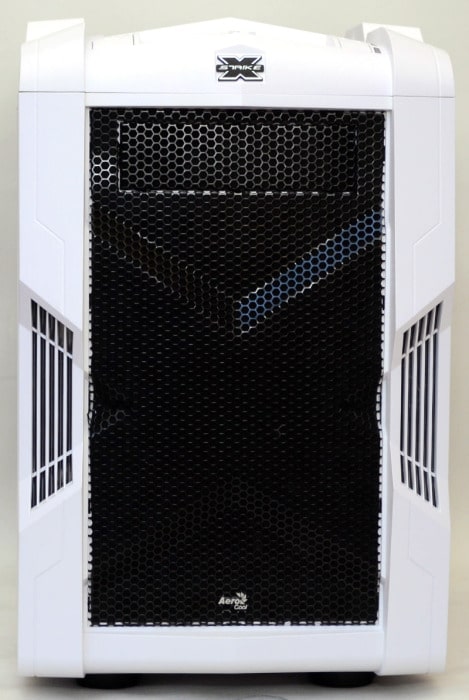 The main I/O panel features the usual power and reset buttons, a pair of USB 3.0 ports, HD audio jacks and a funky dial wheel for adjusting the fan RPM.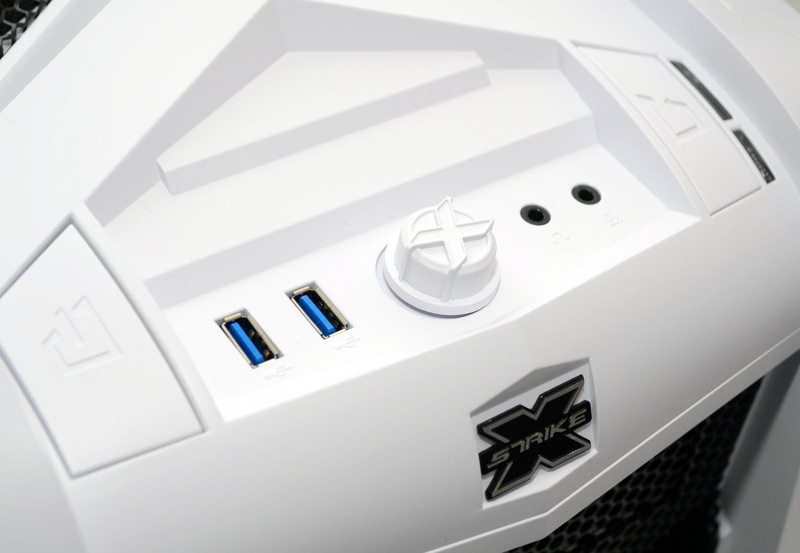 Around the back of the chassis, you'll find a 120/140mm fan mount, although the fan is not included. There's another 120/140mm fan mount in the base, where you will find a 140mm fan pre-installed. The PSU mount is turned on its side and has a removable bracket that allows you to install the PSU directly from the back of the chassis.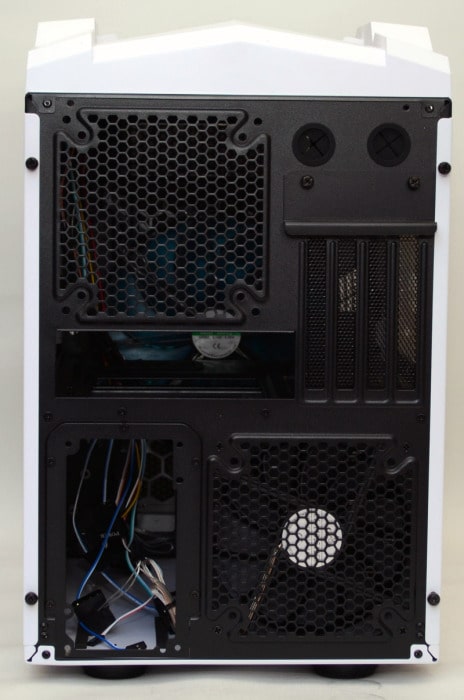 The top panel has a similar design to the front panel, with another large "X" shape acting as the top air vent. The sides of the top panel are raised, forming a pair of carry handles.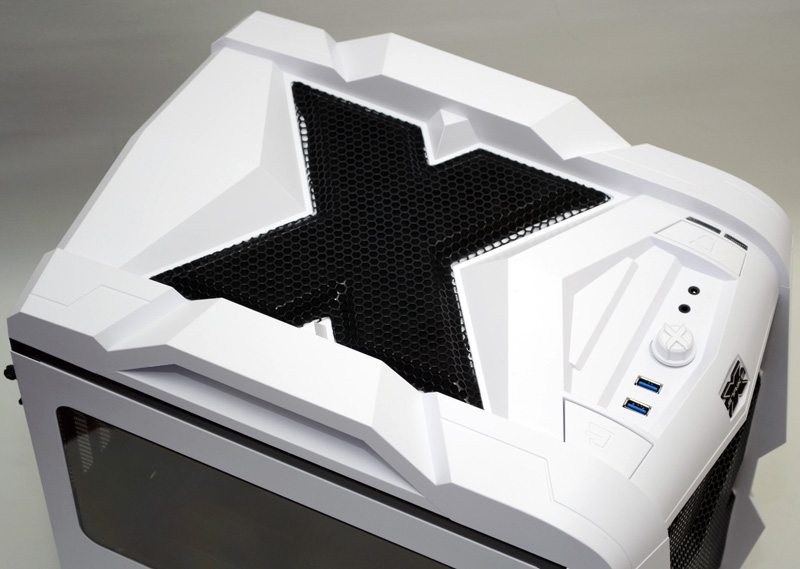 There are four large feet on the base with soft rubber grips, more than enough to help reduce vibrations and stop it sliding around your desktop.