Aerocool X1 Devil Red Edition Mid-Tower Chassis Review
---
---
---
Peter Donnell / 9 years ago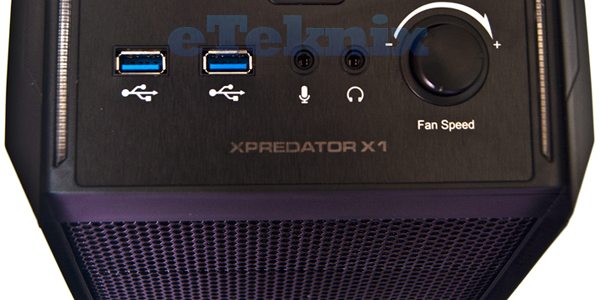 Today I am taking a look at the X1 Devil Red Edition chassis from Aerocool. A budget friendly solution targeted at the lower end of the gaming system market. With a retail price of around £45 I'm not expecting the earth from this chassis in terms of performance but it does have a reasonable feature list that bring its perfectly in line with a few rival brands for the same price bracket.
As with any Aerocool chassis, the X1 comes with the unique Aerocool styling both in terms of the shape and features of the chassis exterior as well as the paint job. Today we'll be taking a look at the Devil Red Edition, although the chassis is also available in Black, Evil Black (black and orange) and White finishes.
The X1 has many of the same style features you find on the premium Aerocool chassis such as the XPredator and XPredator X3 which we recently reviewed. Although the X1 is a lot smaller than either of these chassis and comes at a much reduced price, so I would expect to see lower cost materials and a less premium finish. Don't get me wrong though, that's not really a bad thing in a way, you get what you pay for and £45 for a chassis is a really good deal, it wouldn't be fair to compare it to the larger chassis in the Aerocool range given the cost 2 or 3 times as much, even if they do look similar from some angles.
"Our engineering and RD staffs specialize in airflow analysis, material conductivity, heat transfer technology and efficiency design. Aerocool not only has expertise in cooler technology and product design, but we also play a vital role in the enhancement of production efficiency and marketing analysis. We are constantly developing new products and technology to meet market demands and to generate new markets for our thermal products." – aerocool.com.tw
As part of their Ultimate Gaming Series this chassis still has to meet a certain standard, given that gaming chassis are generally targeted towards a particular part of the market that favours getting the most from their system. A gaming chassis has to perform well and provide great cooling solutions as well as room for larger graphics cards without sacrificing too much storage. As you can see in the spec sheet below we have support for 158mm CPU coolers, not massive but this is a fairly slim chassis at 190mm wide.

Come and take a look at the next few pages where I will be taking a closer look at just what the X1 has to offer, before fitting it out with our test components.