Aerocool XPredator Avenger & XPredator X3 Avenger Get A Fresh Design
---
---
---
Peter Donnell / 10 years ago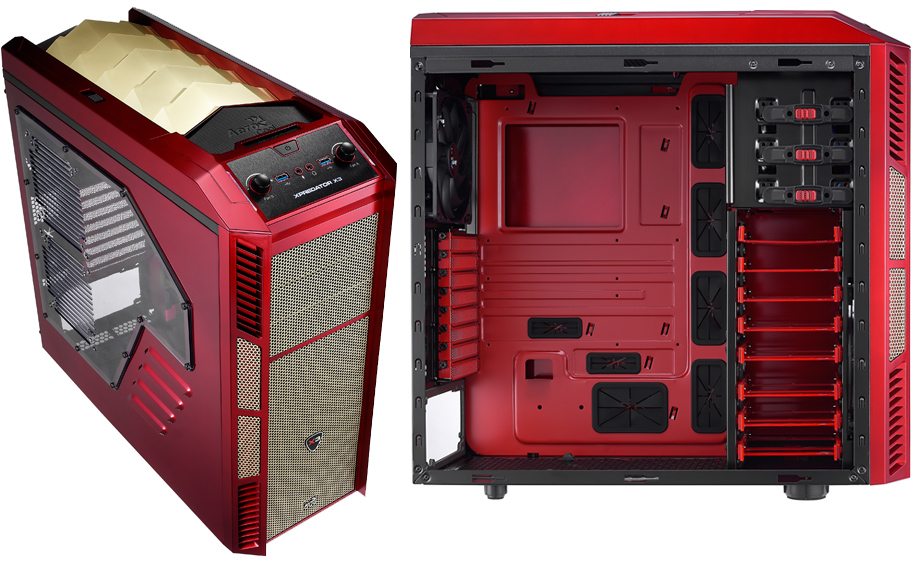 Aerocool Advanced Technologies have just introduced the latest editions of their popular chassis range. The new Avenger models are the latest additions to the XPredator super tower and the XPredator X3 high mid tower products. Both chassis are part of the performance gaming system series PGS-B, aiming for ambitious Gamers. New Avenger models are bringing a really fresh and exciting color-mix to the PGS-B series.
Aerocool took a very different approach when designing the chassis: Compared to the usual models, which feature a mix of black and red as well as white and blue, new Avenger models are using a mix of the colors gold and red. This fancy color combination is not only used on the outside but has been well implemented on the inside as well.
Users requiring much space, will love the XPredator Avenger super tower, which offers compatibility to almost all possible mainboard form-factors, including ATX, Flex-ATX, µATX, E-ATX as well as XL-ATX! Slightly more compact XPredator X3 Avenger supports form-factors such as ITX, Micro-ATX and standard ATX. Both chassis provide much space for hard drives, solid state disks, bay accessories and optical drives. XPredator Avenger features six 5,25 inch bays, six bays for 3,5 and 2,5 inch hard drives and SSDs as well as one (external) 3,5 inch bay.
In case of the XPredator X3 Avenger, up to eight 2,5 or 3,5 inch drives, three 5,25 inch drives, one additional (external) 3,5 inch drive can be easily mounted. Aerocool implemented one Hot Swap Slot on the outside front-panel of the XPredator X3 Avenger, which supports direct connection of 2,5 inch HDDs and SSDs. Both chassis are equipped with tool-free mechanisms and trays for the hard drive bays, allowing more fast and convenient mounting procedure.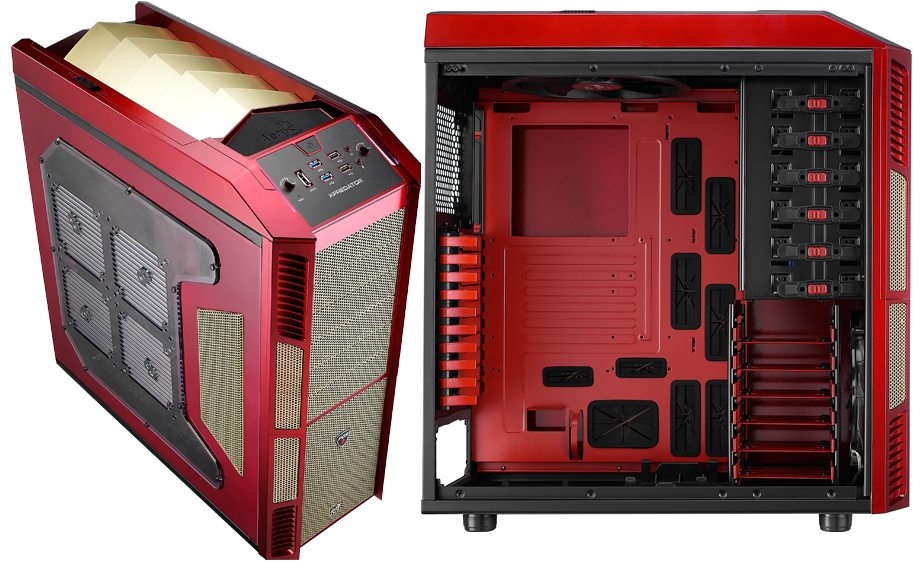 Even in terms of cooling capabilities, no compromise has to be made. XPredator Avenger allows mounting of big CPU coolers with a total height of up to 18,5 cm and VGA cards with a total length of up to 33 cm. The midi tower XPredator X3 Avenger is offering much space for big CPU coolers with a height of up to 18,6 cm and high end VGA cards with a length of up to 31 cm. Plenty of room for watercooling systems and additional fans, a cable management system and pre-drilled holes for water-pipes are provided as well.
The very fresh design of the new Avenger models attracts attention, especially at LAN parties. A re-worked I/O panel is lo-cated in the center of the top panel of the XPredator Avenger, and brings some changes as well. Instead of three USB 2.0 and only one USB 3.0 ports, users have now access to two USB 3.0 and two USB 2.0 ports. The Headphone and Mic jack as well as the eSATA port remain in the I/O panel. Both XPredator Avenger and XPredator X3 Avenger are supplied with a very use-ful two-channel fan controller, which is located in the I/O panel.
Aerocool XPredator Avenger and XPredator X3 Avenger are available at etailers and retails starting this week. Suggested manufacturers price as following:
Aerocool XPredator Avenger: 124,90 EUR (excl. Taxes)
Aerocool XPredator X3 Avenger: 104,90 EUR (excl. Taxes)
We look forward to reviewing these products in the near future, and the colour schemes do look like a breath of fresh air among the grey, black and white products we most often see.
Thank you Aerocool for providing us with this information.
Images courtesy of Aerocool.