AGON By AOC Launch New Gaming Headset & Mice
---
---
---
Mike Sanders / 2 years ago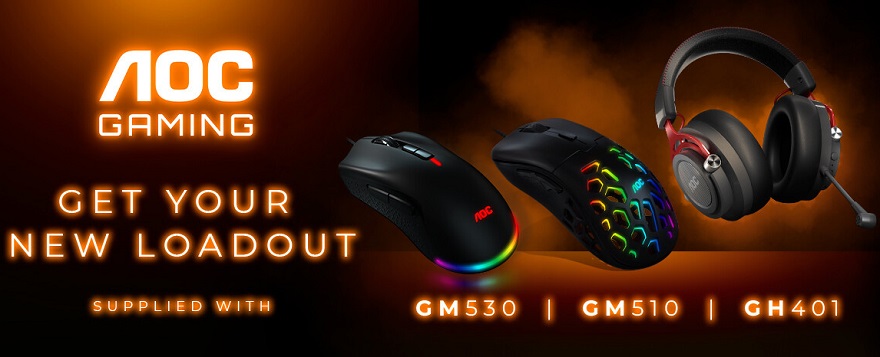 AGON by AOC – is now expanding its gaming peripherals portfolio with two new mice (AOC GM510 and GM530) and a wireless headset (AOC GH401). Equipped with high-quality Pixart sensors and well-thought-out design features, including customizable RGB Light FX, either of these mice will make great additions to the inventory of beginner, core as well as hardcore gamers. And for those gamers who want to be unhindered by cables when communicating with teammates, the GH401 gaming headset uses 2.4 GHz wireless technology to transfer audio and offers clear and punchy sound with bass boost thanks to its 50 mm neodymium drivers.
Before venturing out to a high-level dungeon to slay orcs and dragons, any adventurer needs to make sure to enchant their gear, fill up potions, and level up their character – just like today's gamers, who also rely on top-level gaming gear to excel in their game. An ergonomic, lightweight mouse that snugly fits into the user's hand is crucial to get those 360° no-scope precision shots in a hot-drop zone. As the main control device in PC gaming, gaming mice are the primary weapon of gamers which should be chosen wisely.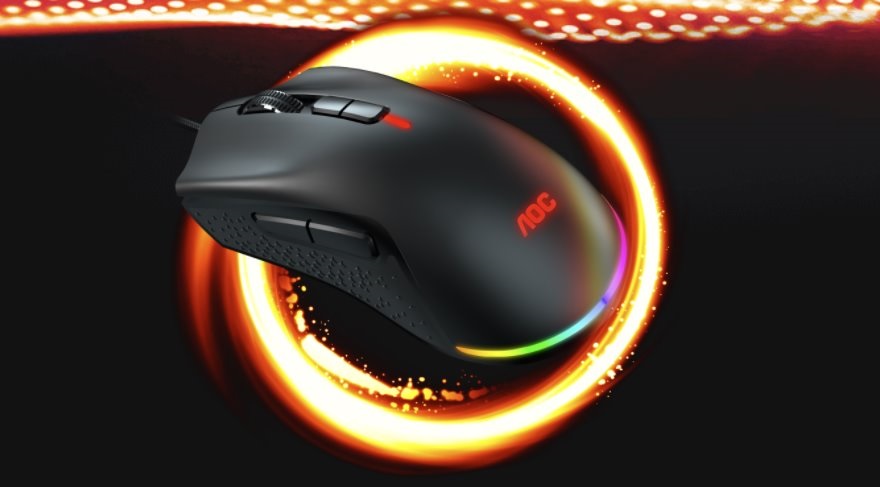 AOC Gaming Mice
Only recently, the entire gaming portfolio was rebranded under the "AGON by AOC" umbrella, serving gamers of all levels in three categories – entry-level adventurers (AOC GAMING), ambitious heroes (AGON), and professional legends (AGON PRO). AGON by AOC's gaming peripherals portfolio already includes three gaming mice for different skill levels, the entry-level GM200, the NVIDIA Reflex certified mid-level GM500 for extra low latency and the premium AGON AGM700 mouse with its removable weights for fine-tuning.
Now, the GM530 and GM510 join the 500-series gaming mice in the AOC GAMING category. The AOC GAMING GM530 is a highly ergonomic right-handed mouse with dual-injected silicone side grips which help gamers to hold the mouse in place and track their target in pro game lobbies where they have to be extra precise. Its high-end Pixart PMW3389 sensor tracks precisely with 16000 true DPI. The mouse employs Kailh switches for exceptional "clicky" feedback and fast responses with high durability (80 million clicks rated) fit for pros. The skin-friendly matte UV coating of the front surface is comfortable and feels exquisite to the touch. In addition to the primary left/right buttons and the wheel button, the AOC GM530 employs two thumb buttons on the left and two additional buttons below the wheel. The buttons are fully customizable thanks to the AOC G-Menu software, which also allows two distinctive RGB zones of the mouse to synchronize with the Light FX RGB lighting from the rest of the AGON ecosystem. The GM530 comes with a braided cable and a gold-plated USB connector.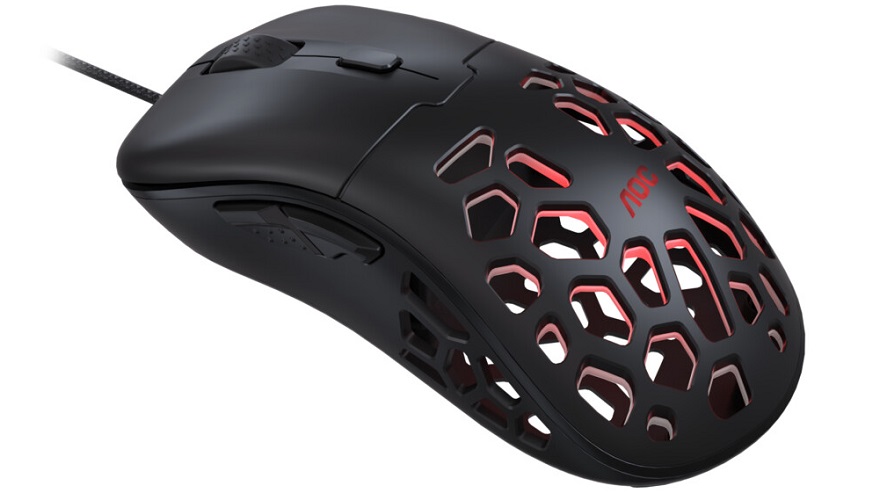 The GM510 is a right-handed mouse with a unique honeycomb pattern, making it very light, weighing just 58 g (without the cable). Since the mouse is so lightweight, it takes almost no effort to move it with quick reflexes in tight situations, which sometimes means a win or a defeat in a competitive FPS title. The ventilated shell design also makes it less likely to get sweaty and slippery, perfect during hot summers. Just like the GM530, the GM510 uses durable (80 million clicks), tactile and comfortable Kailh switches and the same high-end Pixart sensor as the GM530 to track movement accurately, even during high acceleration manoeuvres. The six buttons (including two thumb buttons) are fully customizable with the AOC G-Menu software and the single RGB zone can be synchronized with other AGON gear, too.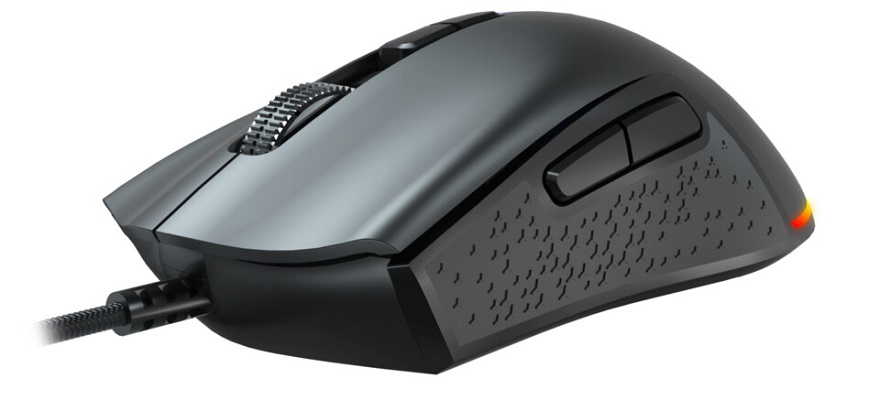 AOC GAMING's Versatile GH401 Headset
AGON by AOC launched two wired gaming headsets in March, the GH200 with a 3.5 mm jack and stereo sound, and the GH300 with a USB connection and 7.1 virtual surround sound. Both headsets employ 50 mm neodymium drivers to deliver rich, clear sound in a frequency range of 20 Hz – 20 kHz. – Now, for gamers looking for more freedom of movement during intense gaming sessions, AGON by AOC offers the new wireless gaming headset AOC GAMING GH401, which uses 2.4 GHz wireless technology reaching up to 10 meters.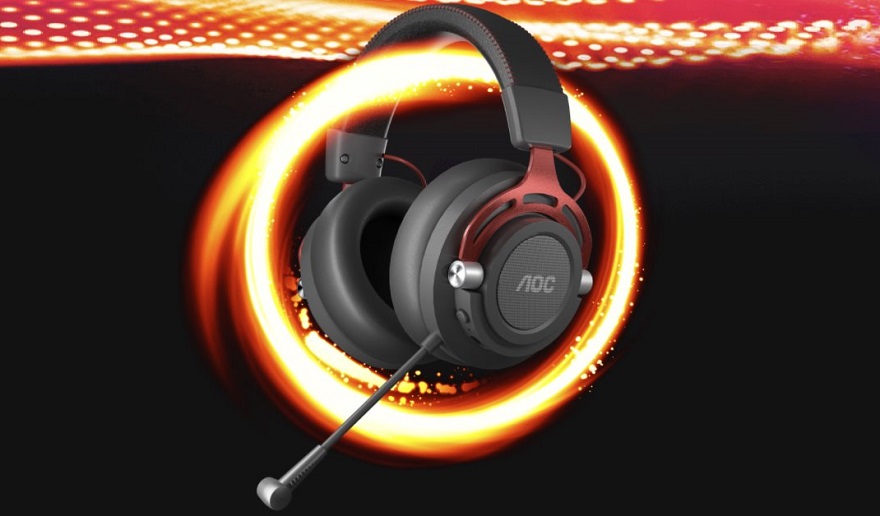 It can also be connected with a 3.5 mm stereo jack if a wireless connection is not required, making it the king of both worlds. The built-in battery is capable of delivering sound for 17 hours (at a 50% volume setting) and can be charged via the modern USB-C connection. The GH401 is also equipped with the same 50 mm neodymium driver praised for its clean and high-fidelity sound, and fitted with the same comfortable leatherette protein coating and memory foam as the GH200 and GH300, making it fit for long gaming sessions. The detachable, noise-canceling boom microphone can be adjusted for comfort and optimum distance for clean speech, while the onboard controls offer easy access to mute and volume buttons. The GH401 is compatible with PC, PS4 and PS5.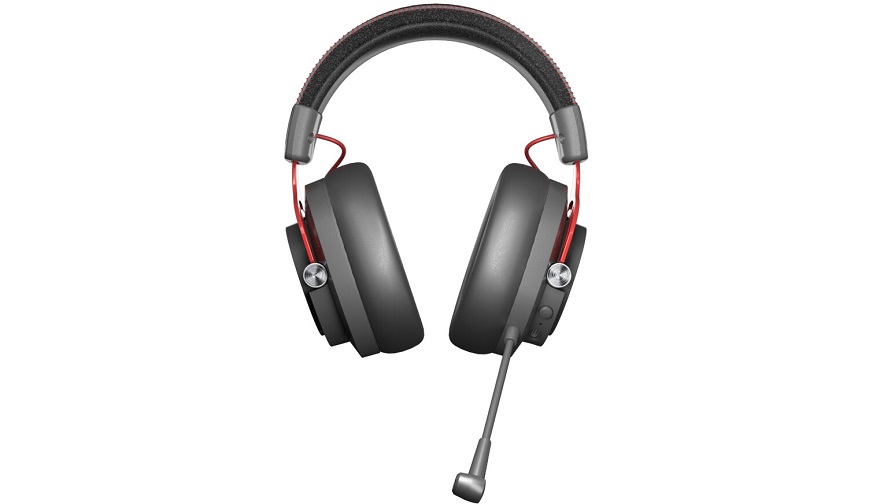 Where Can I Learn More?
The gaming mice AOC GM530 and GM510 will be available from November 2021 at the RRPs of £37.99 and £35.99, respectively. The gaming headset AOC GH401 will also be available from November 2021 at an RRP of £67.99. – If you do, therefore, want to learn more, you can check out the official product website links below:
What do you think? – Let us know in the comments!