Akasa MAX MT Fanless NUC Chassis Review
---
---
---
Peter Donnell / 6 years ago
Introduction
---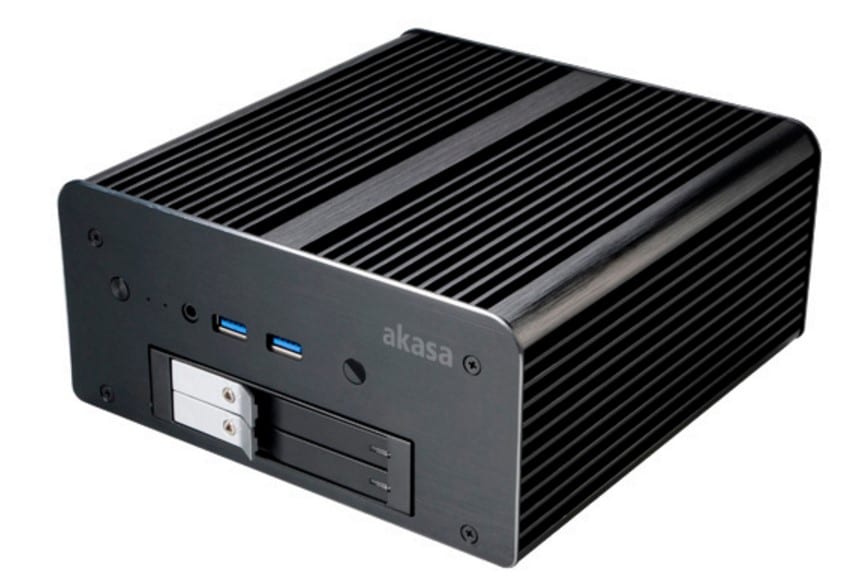 Big chassis get all of the fame and glory, but there are a lot of cool things happening in the world of ultra-compact chassis. Akasa is one of the biggest names when it comes to the smallest products and their range of NUC chassis is virtually unmatched. With Intel offering up some truly incredibly NUC motherboards, packing many of the latest Intel Core products, M.2 memory support, USB 3.0 and so much more, there's now a huge range of applications for this type of system, at home in the workplace and beyond.
• Aluminium fanless CPU cooling design
• Stylish front panel diamond effect
• Two bay 2.5″ SATA mobile tray
• Support one serial port
• Support IR remote function
• Compatible with the following Intel® NUC Board
NUC5i5MYBE / NUC5i5MYHE / NUC5i3MYBE / NUC5i3MYHE
NUC5i5RYH / NUC5i5RYK / NUC5i3RYH / NUC5i3RYK
With full aluminium construction, support for a range of NUC boards, a compact form factor, dual 2.5″ drive trays and more, the MAX MT is certainly appealing, but let's dive right in and take a closer look at what this chassis has to offer.
There are all kinds of accessories included in the box, included a second backplate to expand the motherboard compatibility, a pass through cable for COM connectors, a short and slim SATA cable and more.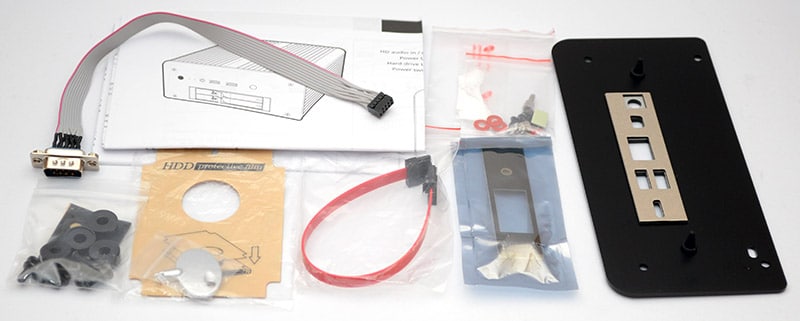 The chassis is made from thick and beautifully machined aluminium, with a sleek black finish. While this does add to the aesthetics, the construction is incredibly practical too, as it is durable and the whole bulk of the chassis acts as a passive heat sink for the CPU, allowing it run completely silent.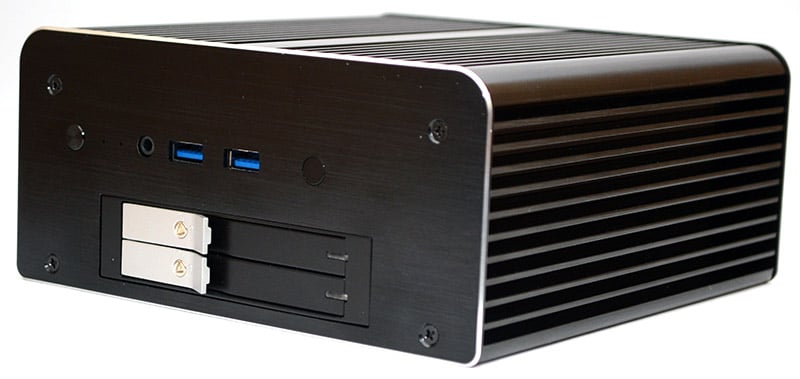 Down each side of the chassis, you'll see a fin array, this gives us a greater surface area to help dissipate heat.
The front panel is certainly interesting. As much as this chassis is designed to be tucked out of the way, it's still very attractive and I'd have no issues have it out on show as part of my desktop setup or a home AV setup and the trimmed silver edges of the front panel certainly add to the appeal.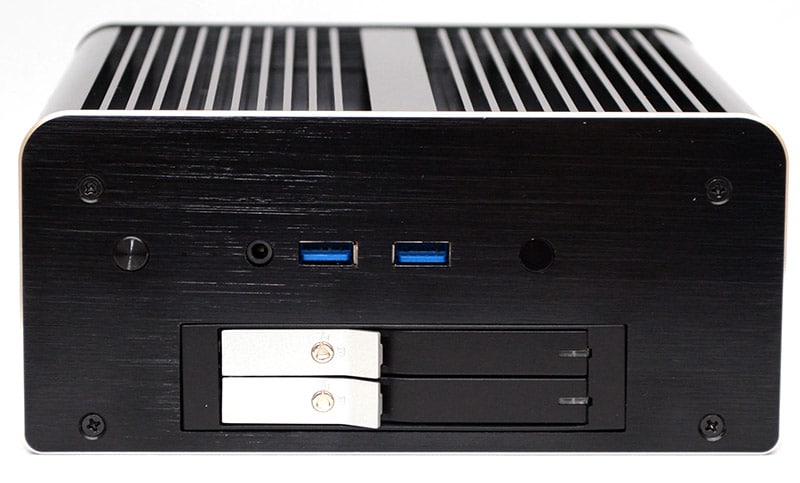 Aside from the IR port, the power button, USB and the HD audio, you'll also notice the most important feature of this chassis; dual 2.5″ drive bays. These can be opened at the front, allowing for easy hot-swapping of 2.5″ drives, making this a great option for a compact NAS, workstation or HTPC.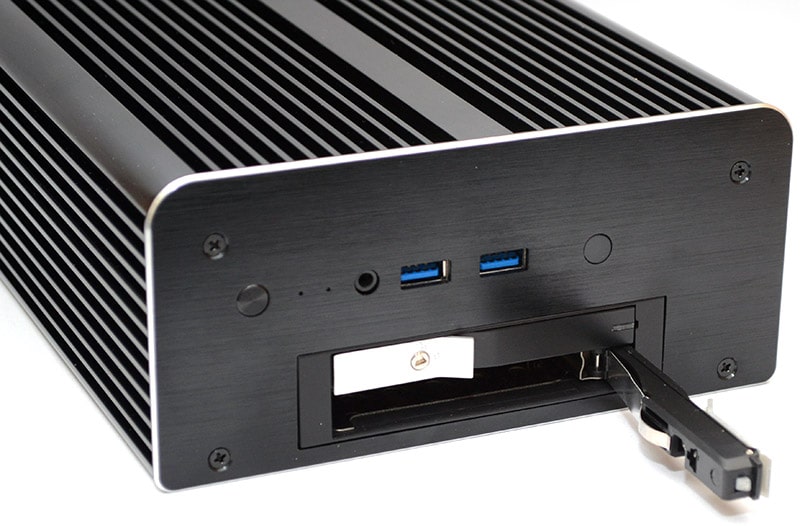 around the back, you'll find a com port, motherboard I/O, two rubber pegs which can be removed to mount WiFi antenna and a Kensington lock fitting. Of course, you can also swap this backplate for the other included in the box, which offers support for some other NUC motherboards.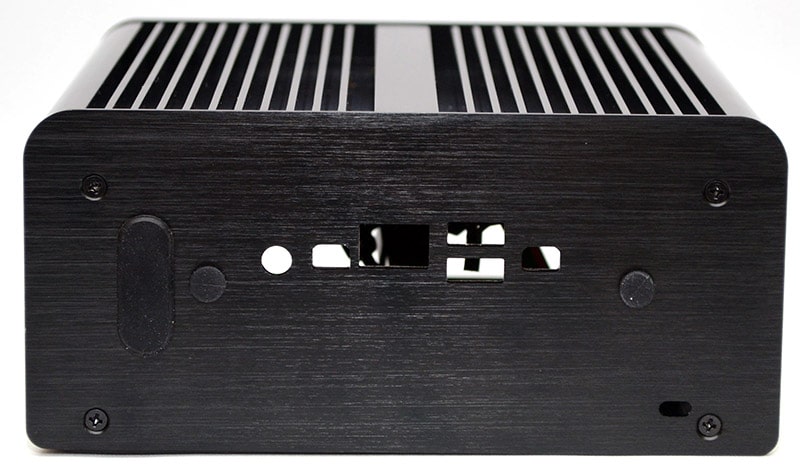 across the top, even more thick fins in the aluminium, which will help improve the cooling performance even more, but also keeps the design uniform with the sides of the chassis.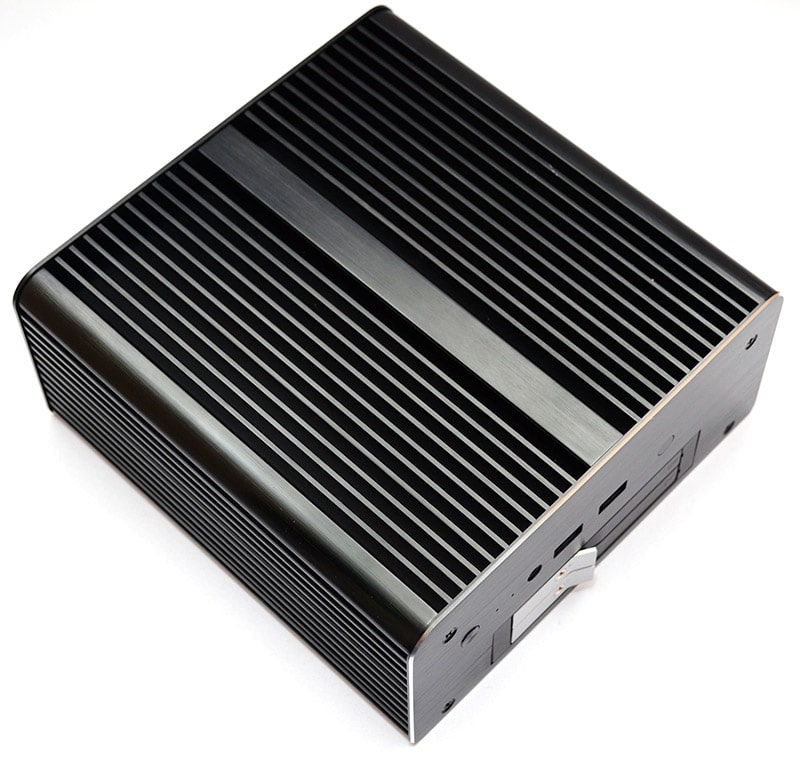 The base of the chassis is compatible with VESA mounting kits, meaning you can easily install it on a bracket, on the back of a compatible monitor or TV and a whole host of other places. There are four screws here too, as the base is the only access point for installing your hardware.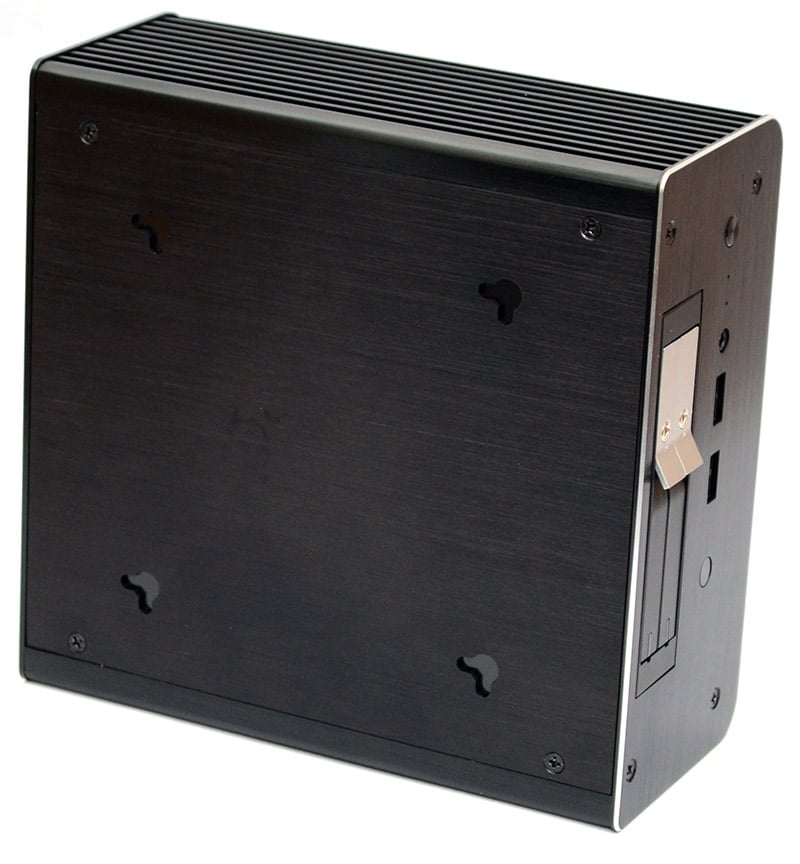 ———————–
Interior
---
Opening up the chassis is pretty straight forward and you can take out the pre-installed 2.5″ dock with just four easy to access screws. The unit is nicely self-contained and the SATA cables on the back are pretty self-explanatory. There's no need to remove this dock to install drives, but you will need it out of the system to install a motherboard.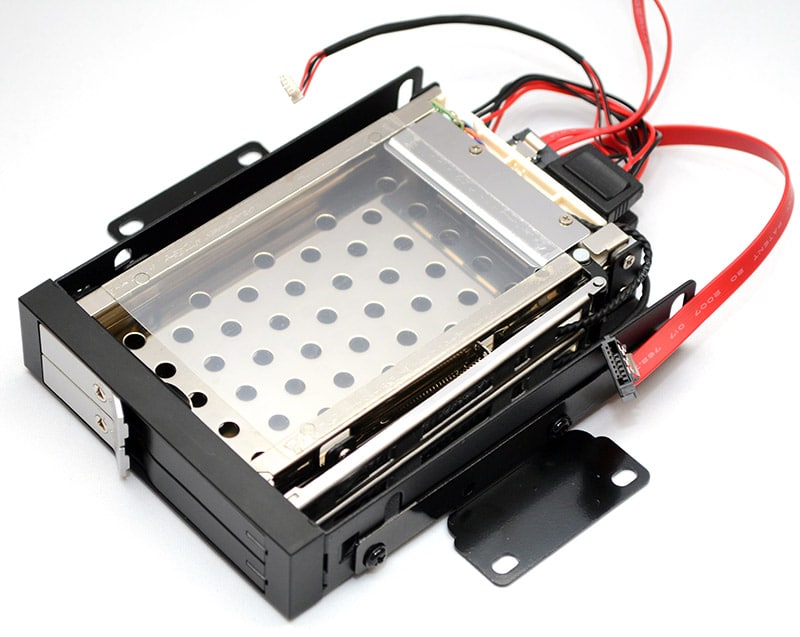 The interior of the chassis is obviously longer than the compact NUC motherboards, so you'll find a range of cables pass through from the front panel, ensuring you don't lose any of the functionality of the system.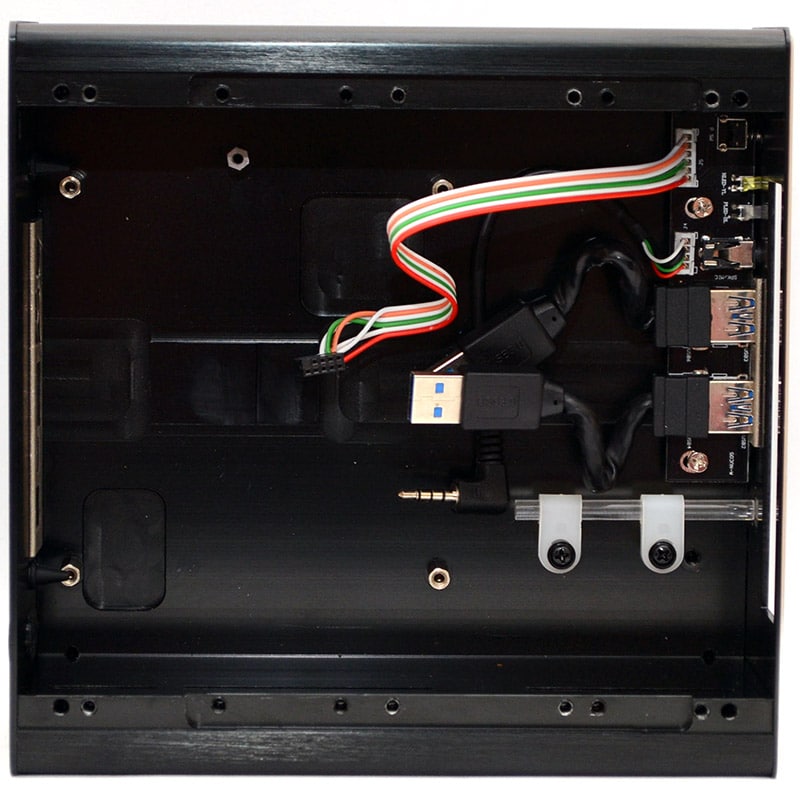 You'll find USB, power, audio and even an IR extender all come pre-installed. The large cut-out at the front is for the HDD dock which we saw earlier.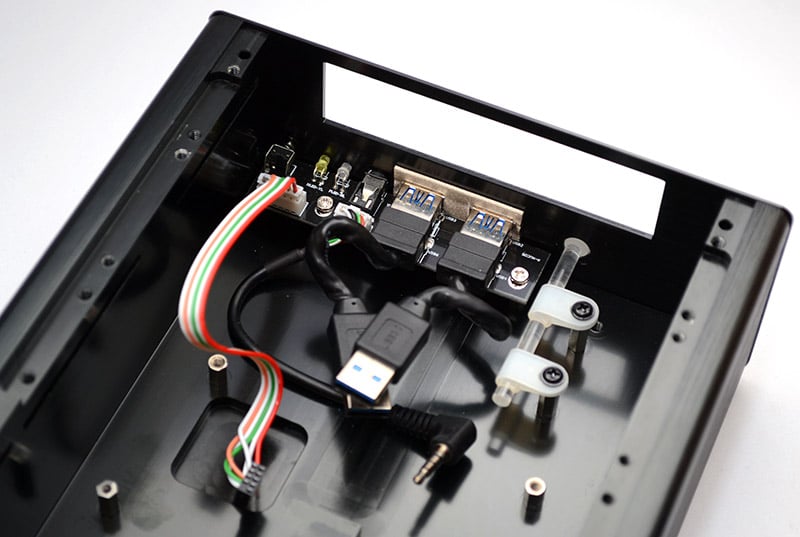 Fairly standard backplate here, as well as four stand-offs for the motherboard. What's really cool though is the aluminium block under the motherboard, this is the main part of the chassis that is used as the heat sink for the CPU, which then transfers the heat through the rest of the chassis, allowing for completely passive and silent cooling.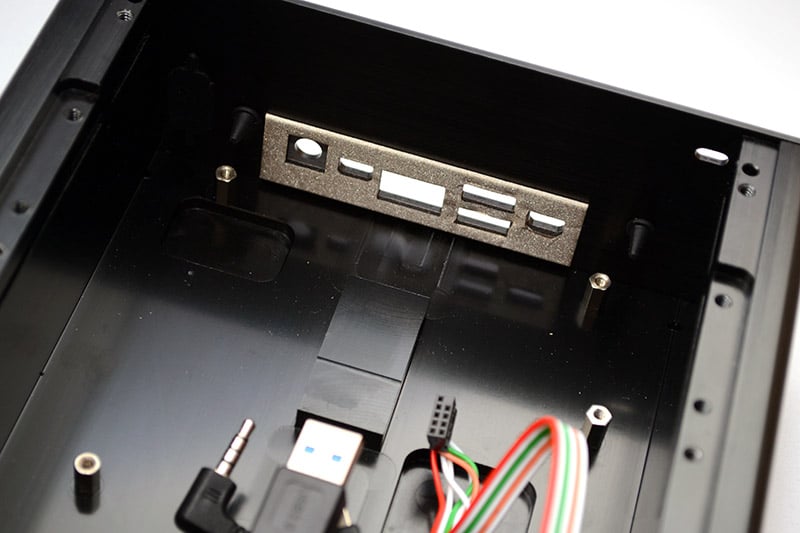 ———————–
Complete System
---
Installing a motherboard in this chassis couldn't be much easier, just apply the thermal paste and pad to the CPU on the reverse of the motherboard and screw it in place. The pass through cables to the front I/O are much easier to attach than they look, it really only took about 30 seconds to get everything connected and ready to use. There's a tiny PCB on the side of the motherboard, which is a special adaptor made by Akasa, allowing a 3rd SATA connector; the release date of this board is TBC. It's a great little addition and one that you'll certainly want to get your hands on.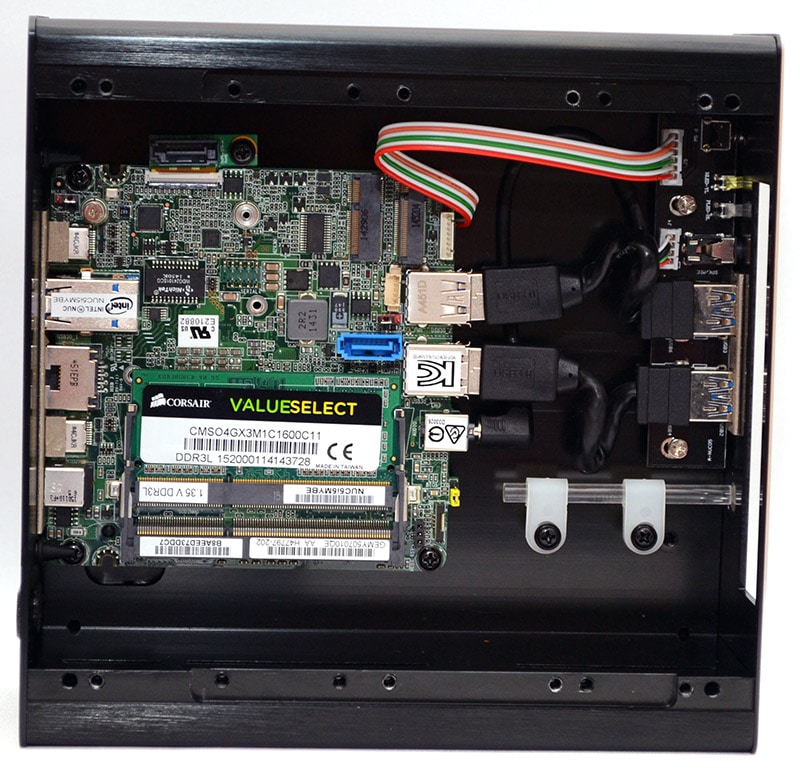 The hard drive dock is easily installed too, as the cables are all self-explanatory and there's an M.2 to SATA adapter included in the box, combined with the custom Akasa PCB which we hope is released soon, that gives you three SATA ports to play around with.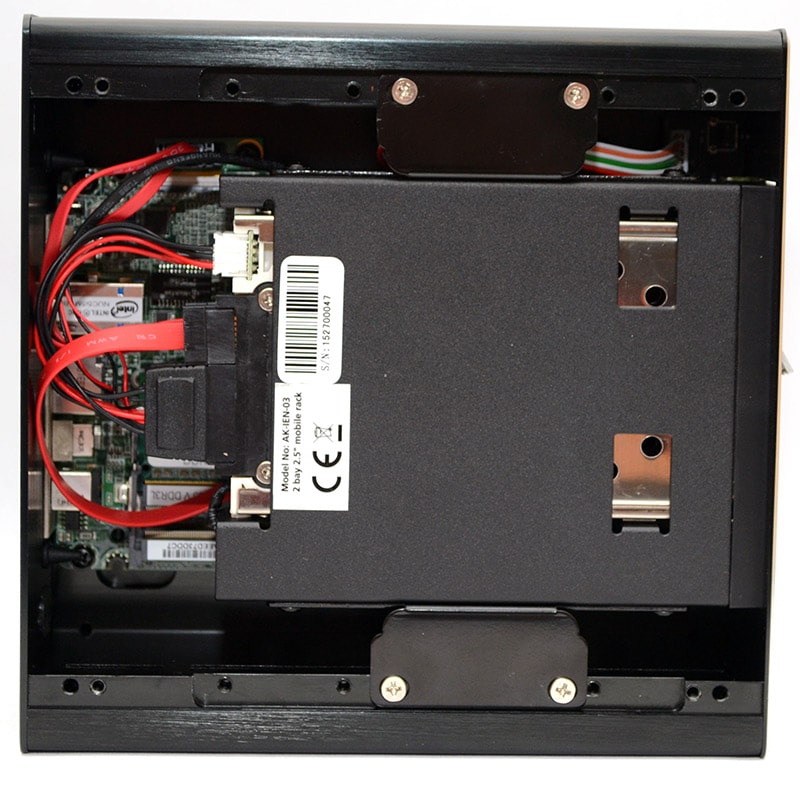 All panels back in place and you wouldn't know we've done anything to this chassis, it's closed up pretty tight and that'll pay off big time in the long run, as it's enough to stop dust building up within the chassis. This means that maintenance is virtually zero and this system should be able to operate for years without you needing to open it up.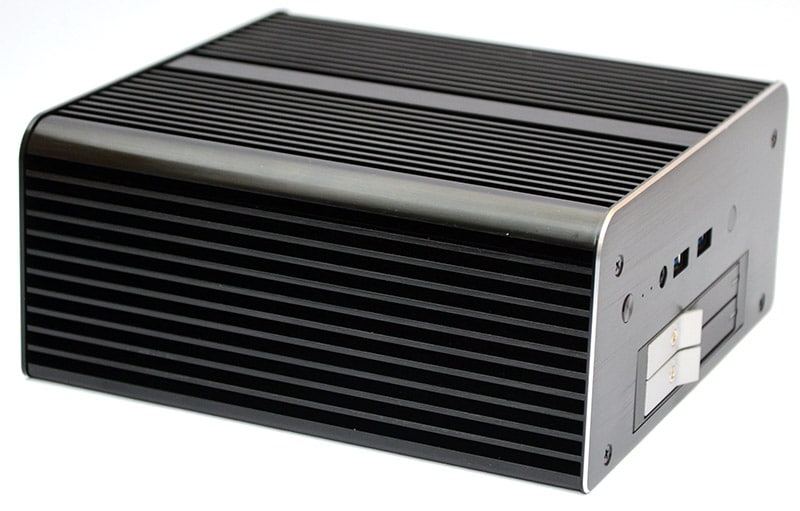 ———————–
Final Thoughts
---
Pricing
the Akasa MAX MT Fanless Intel NUC chassis is just £94.78 from Scan.co.uk. This may seem like a lot, but I think it's a bit of a bargain given the build quality and features on offer.
Overview
The MAX MT is by far my favourite NUC chassis so far, it's got all the versatility you could hope for in a compact chassis and it has some pretty far-reaching applications. The NUC boards offer some very impressive performance figures despite their compact sizes, making them as versatile as most desktop systems. Working in the office, expanding your HTPC setup, digital signage and even industrial applications, the MAX MT is very well suited to the job.
The passive cooling is something you cannot ignore either, as it means this system is capable of running completely silent, with virtually zero maintenance. The enclosed design will keep dust and debris out and with those dual 2.5″ drive bays on the front, there's no need to open up the system short of needing to upgrade any of the core components. This means you can mount it on the back of your VESA display, under your desk, behind a workstation, anywhere really, and forget about it.
The dual 2.5″ drive bays open up a lot of possibilities here too, as you can use the system for mass storage, much like you would a NAS, for cloning drives, or just transferring huge files between multiple workstations with relative ease. Being able to take the drives out without the use of tools is certainly a joy, especially if you need to do it on a regular basis.
The price may seem high, but for this level of functionality it's really a small price to pay. This chassis offers a lot of practical solutions that make it well suited for mounting out of sight, yet it still manages to look good enough to show off as part of your home AV setup or in a professional environment; the choice is yours.
Pros
Class leading build quality
Passive (and silent) cooling
Tool-free dual 2.5″ drive bays
VESA mountable
Stylish design
Compact design
Mini PCB allows use of 2nd SATA port from NUC motherboards
Cons
"Packed full of innovative features such as passive cooling and hot-swap drive bays, the Akasa MAX MT is one of the most versatile and stylish NUC chassis on the market. A great product with a huge selection of possible applications."
Thank you Akasa for providing us with this sample.