Akasa Raptor White Chassis Review
---
---
---
Andy Ruffell / 12 years ago

We have taken a look at quite a few cases recently and most have been slightly out of the ordinary. As such, it is time to take a look at a case that on the face of it is much more the standard PC case-style. The question is: Just how good is it and can it stand out from the rest?

This case is the Akasa Raptor and has only very recently been released. This is in itself the more special of the various versions available and the one that on paper certianly looks nicer. This is the White version of the Akasa Raptor whereas the standard version is Black with 3 different colours of 'trims'.

Akasa are at the forefront of the PC components market and are well known for their 'Superb Design and Engineering'. Currently their products range from CPU coolers and fans to cases and power supplies and several things in between. They are a company who are very aware of its target market and as such tend to produce products that are very popular, like the Akasa Venom for instance.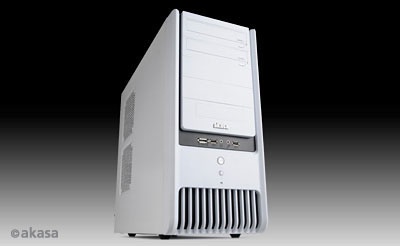 A nice white case is nearly a re-invention of the original designs that flooded the market when PC's as we know them were first produced. Akasa have clearly taken a leaf out of Apple's book of design prowess and tried to produce something that is designed to look good and hopefully perform very well.
Specifications
[HR][/HR][FONT=Courier New][TABLE=class: product_text, width: 695]
[TR]
[TD=width: 250, bgcolor: #F0F2F4][FONT=Tahoma][COLOR=black]Colour[/TD]
[TD]White[/TD]
[/TR]
[TR]
[TD=width: 250, bgcolor: #F0F2F4]Material[/TD]
[TD]SECC, plastic[/TD]
[/TR]
[TR]
[TD=width: 250, bgcolor: #F0F2F4]Compatible motherboard types[/TD]
[TD]ATX (12″ x 9.6″)
Micro ATX (9.6″x 9.6″)[/TD]
[/TR]
[TR]
[TD=width: 250, bgcolor: #F0F2F4]5.25″ external bays[/TD]
[TD]4 (two with hinged door)[/TD]
[/TR]
[TR]
[TD=width: 250, bgcolor: #F0F2F4]3.5″ external bays[/TD]
[TD]1[/TD]
[/TR]
[TR]
[TD=width: 250, bgcolor: #F0F2F4]3.5″ internal bays[/TD]
[TD]6[/TD]
[/TR]
[TR]
[TD=width: 250, bgcolor: #F0F2F4]Cooling system[/TD]
[TD]1 x front 120mm fan
1 x rear 120mm fan
1 x top 140 or 120mm fan mounts
2 x side panel 120mm fan mounts
2 x ports for external watercooling[/TD]
[/TR]
[TR]
[TD=width: 250, bgcolor: #F0F2F4]Fan specifications[/TD]
[TD]Two 120 x 120 x 25mm, 1200RPM[/TD]
[/TR]
[TR]
[TD=width: 250, bgcolor: #F0F2F4]PSU (not included)[/TD]
[TD]Supports ATX and EPS power supplies
Base mounted, dual positioning
Dust filter supplied[/TD]
[/TR]
[TR]
[TD=width: 250, bgcolor: #F0F2F4]I/O Ports[/TD]
[TD]2 x USB2.0
eSATA
HD Audio (AC"97 compatible)[/TD]
[/TR]
[TR]
[TD=width: 250, bgcolor: #F0F2F4]Expansion slots[/TD]
[TD]7[/TD]
[/TR]
[TR]
[TD=width: 250, bgcolor: #F0F2F4]Dimensions[/TD]
[TD](H) 430 x (W) 200 x (D) 476mm[/TD]
[/TR]
[TR]
[TD=width: 250, bgcolor: #F0F2F4]Product Code[/TD]
[TD]AK-RAP-01WH (White)[/TD]
[/TR]
[/TABLE]
[/FONT][/FONT][/COLOR]