Akasa Venom CPU Cooler
---
---
---
Andy Ruffell / 12 years ago

Currently, one of the most competitive computer markets is the CPU cooling and especially the high-powered and more exclusive heat sinks. There are a lot of advantages to having a good CPU cooler, it can allow for a faster stable over clock, or it can keep your computer cooler and quieter.

There are many current products on the market and a huge range to choose from. Separating these out and choosing the best product is always a very hard procedure.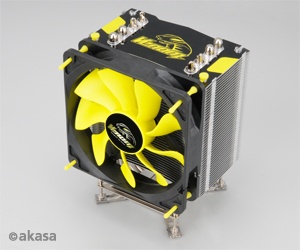 Akasa are one of the best producers of cooling devices and as such have an impressive reputation. We therefore as such expect this device to be very impressive, however over the years heat sinks and CPU fans have changed quite a bit, for one, heat sinks have got a lot bigger and this looks to be no exception. They have also added on the technology of heat pipes which are thermal conducting pipes designed to remove the heat from the copper base as fast as possible and spread the heat over the heat sink. The number of fins on the heatsink has also in general increased and they have become thinner to improve the surface area and as such improve the heat conduction with the air in the case.
[COLOR=#000000][FONT=Tahoma]Specifications
[/FONT][/COLOR][HR][/HR][TABLE]
[TR]
[TD=bgcolor: #F0F2F4][COLOR=#555555][FONT=Tahoma]Socket type[/TD]
[TD]Intel LGA775, LGA1155, LGA1156 & LGA1366
AMD Socket AM2, AM2+ & AM3[/TD]
[/TR]
[TR]
[TD=bgcolor: #F0F2F4]Cooler dimensions[/TD]
[TD]120 (W) x 96 (D) x 160 (H) mm[/TD]
[/TR]
[TR]
[TD=bgcolor: #F0F2F4]Heatsink material[/TD]
[TD]High grade aluminium fins, copper heatpipes[/TD]
[/TR]
[TR]
[TD=bgcolor: #F0F2F4]Weight[/TD]
[TD]805g[/TD]
[/TR]
[TR]
[TD=bgcolor: #F0F2F4]Installation[/TD]
[TD]Screws and backplate (Intel & AMD)[/TD]
[/TR]
[TR]
[TD=bgcolor: #F0F2F4]Fan dimension[/TD]
[TD]120 x 120 x 25mm[/TD]
[/TR]
[TR]
[TD=bgcolor: #F0F2F4]Fan speed[/TD]
[TD]600-1900 RPM (PWM controlled)[/TD]
[/TR]
[TR]
[TD=bgcolor: #F0F2F4]Max airflow[/TD]
[TD]83.63 CFM (141.75 m³/h)[/TD]
[/TR]
[TR]
[TD=bgcolor: #F0F2F4]Max air pressure[/TD]
[TD]2.98 mm H2O[/TD]
[/TR]
[TR]
[TD=bgcolor: #F0F2F4]Noise level[/TD]
[TD]6.9 – 28.9 dB(A)[/TD]
[/TR]
[TR]
[TD=bgcolor: #F0F2F4]Current rating[/TD]
[TD]0.17A[/TD]
[/TR]
[TR]
[TD=bgcolor: #F0F2F4]Voltage rating[/TD]
[TD]12V DC[/TD]
[/TR]
[TR]
[TD=bgcolor: #F0F2F4]Bearing type[/TD]
[TD]HDB (Hydro Dynamic)[/TD]
[/TR]
[TR]
[TD=bgcolor: #F0F2F4]Fan life expectancy[/TD]
[TD]50,000 hours[/TD]
[/TR]
[TR]
[TD=bgcolor: #F0F2F4]Fan connector[/TD]
[TD]4pin PWM[/TD]
[/TR]
[TR]
[TD=bgcolor: #F0F2F4]Product code[/TD]
[TD]AK-CCX-4002[/TD]
[/TR]
[/TABLE]
[/FONT][/COLOR]