All Babies Need Their Independence Try The Crib Dribbler
---
---
---
Shane Blume / 10 years ago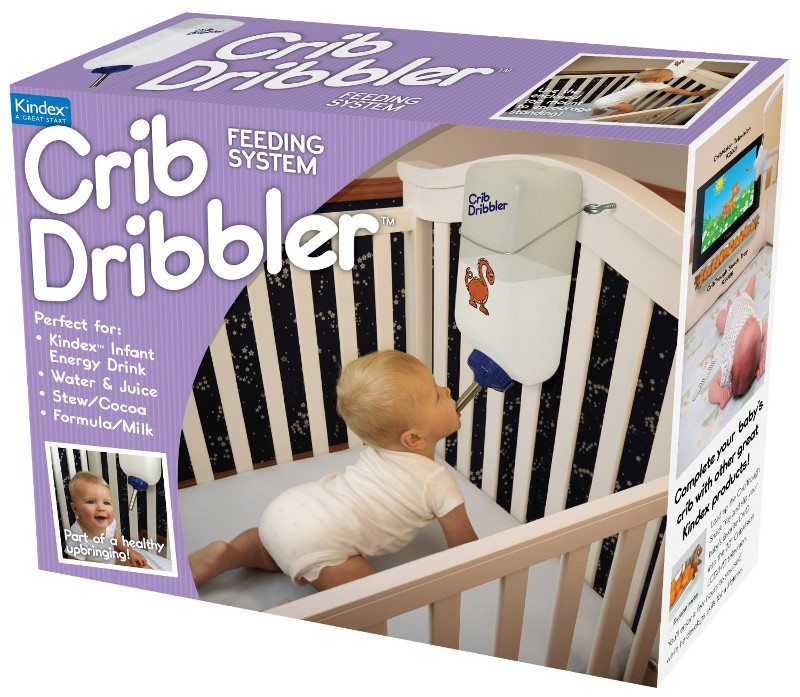 If you have a baby, then you likely know what it is like to deal with those 1 A.M. feedings, the 3 A.M. feedings, and the 5 A.M. feedings. The Crib Dribbler gives us the ability to set it and forget it. Now if it were only real, just kidding. The Crib Dribbler, has been giving babies their independence since 1972. Coming in 2 sizes, the "Weekender, and the "Over-Nighter".  Perfect for Kindex Infant Energy Drink, Water, Juice, Stew, Cocoa, Formula and Milk!
The "Weekender" allows parents to leave 100 ounces of liquid goodness for their baby while they go out for dinner and a movie, also giving them the chance to stay at that bed and breakfast that they have been wanting to stay at.
The "Over-Nighter" allows parents to kick their feet up for the evening and just relax, giving the baby 40 ounces of hearty goodness.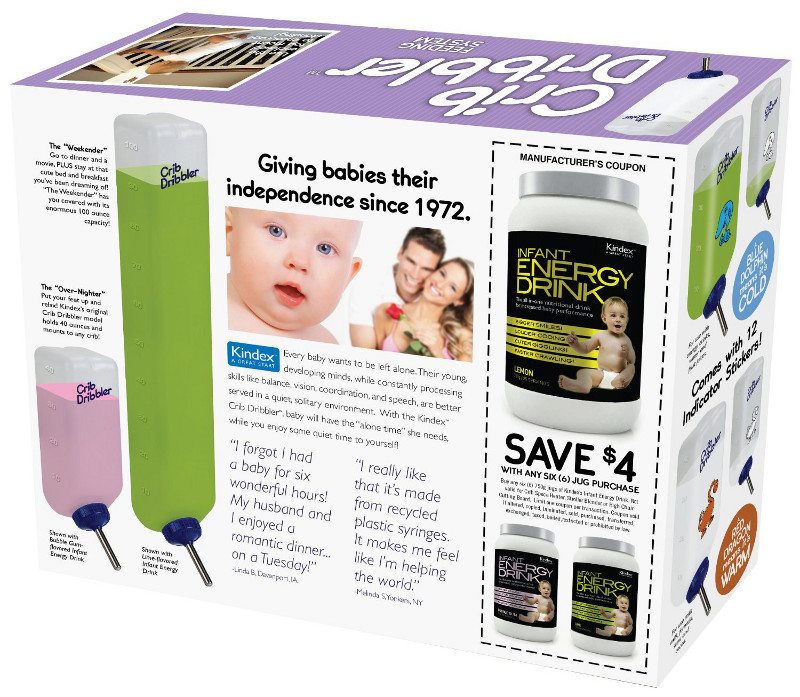 Kindex, has been "Giving babies independence since 1972. Which is great because every baby just wants to be left alone, allowing their minds to develop and hone their skills. Practicing their balance, vision, coordination and speech. They are better able to work on these skills when left in peace and quiet. Purchasing Kindex "Crib Dribbler" allows your baby to get the time to themselves that they need and enjoy! Giving you ample opportunity to take some time for yourself.
With Kindex you no longer need to worry about feeding times, you could load up the "Crib Dribbler" and take personal time for yourself. You don't need to worry about harmful plastics as the "Crib Dribbler" is made from 100% recycled plastic syringes!
Don't forget to try Kindex Infant Energy Drink, now in flavors of Lemon, Bubble Gum, and Lime! Giving your baby Bigger Smiles! Louder Cooing, Cuter Giggling! And Faster Crawling!
Kindex also offers Crib Space Heater, Stroller Blender and High Chair Cutting Boards. As well as their special 20″ LCD HD Television so Baby can watch their favorite movies!
Crib Dribbler is Made in the U.S.A.
Images from Amazon