Alphacool Launch its New Eiswolf 2 AIO and ES Block for Nvidia 4090
---
---
---
Mike Sanders / 11 months ago

With the Eiswolf 2 AiO and the ES cooling block from the Enterprise Solutions series, Alphacool presents two innovative solutions for cooling Nvidia's latest graphics card. In order to dissipate the enormous waste heat of this graphics card generation in the best way possible, numerous optimizations have been made to the water cooler compared to the previous models. The fin structure has been adapted and allows a very high water flow while increasing the cooling surface. The modified jet plate with an improved inflow engine ensures optimum distribution of the water over the cooling fins. The fully chrome-plated copper base is resistant to acids, scratches and damage. Additionally, the chrome plating provides homogeneity and shine that cannot be achieved by nickel plating.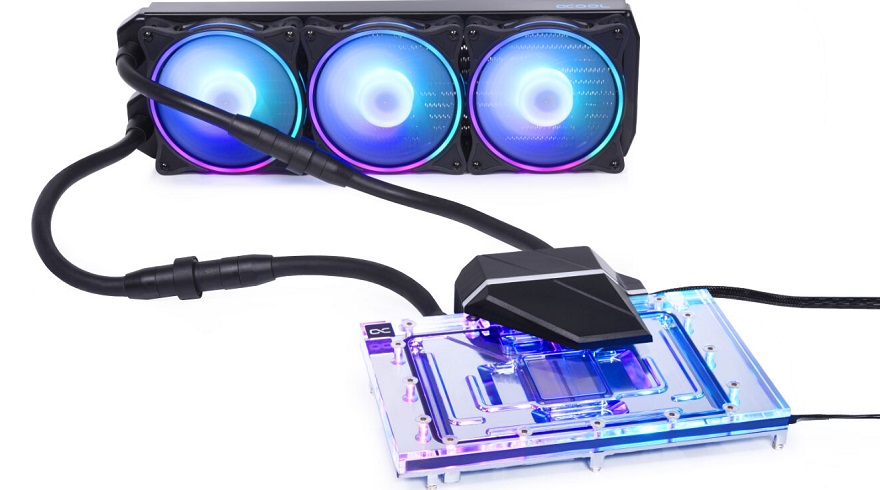 Alphacool Eiswolf 2 AIO and ES Block for Nvidia 4090
This improved cooler is now being used in Alphacool's Eiswolf All-in-One as well as Enterprise Solutions in the industrial sector. The expandable Eiswolf 2 still scores as an all-around carefree package and ensures that its user can easily take advantage of a performance-oriented GPU water cooling with digital aRGB illumination out-of-the-box. Also still included are the NexXxos ST30 360 mm radiator, the Rise Aurora 120 mm fans, the Eiswolf 2 pump top with integrated DC-LT 2 pump and the TPV hoses with quick-release coupling. The ES cooler impresses with its technical design. The positioning of the connections at the rear allows easy integration of the GPU cooler into the water loop even in the tightest server cases. The discreet material mix of carbon and chrome-plated copper makes it additionally interesting for private users who can do without aRGB lighting.

Features
Radiator
Material fins, pre-chambers & channels: Copper
360 mm for 3x 120 mm fans, double-sided mountable
Fans
Alphacool Rise Aurora 120 mm
Connection & control: 4-pin PWM
Fan speed: 0-2500 rpm/min
Max. Air Flow: 119.8 m³/h
Max. static pressure: 3.17 mm/H2O
Cooler & Pump
Material cooler bottom: chrome-plated copper
Material cooler housing: acrylic
Fin structure cooler bottom: 0.4 x 0.4 mm
Pump type: DC-LT 2 (2600 rpm +/- 10%)
Number of aRGB LEDs: 12
Connection & control: 4-pin PWM
Features ES Block
chrome-plated copper cooler
optimized fin structure with enlarged cooling surface
the modified jetplate ensures an optimal flow through the cooling fins
connections at the rear enable integration in the most confined spaces
Compatibility Eiswolf 2 & ES Block:
NVIDIA RTX 4090 Graphics Cards in Reference Design
INNO3D GeForce RTX 4090 iCHILL X3 OC (N40903-246XX-18332989)
INNO3D GeForce RTX 4090 iCHILL X3 (C40903-246XX-1833VA47)
INNO3D GeForce RTX 4090 iCHILL Frostbite (C4090-246XX-1833FB)
INNO3D GeForce RTX 4090 iCHILL Black (C4090-246XX-18330005)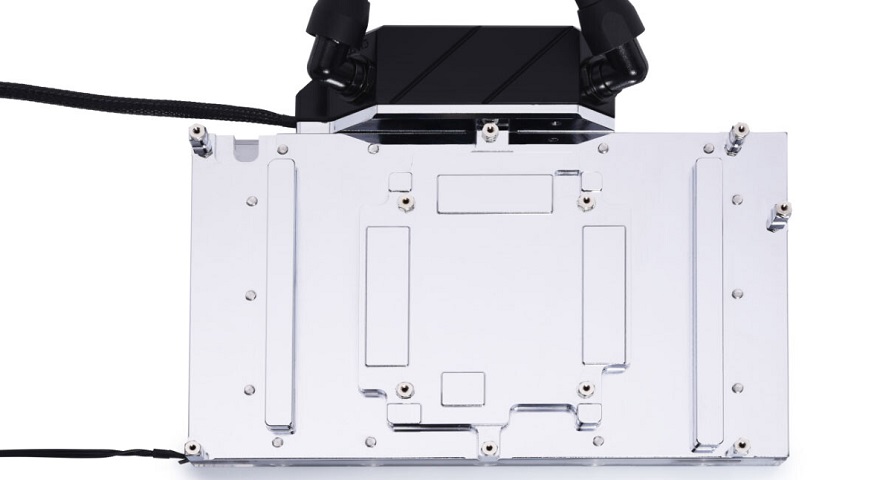 Where Can I Learn More?
Available to order now, should you wish to learn more about this latest release from Alphacool for the Nvidia 4090, you can check out their official website via the link here!
What do you think? – Let us know in the comments!