The Amazon Treasure Truck is Coming to the UK
---
---
---
Mike Sanders / 3 years ago
The Amazon Treasure Truck is making its way to the UK
Amazon, while one of the biggest online retailers has often toyed with the idea of getting physical locations. It generally has avoided this for what I suspect might be tax reasons, but in the run up to Christmas, the Amazon Treasure truck is making its way to locations.
In a report via CNET, the truck will be coming to the UK "soon" with Manchester and London both confirmed to be expecting a visit. The truck comes pre-loaded with a bunch of Amazons hottest selling items.
James Quick, the head of Amazons Treasure Truck has said: "We all remember the sense of excitement we felt as children when we heard the jingle of the ice-cream van, and we hope to bring that same feeling with Treasure Truck."
Presumably one such item it will be full of is their Alexa home hubs. Hopefully though, if you buy one it wont decide to throw a house party in your absence.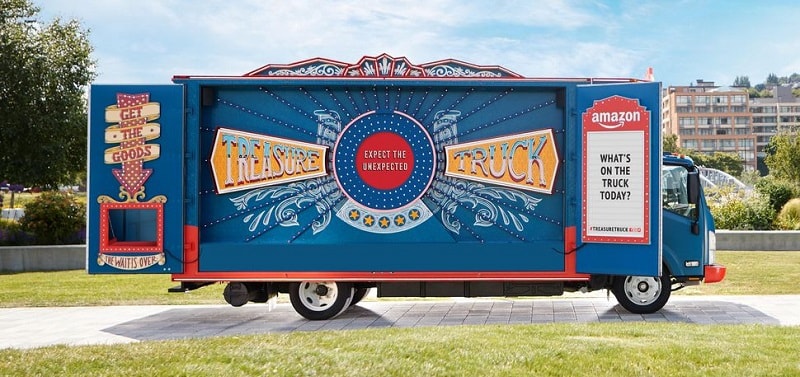 Crammed full of Amazon goodness!
Initially scheduled to appear in Manchester and London, more locations are expected to be announced.
If you therefore want to avoid the perils of online order and yes, there are perils even with Amazon, the truck might be a great place to visit.
For those who don't live in Manchester or London, don't worry. By texting 'truck' to 87377 you will receive a notification when it it will be arriving in your area.
With Christmas fast approaching, this might be a great chance to coordinate your Amazon splurge with your city shopping. Alternatively, the truck and the physical goods available may give you that rare chance to have a look before you buy.
What do you think? A good idea? Do you plan to visit the treasure truck? – Let us know in the comments!