Amazon Unveils Plans for Giant Warehouse Airships
---
---
---
Ashley Allen / 4 years ago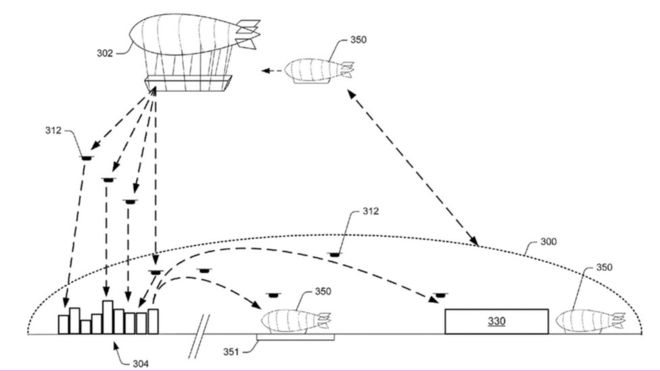 Amazon is hoping to launch a series of massive airships which contain fully-stocked warehouses from which it can launch a fleet of drones to make super-fast deliveries. Revealed in a patent filed back in 2014, which was recently discovered by CBInsights analyst Zoe Leavitt, Amazon's plan involves launching "airborne fulfilment centers" (AFCs) which hover above metropolitan areas to deliver ordered items quickly via drone at peak times.
"The AFC may be an airship that remains at a high altitude (eg 45,000ft) and UAVs with ordered items may be deployed from the AFC to deliver ordered items to user-designated delivery locations," the patent filing reads.
"As the UAVs descend, they can navigate horizontally toward a user-specified delivery location using little to no power, other than to stabilise the UAV and/or guide the direction of descent," it adds. "Shuttles (smaller airships) may be used to replenish the AFC with inventory, UAVs, supplies, fuel, etc. Likewise, the shuttles may be utilised to transport workers to and from the AFC."
Amazon made its first commercial drone delivery in Cambridgeshire, UK earlier this month. From order to arrival, the delivery was made in just 13 minutes. The drone used to make the delivery flies at around 400-feet elevation and can carry up to 5lbs in weight.