AMD Already Working on Developing Zen 5 CPUs
---
---
---
Samuel Wan / 3 years ago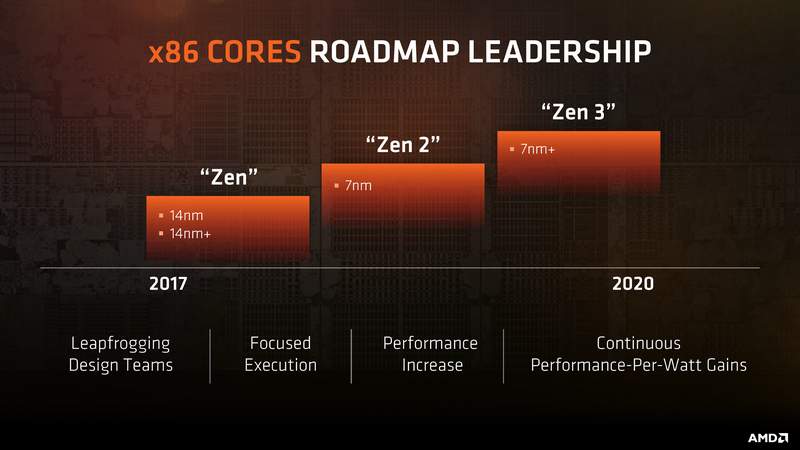 AMD Reveals Codename Zen 5 CPU Development
Just about a year ago, AMD released their new Ryzen processors. To help mark the event, AMD has released a new video with some of their key Ryzen personnel. The video went over the future and past of Ryzen and the Zen architecture. Mike Clark, Sr. Fellow Design Engineering at AMD had one very interesting tidbit to share. According to Mike, he is already working on Zen 5, a future implementation of the Zen architecture. The reveal comes about 12 minutes in.
Due to AMD's naming convention, there are few facts we can deduce. AMD names each new generation with a new number and "+" for a die shrink. Right now, we are on Zen and Zen+. Zen 2 is supposed to launch next. That would put Zen 5 about 4 generations out from right now and likely about 5-8 years away. The fact that AMD is working on Zen 5 already is great news. It shows that they have a good plan beyond the public reveal of Zen 3. Furthermore, Zen 5 means consistent performance since it relies on Zen.
AMD's Zen 5 Still Far Away
Since we know Zen 5 exists, it means that AMD is banking on building on Zen for a long time. By keeping the same architectural foundation, AMD limits surprises. AMD's last major surprise was the failed gamble on Bulldozer which was a mistake. As a result, AMD lost their edge and significantly fell behind Intel. This still leaves a lot of room for AMD to work with on Zen 5. For instance, the 4 core CCX may no longer exist.  The goal is to set a roadmap for both hardware and software devs to build a CPU that meets future performance and efficiency expectations. The Zen core itself may also undergo a massive upgrade. We saw that with Intel's Core series designs over the years.
The point that CPU designs take a long time is very important. Jim Keller, for instance, came into AMD to work on Zen in 2012 and left in 2015. That was 5 years and 2 years respectively before Zen launched. For now, Zen 5 is just a code name for a future AMD CPU. For the next couple of years, there is no reason to wait for this CPU until much later. The main hope I have is that side-channel attacks like Meltdown and Spectre will see some good hardware fixes that don't hurt performance.