AMD Announces Ryzen PRO Enterprise Processors
---
---
---
Bohs Hansen / 6 years ago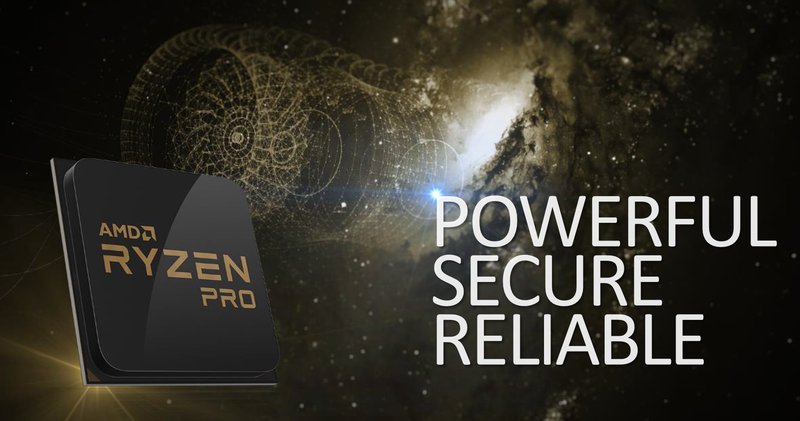 AMD isn't holding anything back, and they're releasing one Zen-based CPU after another. The company is back with another offering for enterprise customers in the form of the AMD Ryzen PRO desktop processors. In many ways, the new Ryzen PRO is the same as the standard Ryzen CPUs, but with additions. "Designed to meet the demands of today's compute-intensive workplace, Ryzen PRO desktop processors will bring reliability, security, and performance to enterprise desktops."
"Today marks another important step in our journey to bring innovation and excitement back to the PC industry: the launch of our Ryzen PRO desktop CPUs that will bring disruptive levels of performance to the premium commercial market," said Jim Anderson, senior vice president and general manager, Computing and Graphics Group, AMD. "Offering a significant leap in generational performance, leadership multi-threaded performance, and the first-ever 8-core,16-thread CPU for commercial-grade PCs, Ryzen PRO provides a portfolio of technology choices that meet the evolving needs of businesses today and tomorrow."
Ryzen PRO Product Line-Up
As you can see in the chart below, the new PRO CPUs look very similar to the non-PRO versions. The plain specifications won't give you a reason to get these processors, but the advanced features might.

Security
The security features are one of the reasons you might want to opt for a PRO over the regular version. The new processors offer state-of-the-art security at the silicon level.
They offer hardware-based cryptographic and security technologies to help protect against an ever-growing number of threats. Supported security standards like secure boot, fTPM (firmware Trust Platform Module), AES, and Windows 10 Enterprise security features are present across the entire Ryzen PRO processor family.
Dependability
Another factor is the durability. The PRO only come from wafers with the highest yields. They provide commercial-grade quality and reliability to help ensure platform longevity for future-ready computing. Industry-leading, open-standard DASH manageability allows for CPU-agnostic administration and helps ensure businesses avoid getting locked into proprietary solutions.
With 18-month platform stability, 24-month processor longevity, and an AM4 socket that will be available for 4+ years are all factors that make the PRO processors an excellent choice. That is on top of everything else.
Availability
The new Ryzen PRO processors will launch worldwide launch in the second half of 2017. The Ryzen PRO mobile processors will follow sometime during the first two quarters of 2018.