AMD Announces Zen and Vega on 12nm for 2018
---
---
---
Samuel Wan / 5 years ago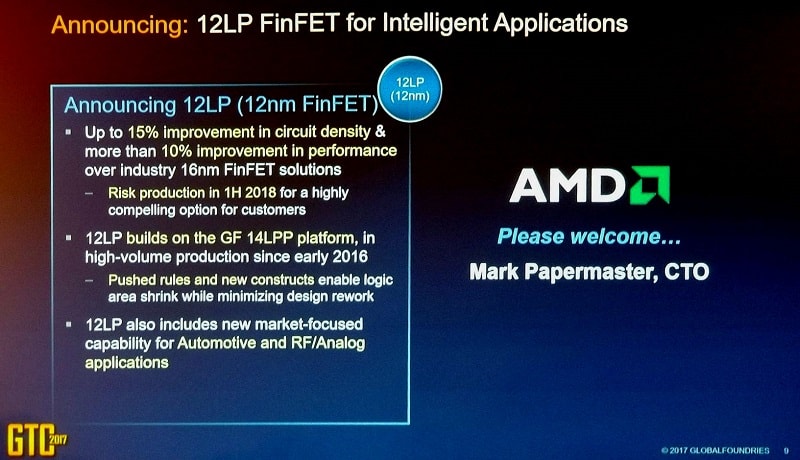 Over much of the past couple of years, AMD has significantly lagged behind Intel's process node. This all changed with the latest Ryzen series which uses the 14nm process node, the same as Intel's current generation. With Intel set to move onto 10nm, AMD is making a move as well to new process nodes as well. During the GlobalFoundries Technology Conference, AMD announced that they will be moving to the new 12nm process.
During the Ryzen and Vega launches, AMD indicated that they would move to a new process for 2018. At that time, the slides all suggested that 14nm+, an upgraded version of 14nm will be used. One reason for this was that fact that Global Foundries may jump from 14nm straight to 7nm. AMD would tweak 14nm to get 14nm+. With AMD now using 12nm so 14nm+ is no longer relevant. 12nm should also provide more benefit than 14nm+.
AMD Zen and Vega on 12nm, not 14nm+
At the same time, the move from 14nm to 12nm is not that big. I expect the wafers will be largely similar in pitch to 14nm with a few tighter tolerances here and there. GlobalFoundries is claiming a 15% density improvement over 16nm and 10% improved performance over the same. It is telling that the comparison is made against 16nm instead of the current GlobalFoundries 14nm process. Nonetheless, it is still a welcome upgrade especially as Intel is moving to 10nm during the same timeframe.
The new 12nm process is likely a reflection of the reality that 7nm will take some time. GlobalFoundries appears to have given up on any ideas of going straight to 7nm. At the same time, we should still expect 7nm to arrive in 2019/2020. This will be in time for Zen 2 and Navi which are the next architectures after Zen and Vega. In 2018, we should just expect a node process refresh from AMD. Hopefully, GlobalFoundries will be able to hit their ambitious process node targets and not let down AMD.