AMD Entry Level Threadripper 16 Core CPU May Cost $849
---
---
---
Samuel Wan / 5 years ago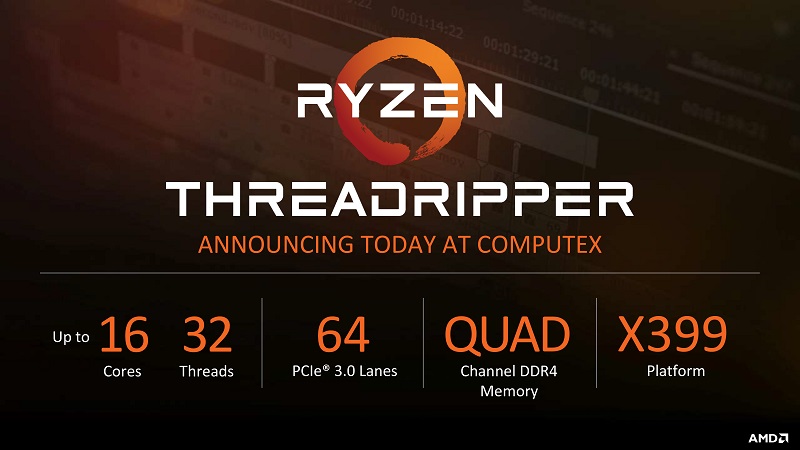 During Computex, AMD revealed their competitor for the high-end desktop market. Dubbed Threadripper, the lineup features up to 16 cores and 32 threads. Just like Intel, the chips are a variation of their enterprise lineup. In AMD's case, the CPUs are about half of the corresponding EPYC chip. This means a dual MCM package with 4 channel of DDR4, 64 PCIe lanes and 40MB of cache. In addition to the official announcement, we now have some pricing rumours to share.
First of all, we have a report suggesting a price of $849 USD. This is the cheapest 16 core 32 thread model from AMD. Furthermore, we can expect faster models with full-fledged features to cost a bit more. In addition, the fact that this is the entry level 16 core model also means there will be more than one 16 core Threadripper coming out. Secondly, to go along with Threadripper, we have the new X399 platform.
Secondly, to go along with Threadripper, we have the new X399 platform. As with any HEDT platform, the costs are higher compared to the mainstream one for sure. This is due to the increased complexity of the motherboard and the more fully featured chipset. The report also suggests that X399 will be quite expensive compared to X370. Whether or not AMD has priced X399 close to X299 remains to be seen.
Due to the MCM design, AMD is able to reduce their costs quite a bit. At $849, that is just a tad over half of what a 16 core Intel CPU will set you back. While AMD is dramatically cheaper, the chips are unlikely to match Intel in performance. This is due to the MCM design, as well as the remaining gap in architecture performance. At half the price though, it will be interesting to see how many users opt to save an extra $800 to spend on other components.