AMD Expects $1.5 Billion for 3 New Custom Gaming SoCs
---
---
---
Samuel Wan / 6 years ago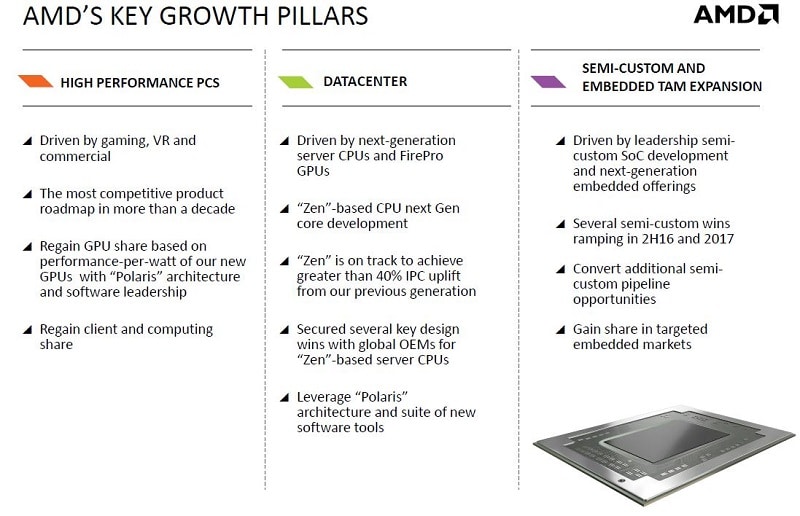 After releasing pretty dismal results for Q1 2016, there are a few bright points for AMD. Two of them were the new x86 licencing deal to build Chinese servers and the reported rise in GPU marketshare due to Polaris GPUs finally hitting market. Another bright spot we guessed before the full release was out was the 3 SoCs we expected for the Microsoft, Sony and Nintendo for their consoles. AMD has now confirmed that 3 gaming related custom SoCs will be a significant revenue driver.
According to AMD, the 3 semi-custom system-on-chip (SOC) wins will boost revenue by about 15% and provide a $1.5 billion boost overall over the next 3 to 4 years. For those of you counting, that's about full 2 quarters of current revenue so this is a major boost of about 12.5-16% overall. Of course, once Polaris and Zen come out, we can expect AMD's revenue to increase dramatically from those releases as well.
With this release, it pretty much cements rumours of new PS4 and Xbox One variants. It also suggests that the rumoured Nintendo NX will also feature an AMD SoC since AMD probably can offer a better price than a hybrid solution and jumping to DirectX 12/Vulkan will ensure porting games between the 3 consoles is an easier task. The only remaining question is whether or not the new Xbox One variant is a simple slim one or an all new upgraded one.