AMD Expects 40%+ IPC Increase for Zen
---
---
---
Samuel Wan / 6 years ago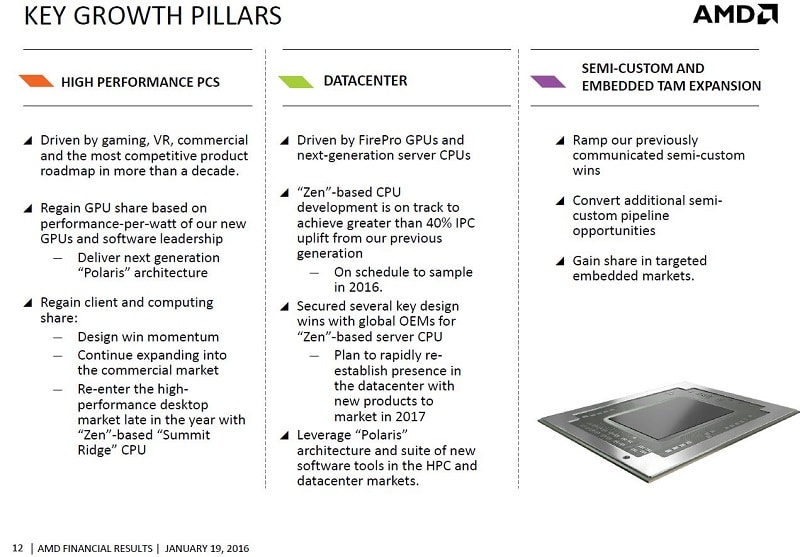 After many years of lagging CPU performance, AMD has suffered diminishing market and financial performance. This may change later this year as AMD comes back with their new Zen architecture that AMD originally expected to bring up to 40% IPC increase over their current lineup. According to AMD's latest report, though, Zen may be performing better than their early estimates, with greater than 40% IPC increase over the current generation.
AMD has long been confident that Zen would deliver on its performance gains. After all, the new architecture is reported to bring instruction set parity with Intel and a reworked and more balanced design. In fact, rumours about a Zen Apple chip have surfaced, which if true, is a strong endorsement for AMD. Zen will also revamp the ageing 9xx series chipset and bring DDR4 and other new technologies with AM4.
While there is much to be optimistic, the biggest disappointment is that the rumour about an early 2016 release is wrong, with the originally suggested late 2016 launch being confirmed. This is despite the tape out having already been completed. The wording for the 40%+ IPC increase also suggests that the increase won't be much greater than expected, otherwise, numbers like 45% or 50% would have been used. Hopefully, Zen will have what it takes to bring AMD back to the forefront and allow the company to continue with future releases and even stunning designs like this one.