AMD Finally Launches Datacenter Opteron ARM Chips
---
---
---
Samuel Wan / 7 years ago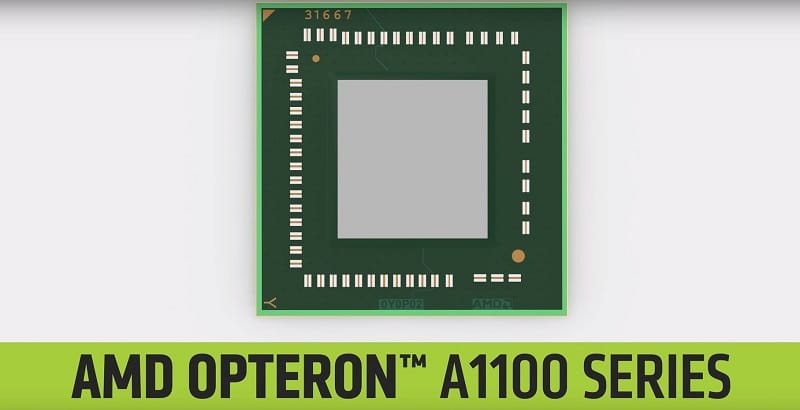 Nearly 4 years after AMD first revealed their ARM plans, their first ARM-based Opteron chips are finally ready. Shipping today, the octa-core Opteron A1100 server SoC and platform is already able for purchase from several partners and is available in 3 SKUs. Despite such a late launch, the A1100 may yet find a home in the datacenter.
First off, AMD has done a lot of work to build a comprehensive ARM server SoC. The Opteron features up to eight 64bit A57 cores running at 2Ghz. This puts it roughly in the same space as Intel's Silvermont Atoms clock for clock. The key is the 4MB of L2 cache and 8MB of L3 cache that connect up to 128GB of DDR4 (DDR3 is limited to 64GB) over a 128bit bus. This is all backed up by an A5 co-processor to handle system control, compression and encryption as well. I/O is impressive as well, offering up to 8 PCIe 3 lanes and 14 SATA3 ports and two 10GbE ports.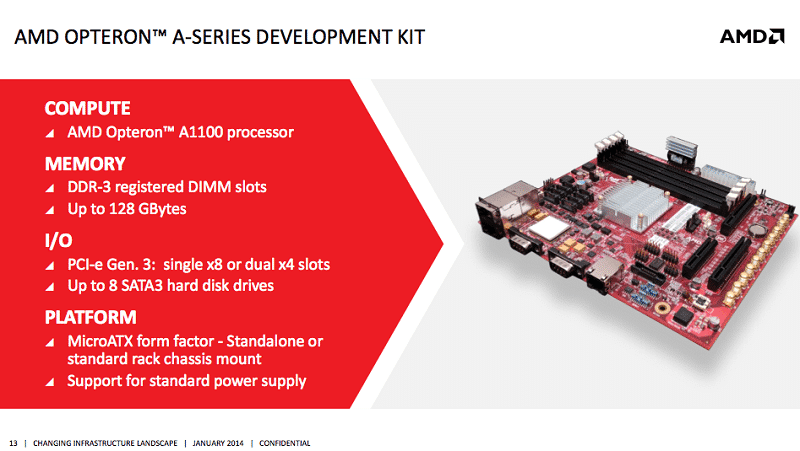 While the A1100 will undoubtedly blow its way past Intel Atoms and other ARM competitors as a server SoC, the biggest competition comes from Intel's big Xeons. At $150, AMD is pricing their chip dangerously close to Intel's big cores which offer much higher performance and potentially better performance/watt. Still AMD is offering a viable chip to cater to the microservices and cluster-based computing market. If AMD's in-house K12 arrives on time and on performance, AMD stands a good chance as securing a strong foothold in this market.