AMD Finds Root Cause of Fury X Pump Noise
---
---
---
John Williamson / 8 years ago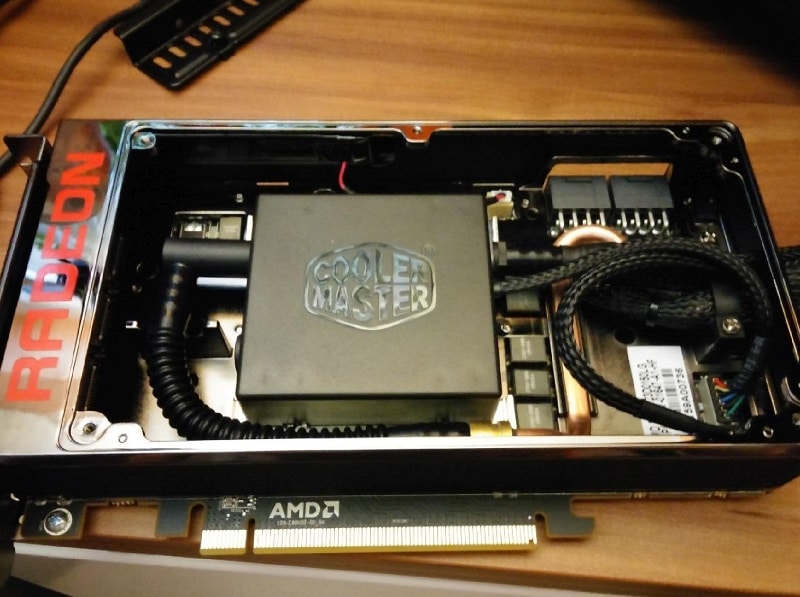 AMD has just released a statement to LegitReviews explaining why the press samples and first batch of retail units experienced whining issues:
"We have received feedback that during open bench testing a small number of Fury X cards emit a sound from the high speed liquid cooling pump that, while not loud, is bothersome to some users. While the vast majority of initial Fury X owners report remarkably quiet operation, we take this feedback seriously, as AMD's mission is to always deliver the best possible experience to our Radeon customers. 

AMD Radeon R9 Fury X customers demand and deserve the best, so adjustments in the sound baffling adhesive compound were applied in the assembly of the high speed cooling pump to address the specific sound a few end users experienced as problematic. This improved the acoustic profile of the pump, and repeat testing shows the specific pitch/sound in question was largely reduced through adjustments to the sound-baffling adhesive compound in the pump.

AMD will work with its graphic card partners to ensure the satisfaction of the small number of initial customers who observed this specific sound and experienced it as bothersome. AMD is confident that on-going production of Radeon R9 Fury X product reduces the specific sound in question, but this is also a highly subjective matter with wide differences in PC case builds and room acoustics.

The AMD Radeon™ R9 Fury X radiator fan is near silent, and this makes any sound from the high-speed pump more noticeable to some end users, especially during open bench testing. Thus although the overall sound levels are remarkably low for an enthusiast product, AMD has worked to reduce the specific sound that some customers report as bothersome."
Even though AMD assured customers that the noise was limited to press samples, there are numerous videos and owners on forums displeased with the pump whine. Hopefully, they will be able to get a replacement but that might be a little while off to due stock limitations.
At least AMD have investigated and hopefully rectified the issue. You could argue this shouldn't have happened in the first place, but AMD admitted their mistake and look set to manufacturer a cool and very quiet GPU under full load. Once the second supply of units arrive, the card's reputation should improve and drivers should start to offer significant performance gains compared to the release drivers.