AMD FSR 3 Fidelity FX Super Resolution Revealed at GDC 2023
---
---
---
Jakob Aylesbury / 6 months ago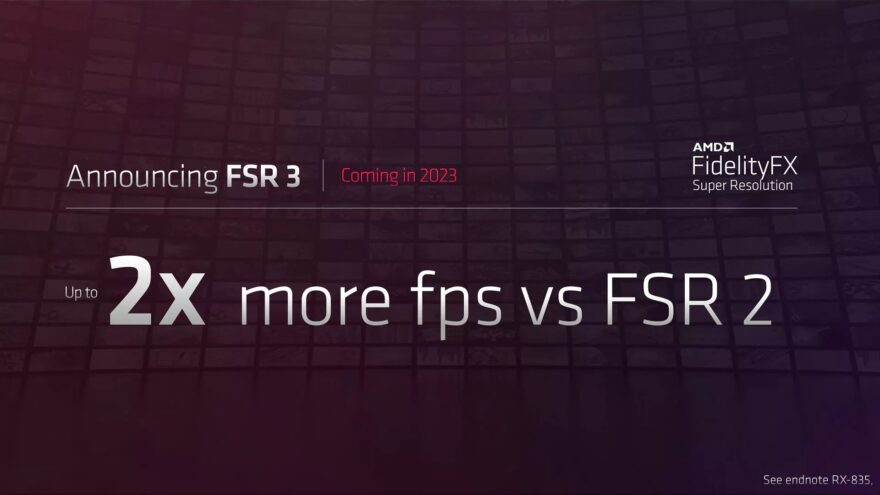 Last month it was speculated that with the presentation of FidelityFX at GDC 2023, AMD would also be revealing FSR 3 the next version over FSR 2. Yesterday AMD did just that and unveiled their FSR 3 technology at GDC 2023.
FSR 3 Revealed
AMD has announced that FidelityFX Super Resolution is coming and is currently in an early stage of development. As we already know the plan with FSR 3 is to achieve up to 2x more fps than its predecessor FSR 2 and the engineering team has claimed it is already capable of "computing more pixels than we have samples in the current frame." AMD hopes to achieve this by combining resolution upscaling with frame interpolation similar to DLSS 3.
The image below was provided by AMD and shows how the rendering changes from native to FSR 2 and then FSR 3.
FSR 2 increases framerate and improves latency. Adding frame interpolation further increases framerate, but increases latency and reduces reactivity. Therefore AMD will be adding latency reduction techniques to FSR 3.
FSR 3 combines resolution upscaling with frame interpolation, and if you already have FSR 2 in your game, it is expected to be easier to integrate FSR 3.
Challenges With Frame Interpolation
Frame interpolation isn't a perfect solution and AMD has noted several challenges of using the technique. It has been noted that with this technique colour clamping can't be relied on to correct the colour of outdated samples, non-linear motion interpolation is difficult with 2d screen space motion vectors and if the final frames are interpolated then the UI and post-processing also need to be interpolated. Frame interpolation can also introduce artefacts however AMD claims that there's no feedback loop as the interpolated frame will only be shown once and any artefacts would remain for only one frame.
When Will We See FSR 3
FSR 3 will bring some great improvements for gaming and competition over NVIDIA's DLSS 3 however there is no information about when we will expect to see FSR 3 in games and considering it is in the early stages of development it's likely to be a good while before we do.
What do you think of FSR 3? Let us know in the comments.