AMD HD 8570 "OIand Pro" Performance Revealed
---
---
---
Ryan Martin / 11 years ago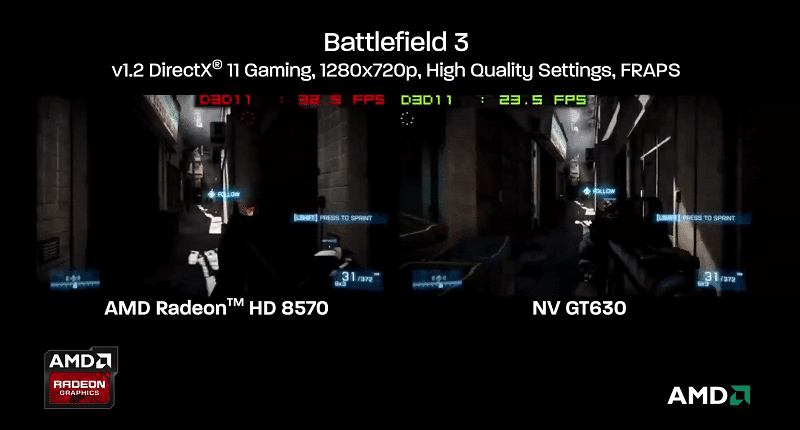 AMD's new HD 8000 series graphics cards haven't arrived to market yet and probably won't until later on in this year. However, that didn't stop AMD releasing some graphics cards from the HD 8000 series earlier this year as OEM parts for companies like HP. For example we saw the HD 8570 and HD 8760 graphics cards get "released". Both these graphics cards were made available for the OEM market, not for retail, and are based on current GCN (Graphics Core Next) architecture. Simply put, the HD 8570 and the HD 8760 are both based on current-generation graphics from the HD 7000 series but are named as part of the new HD 8000 series.
The HD 8570 which we are looking at today features 384 stream processors/ GCN cores, 24 texture units and a core clock speed of 730MHz. The memory bus is 128 but with 4.6GHz GDDR5 or 1.8GHz GDDR3 versions available. With 384 GCN cores it has about 33% less than a HD 7750 so we should expect a performance drop of around 25% or more over the HD 7750. However, the testing that was done pitted the HD 8570 up against the Nvidia GT 630 graphics card in its performance exposé. The reason being is that the GT 630 (OEM) and HD 8570 (OEM) will probably be priced similarly – around the £45-50 mark.
Below you can see the tests comparing the HD 8570 (OEM) against the GT 630 (OEM) in Battlefield 3, Winzip 16.5 and Musemage.
For those who can't be bothered to watch the videos the results were as follows:
Winzip 16.5 – HD 8570 28.29 seconds and GT 630 47.04 seconds
Battlefield 3 – HD 8570 up to 39 FPS and GT 630 up to 30 FPS
Musemage – HD 8570 15210ms and GT 630 36691ms
So as you can see the HD 8570 is clearly more powerful than the Nvidia GT 630 although given AMD's history with marketing, I wouldn't be surprised if pro-AMD tests were hand picked or tests where AMD has specific GPU acceleration wins.
[youtube]http://www.youtube.com/watch?v=hrFkyfqWsy4[/youtube]
[youtube]http://www.youtube.com/watch?v=43GPSp-i8Dg[/youtube]
[youtube]http://www.youtube.com/watch?v=0lSmMtAm7oA[/youtube]
What are your thoughts on AMD's HD 8570?
Source: YouTube