AMD Issues Official Statement Regarding RX Vega Pricing
---
---
---
Ben Jones / 4 years ago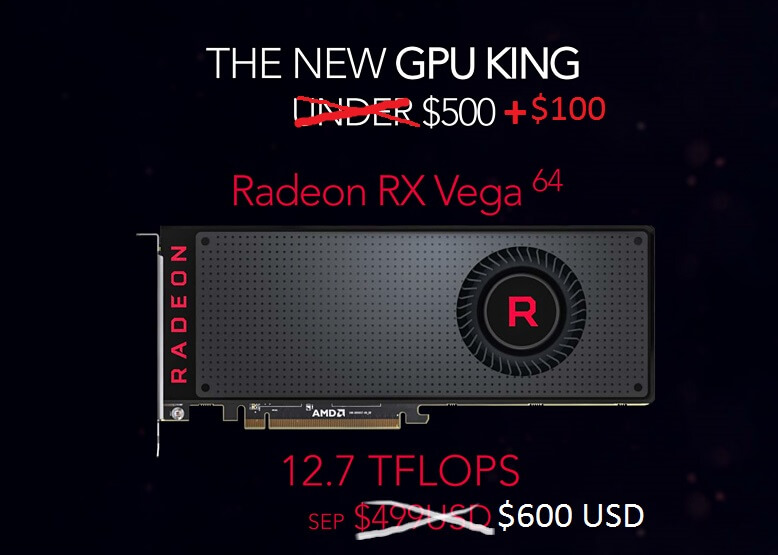 The sudden price jump of the AMD Radeon RX Vega video cards has earned the anger of fans who were eagerly awaiting its release. Word of the price hike from the original MSRP started several days ago when Gibbo from the OCUK forums posted about it. While some were not as quick to take his word this time considering he turned out to be wrong about his RX Vega hashrate performance assessment, the pricing jump turns out to be true.
[T]he good news is AMD are rebating early launch sales to allow us to hit £449.99 on the stand alone black card which has no games. This is a launch only price which AMD at present are saying will be withdrawn in the near future, when if it happens is unknown, but remember do not be shocked if the price jumps nearly £100 in a few days.

This time round there is no early adopter tax, quite the opposite on the stand alone black card, so do be quick.
The price for the Radeon RX Vega cards did indeed move up by as much as £100. Speaking to my own sources including AMD Radeon partner reps and market channel contacts confirms Gibbo's statement. Now it appears that AMD has a statement regarding the matter.
Official Statement from AMD
Finnish tech website tech-io.fi has the official statement from AMD.
"Radeon RX Vega 64 continues to exceed expectations. AMD is working closely with its partners to address this demand. Our initial launch quantities include standalone Radeon RX Vega 64 at SEP of $ 499, Radeon RX Vega 64 Black Packs at SEP of $ 599, and Radeon RX Vega 64 Aqua Packs at SEP of $ 699. We are working with our partners to restock all SKUs of Radeon RX Vega 64 including the standalone cards and Gamer Packs over the next few weeks, and you should expect quantities of Vega to start arriving in the coming days.
While the Radeon RX Vega packs are enticing, it is far from the promise of a $499 flagship card. Now they are facing angry and dissappointed fans who feel like there has been a bait and switch.