AMD Launches Threadripper NVMe RAID Support
---
---
---
Ashley Allen / 3 years ago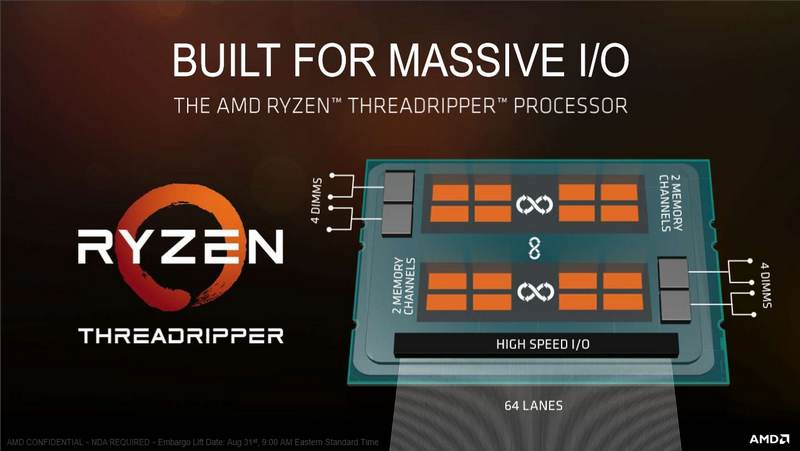 It's a week later than anticipated, but AMD finally launched NVMe RAID support for its Threadripper processors. The new update enables RAID 0, 1, and 10 support for up to 10 NVMe SSDs connected to the Threadripper's 64 PCIe lanes. However, your motherboard may need a BIOS update first. In addition, support extends to Windows 10 only.
Threadripper NVMe RAID Support – Built From Scratch
Since no standard NVMe RAID implementation exists, AMD needed to create Threadripper's from scratch. As such, it relies on a software RAID system. However, this means new drivers for pretty much everything: both board (UEFI) and operating system. This goes some way to explain the delay for Threadripper NVMe RAID support.
AMD delayed its Threadripper NVMe RAID support due to the complexity of developing a software-led RAID system. AMD's NVMe RAID requires a new driver, BIOS, management console, and installer. Testing all these software components required further testing. Even now, some bugs remain.
It appears there is no Threadripper hardware support for NVMe RAID. For example, Intel's X299 chips feature the RAID hardware Volume Management Device (VMD). Threadripper, though, contains no such alternative.
NVMe RAID Support for AMD Ryzen Threadripper Platform Release Notes
Products supported: AMD Ryzen™ Threadripper™ platform

Operating systems supported: Windows® 10 64-bit (build 1703)

Known Issues:
Users with an existing RAID array cannot perform an in-place driver or BIOS upgrade to add NVMe RAID support to their system.

Users with an existing SATA RAID configuration must back up data on the SATA RAID array, and break down that array, before proceeding with any BIOS update or driver installation containing NVMe RAID support.
If the existing SATA RAID array is a bootable configuration with an operating system, then a fresh install of Windows 10 will be required.

A motherboard BIOS update is required to support NVMe RAID. After updating to a supporting BIOS, the disk configuration must be changed to RAID (from SATA or AHCI). This BIOS menu entry is often labeled "SATA Mode" or "SATA Configuration."
Availability
The update is available now, for free, from the AMD website.