AMD Mainstream Polaris 11 Specifications Leaked
---
---
---
Samuel Wan / 8 years ago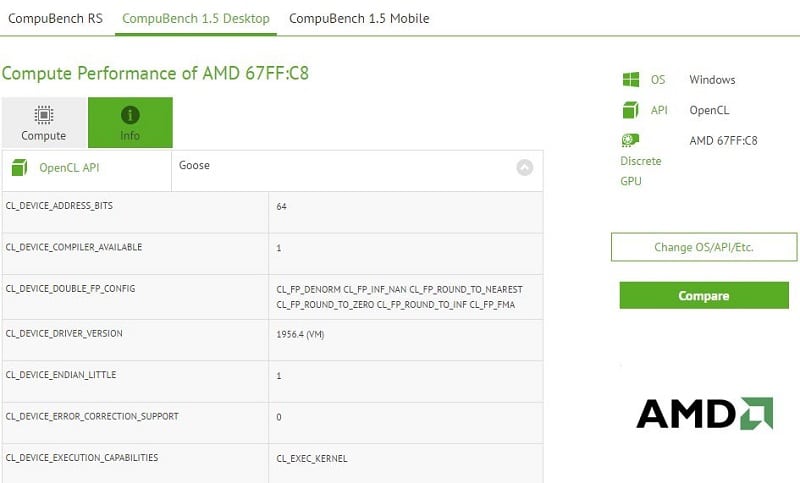 As always, most of the focus on Polaris has been on the top end chip. This has meant that much of the talk ahs been focused on the Polaris 10, the R9 390X/Fury replacement. Today though, we've been treated to a leak of the mainstream Polaris chip, Polaris 11. Based off of a CompuBench leak, we're now getting a clearer picture of what Polaris 11 will look like as the Pitcairn replacement.
The specific Polaris 11 chip spotted features a total of 16CUs, for 1024 GCN 4.0 Stream Processors. This puts it right where the 7850/R7 370 is right now. Given the efficiency gains seen by the move to GCN 4.0 though, performance should fall near the 7870XT or R9 280. The move to 14nm FinFET also means the chip will be much smaller than Pitcairn currently is. Of course, this information is only for the 67FF SKU so there may be a smaller or more likely, a larger Polaris 11 in the works.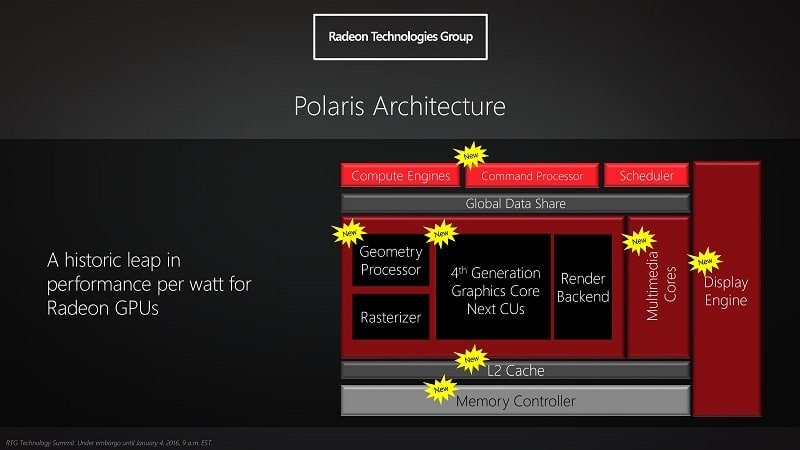 Other specifications have also been leaked, with a 1000Mhz core clock speed. Memory speed came in at 7000Mhz, with 4GB of VRAM over a 128bit bus. This gives 112GB/s of bandwidth which is a tad higher than the R7 370 before you consider that addition of delta colour compression technology. GCN 4.0 will also bring a number of other improvements tot he rest of the GPU, most importantly FreeSync support, something Pitcairn lacks.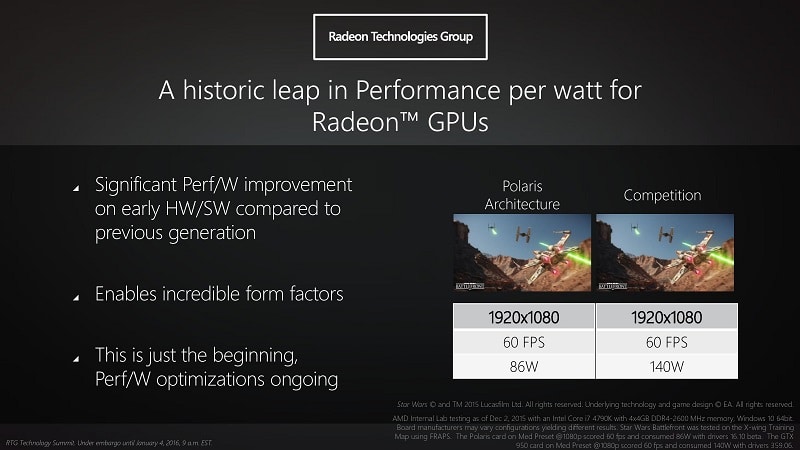 While we can't guarantee the same SKU was used, Polaris 11 was the GPU AMD pitted against the GTX 950 back at CES. During the benchmark of Star Wars Battlefront, the AMD system only drew 84W compared to the Nvidia system pulling 140W. For the many gamers who buy budget and mainstream cards, Polaris 11 is shaping out very well.