AMD Phenom II X2 560 Black Edition AM3 Processor Review
---
---
---
Andy Ruffell / 10 years ago

Since its introduction in January 2009 AMD have offered a large range of various Phenom II series processors. These have ranged from the original AM2+ DDR2 only quad core Phenom II X4 920 and 940 processors right up to the current AMD flagship processor the Phenom II X6 1100T, which was reviewed here on eTexnix in December 2010.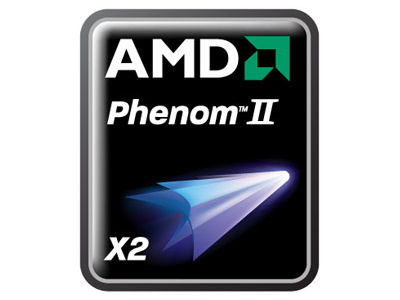 Today we take a look at the Phenom II X2 560 Black Edition which is a dual core processor of which each core operates at 3.3GHz, however being a Black Edition it has an unlocked Multiplier which allows easy overclocking aimed at more the enthusiast cost concious customer.
What the Phenom II X2 Black Edition is all about:
AMD Phenom II X2 Black Edition processor combines value and unlocked potential for gamers and tuners on a budget. Users can now experience the power of AMD platform technology, codenamed "Dragon" with dual-core configurations. AMD Black Edition processors help users to take control and unleash the maximum potential of Dragon platform technology's unprecedented performance tuning capabilities. With dual-core processors, AMD provides platform level solutions at multiple price points, each of which exceeds expectations for virtually any user.

AMD Phenom II is for high definition entertainment, gaming, creativity, and beyond. With AMD Phenom II processors as the foundation, you'll enjoy a new level of responsiveness and visual intensity. AMD puts high definition computing within everyone's reach. Superior technologies for HD video. Enjoy a superior high definition experience for HD videos on you PC. AMD Phenom II processor are the powerful engine behind your fidelity, high definition video entertainment experience. Only AMD puts the Ultimate Visual Experience for HD video within your reach. Enjoy entertainment beyond your media library. Get HD content online, offline, wherever you want it, however you want it. Your system can handle whatever you dish out – and serve it up on screen in full, high definition glory. Perfect chemistry. Combine AMD Phenom II processors and ATI Radeon HD graphics to really see the difference. Enjoy smooth video, brilliant videos and immersive games. AMD unleashes visual clarity and responsiveness for what you want to do.

AMD Phenom II processors have the power to do it all. Featuring next-generation quad-core design, they crush even the most demanding tasks. So design it, render it, play it, create it, stream it, HD it. With AMD Phenom II processors, if you can imagine it, you can do it.

AMD Phenom II processors were designed with energy efficiency in mind. Capitalizing on AMD's leadership in energy efficiency, they incorporate all of the latest technology that gives you performance when you need it and save power when you don't. Look for ENERGY STAR with AMD. Thanks to AMD's power-saving innovations, you can count on machines based on AMD Phenom II processors for the energy efficiency you want and the performance you need.
Specifications
[HR][/HR]
[TABLE=class: Table_Style3]
[TR]
[TD]Frequency[/TD]
[TD]Total L2 Cache[/TD]
[TD]Packaging[/TD]
[TD]Thermal Design power[/TD]
[TD]CMOS Technology[/TD]
[/TR]
[TR]
[TD]3.3GHz[/TD]
[TD]1MB[/TD]
[TD]socket AM3[/TD]
[TD]80W[/TD]
[TD]45nm SOI[/TD]
[/TR]
[/TABLE]
[TABLE=class: Table_Style3]
[TR]
[TD]AMD64 Technology[/TD]
[TD] Yes[/TD]
[/TR]
[TR]
[TD] Simultaneous 32- & 64-bit computing[/TD]
[TD] Yes[/TD]
[/TR]
[TR]
[TD] L1 Cache (Instruction + Data) per core[/TD]
[TD] 128KB (64KB + 64KB)[/TD]
[/TR]
[TR]
[TD] L2 Cache (512KB per core)[/TD]
[TD] 1MB[/TD]
[/TR]
[TR]
[TD] L3 Cache[/TD]
[TD] 6MB (shared L3)[/TD]
[/TR]
[TR]
[TD] HyperTransport™ Technology[/TD]
[TD] HyperTransport™ Technology up to 4000MT/s full duplex, or up to 16.0GB/s I/O Bandwidth[/TD]
[/TR]
[TR]
[TD] Integrated DDR2 Memory Controller[/TD]
[TD] Yes[/TD]
[/TR]
[TR]
[TD] Memory Controller Width[/TD]
[TD] 128-bit[/TD]
[/TR]
[TR]
[TD] Type of Memory Supported[/TD]
[TD] Support for unregistered DIMMs up to PC2 8500(DDR2-1066MHz) and PC3 10600 (DDR3-1333MHz)[/TD]
[/TR]
[TR]
[TD] Memory Bandwidth[/TD]
[TD] up to 21 GB/s dual channel memory bandwidth[/TD]
[/TR]
[TR]
[TD] Total Processor-to-system Bandwidth (HyperTransport plus memory bandwidth)[/TD]
[TD] up to 37 GB/s[/TD]
[/TR]
[TR]
[TD] Process Technology[/TD]
[TD] 45 nanometer, SOI (silicon-on-insulator) Technology[/TD]
[/TR]
[TR]
[TD] Packaging[/TD]
[TD] AM3(938-pin) organic micro PGA[/TD]
[/TR]
[TR]
[TD] Thermal Design Power[/TD]
[TD] 80W[/TD]
[/TR]
[TR]
[TD] Manufacturing Sites[/TD]
[TD] GLOBALFOUNDRIES Dresden, Germany[/TD]
[/TR]
[/TABLE]