AMD Radeon 6950XT, 6750XT, and 6650 XT to Release in May?
---
---
---
Mike Sanders / 1 year ago
Since the start of the year, there have been more than a few rumours floating around the internet that AMD was planning the release of newly revised Radeon 6000 graphics cards. New launches effectively set to act as something of a last hurrah for RDNA2 before they get supplanted by the RDNA3 Radeon 7000 series that is expected to land around October. – Given that the latter is just (circa) 6-months away, however, if AMD was planning this launch, the clock was certainly ticking to ensure that when they did hit the market so they had at least a little breathing space before being promptly outdated.
So, with this in mind, when are the revisions expected? Well, following a report via Videocardz, information from an exceptionally reliable leak source has provided not just an image of the AMD Radeon 6950X, 6750XT, and 6650 XT, but they have also stated that they are set to be released on May 10th.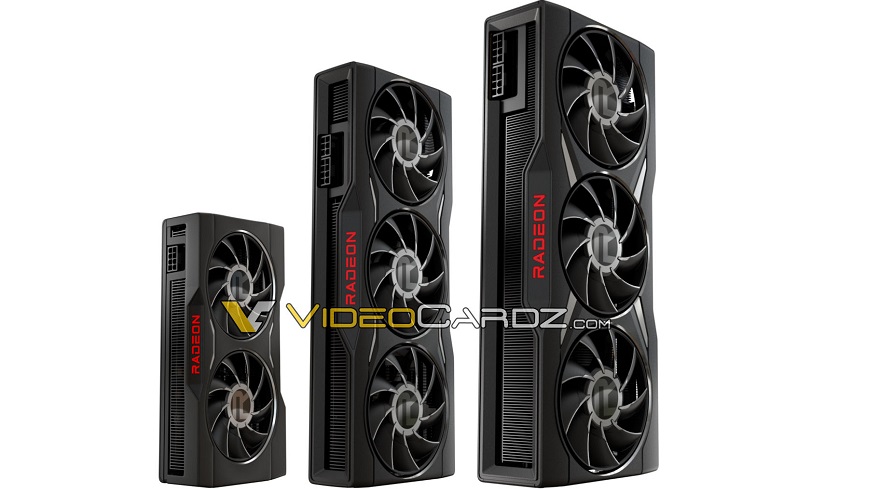 AMD Radeon RX 6950X, 6750XT, and 6650 XT
Based on the images and information, there is quite a lot to digest here. Breaking things down into bite-size chunks though, the following is looking to be fairly nailed-down at this point:
Three models are on the way: the new presumable flagship 6950X, and the more mid-tier focused 6750XT and 6650 XT
The reference models will distinguish themselves by utilising the 'Midnight Black Edition'. An aesthetic usually reserved for AMD's more exclusive GPU releases
All three GPUs will look to upgrade their memory clock speed to 18 Gbps. There is no news yet (perhaps surprisingly) as to whether the quantity or quality of VRAM is changing
Fan upgrades (when compared to the base models) appear evident suggesting that clock speeds will be inched up enough to warrant some extra cooling performance
The original expected release date of April 20th has seemingly been pushed back to May 10th. No reason for this has been given, but the overall presumption is that this is to accommodate the release of all three revised models at the same time
With this in all mind, therefore, will these graphics cards actually be any good? Well, you have to presume that AMD is perhaps taking sight at the 3090 or 3090 Ti with the Radeon RX 6950X, but can Team Red truly compete on that obscenely high level? We hope so, but let's say we have our doubts. More than anything though, and as per everything in the supposed Radeon 6000 series (excluding their entry-level models that mostly seem well worth avoiding), it'll come down to supply.
If, and that's a BIG if, these GPUs are available in decent quantities, and at a reasonable price point, they could well represent an excellent upgrade option for those perhaps lacking the finances we expect to see required for both AMD and Nvidia's next-gen designs and especially for those who have still yet to find any kind of realistic upgrade option for their current GPU (I'm still stuck with my 1080 Ti).
If a May 10th release date is on the cards though, expect a formal announcement from AMD regarding these new graphics cards within the coming weeks!
What do you think? – Let us know in the comments!