AMD Radeon Instinct MI25 Specs Revealed
---
---
---
Ashley Allen / 6 years ago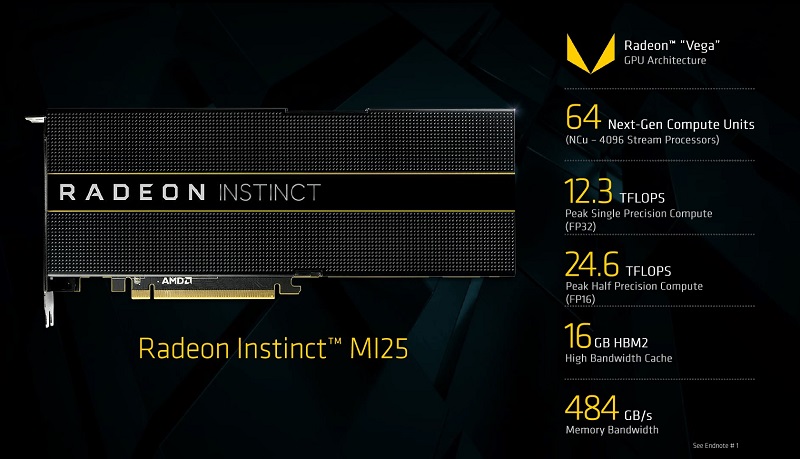 Hot on the heels of NVIDIA's Tesla V100 PCIe reveal, AMD has fired back by unveiling the specifications of its own rival GPU accelerator. The Vega-based Radeon Instinct MI25 is a powerful graphics solution, boasting 24.6 TFLOPS FP16 Compute. Unlike the workstation-focused Radeon Vega Frontier Edition, though, the Instinct is aimed at machine learning. Consequently, the specifications show AMD pushing its Vega architecture to its limit.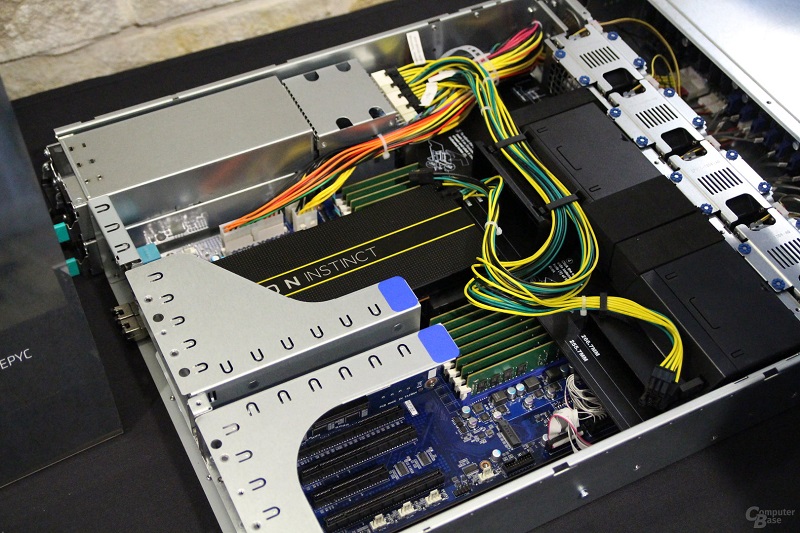 AMD Radeon Instinct MI25 Specifications
Specifications for the Radeon Instinct MI25, courtesy of ComputerBase:
Vega 10 Architecture
4096 Stream Processors
24.6 TFLOPS Half Precision (FP16)
12.3 TFLOPS Single Precision (FP32)
768 GFLOPS Double Precision (FP64)
16GB HBM2 Memory
484GB/sec Memory Bandwidth
300W TDP
PCIe Form Factor
Full Height Dual Slot
Passive Cooling
A powerful kit, indeed. In fact, AMD claims four Radeon Instinct MI25s, as part of an EPYC server, contains the same computing power as the human brain.
The Radeon Instinct also features its own ecosystem:
ROCm: an open-source software platform, and;
MIOpen: a "solver" for utilising machine learning frameworks, such as Caffe (2), mxnet, and TensorFlow.
AMD Says
"Radeon Instinct family of products are designed to be the building-blocks for a new era of Deep Learning and HPC datacenters. AMD is designing and optimizing Radeon Instinct server accelerator products and software platforms to bring customers cost-effective machine and deep learning inference, training and edge-training solutions, where workloads can take the most advantage of our accelerator's highly parallel computing capabilities. The Radeon Instinct products are also ideal for data-centric HPC-class systems in academic, government lab, energy, life science, financial, automotive, and other industries."
Pricing and Availability
The AMD Radeon Instinct card family ships during Q3 2017. However, no details on pricing yet.