AMD Radeon R9 290X Gets Priced At $729.99 On Newegg
---
---
---
Ryan Martin / 8 years ago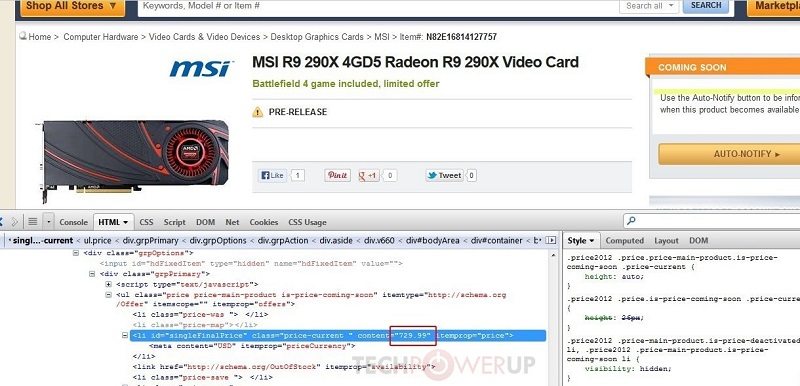 TechPowerUp has been doing some digging on Newegg and discovered the price of the AMD R9 290X reference style GPU. Pictured above, the reference MSI branded AMD Radeon R9 290X is selling for $729.99 and for a limited period includes Battlefield 4. The inclusion of Battlefield 4 with the card suggests that this could be the more expensive Battlefield 4 SKU though it should just be the normal SKU that has Battlefield 4 as part of the new Never Settle Bundle that includes Battlefield. It is likely to just be the normal SKU because as TechPowerUp's Btarunr states:
"FAQ #1: But it says "Battlefield 4 included," so this must be the costlier BF4 Edition?
Ans: No. BF4 Edition is a different SKU, which includes BF4 Premium key. BF4 (standard edition) is set to be already part of a Never Settle bundle that R9 290 series owners will be eligible for."
Based on Newegg's pricing the AMD R9 290X is expected to have an MSRP of $699.99 which converts to £433/€513. By the time you've added on the standard European/UK 20% VAT rates for most countries you're looking at £520/€615 for the MSRP including VAT and then you have to add the retailer and distributor margin so I'd expect customers to see the AMD R9 290X start from £540/€650 give or take around 5%.
Image courtesy of TechPowerupo