AMD Radeon RX Vega Graphics Cards – What We Know So Far!
---
---
---
Peter Donnell / 6 years ago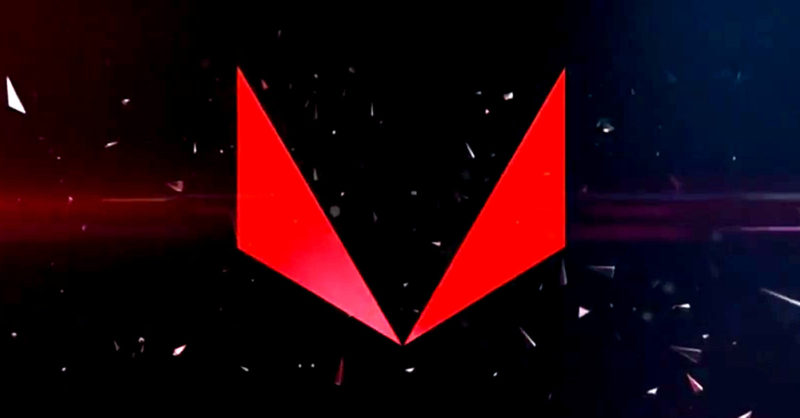 What is RX Vega?
The next-generation of AMD graphics cards, powered by their new RX Vega architecture. The new cards will be a direct replacement for their previous flagship series of Radeon R9 Fury graphics cards. That means a new chipset, new memory, new features, and much more.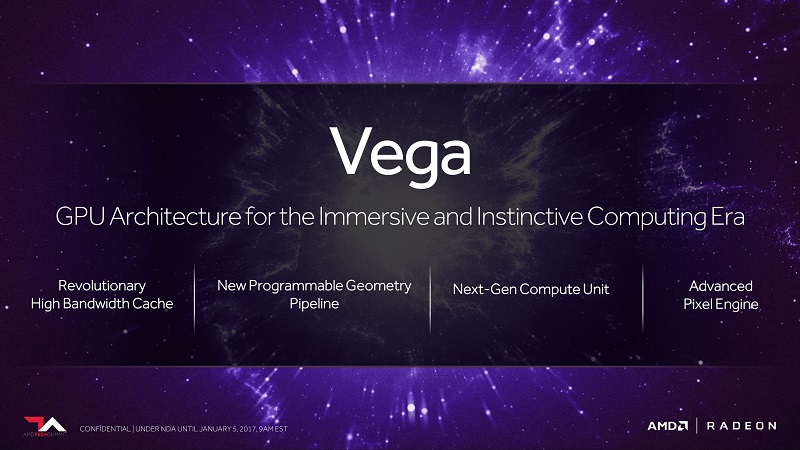 What are the RX Vega Specifications?
So far we haven't had a complete map of what hardware AMD will fit in their new RX Vega graphics cards. However, lots of information has been steadily leaking out. Most recently we saw the Vega 10 Core Configuration (see below) was leaked in the AMD Linux Drivers.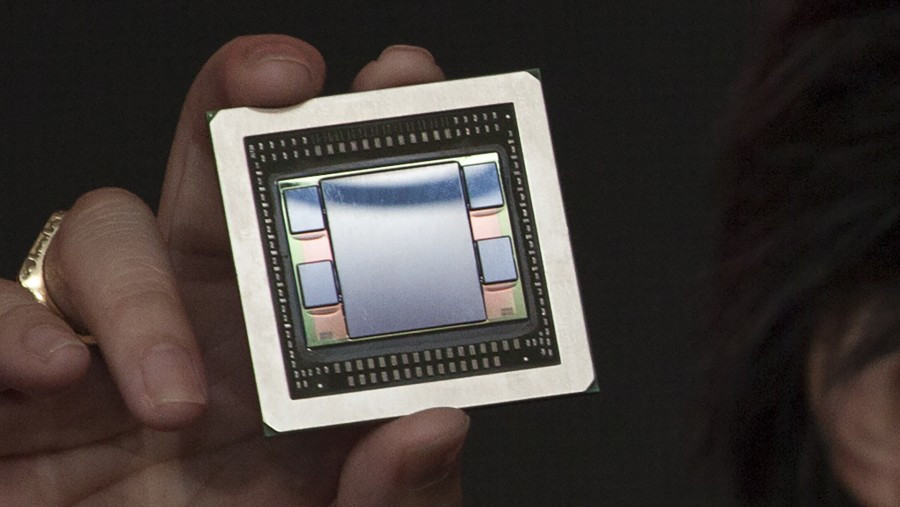 Vega 10
Next-Generation Compute Unit
64 CUs
4,096 Shaders (GCN Based)
4 Shader Engines
2 Asynchronous Compute Units Per Shader Engine
16 ROPs (64 total)
64 TMUs (256 total)
HBM2
2048-bit Bus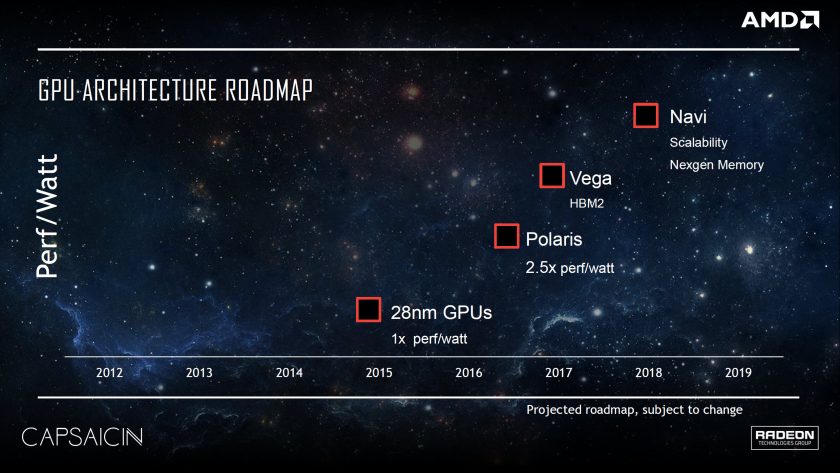 AMD has demonstrated the prosumer capabilities of the new Vega cards for the first time during the NAB show in Las Vegas. The company demonstrated how the graphics chip effortlessly handled 8K video content in Adobe's Premiere Pro CC 2017 video editing suite. However, with both gaming and workstation power, the card is sure to be popular – if the price is right.
Vega 11
Firstly, Details of Vega 11 are thin on the ground, although we understand that these will be smaller Vega cards designed for laptop systems, which could see AMD back on the map for mobile gaming systems.
Vega Architecture Key Features
4 x Power Efficiency
2 x Peak Throughput/Performance Per Clock
High Bandwidth Cache
2 x Bandwidth per pin
8 x Capacity Per stack (2nd Generation High Bandwidth Memory)
512TB Virtual Address Space
Radeon Next Generation Compute Engine
Next Generation Pixel Engine
Next Generation Compute Unit optimised for higher clock speeds
Rapid Packed Math
Draw Stream Binning Rasterizer
Primitive Shaders
"Vega will use HBM2 that has different capacity stacks" said Herkelman, "you will see from our board partners different configurations, whether that's 4 Gig or 8 Gig or those types of memory architectures that will allow you to drive different games and different resolutions based upon what capacity stack they end up using". he added.
FreeSync 2, Chill, HDR, High Bandwidth Cache Controller, and Rapid Packed Math!
AMD has not long released their RX 4xx refresh with the RX 5xx series of graphics cards. That release saw all their new cards offing support for Radeon Chill, HDR, and FreeSync 2. Therefore, you can expect all these features and more to be a big part of Vega cards. With FreeSync set to become the dominant standard due to its open-sourced nature, there's certainly a few more things to look forward to with these new cards.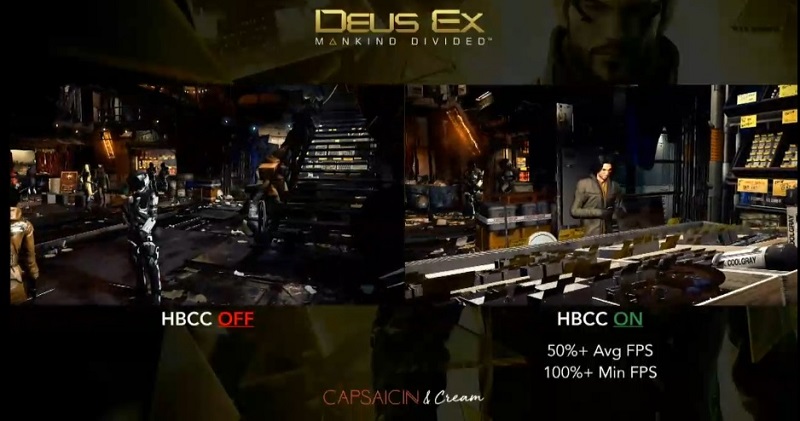 One of the most important changes is the new High Bandwidth Cache Controller. As you know, GPUs nearly always feature a VRAM cache to store their working data. However, the amount of memory available and the all important bandwidth are both limited; this is where the HBCC comes in. As a smart controller, it better optimises the VRAM to store only required materials and tosses out the useless ones.
It optimises the transfers to make the use of the limited bandwidth, which builds on top of early technology used with Fiji where AMD was able to stretch out the 4GB of HBM2 to match even 6GB or more Nvidia GPUs. Most importantly of all, AMD is claiming 50% improved AVG FPS and a doubling of the MIN FPS.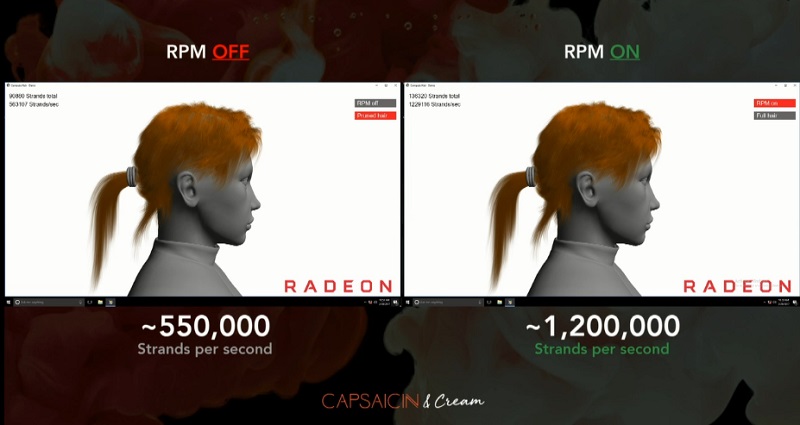 Rapid Packed Math allows Vega to switch on the fly from FP32 workload to FP16 workload. For features like hair, TressFX will now allow the use of FP16, effectively doubling performance relative to regular FP32, which allows for doubling of on-screen objects, in this case, hair. Since hair modelling doesn't need to be 100% accurate in most cases, this should either reduce the impact of TressFX or allow for more hair.
Vega Performance!
Update: The Vega Frontier Edition specifications are certainly impressive. However, these may not be what you see in the consumer cards. This is a creative card, used for development, CAD, scientific applications and more. Can you game on it? AMD say's yes, but it may be pretty expensive!
This card features 64 Next-Generation Compute Units. It can deliver 13 Teraflops of Peak Single-Precision and 32-bit Computer Performance! If that doesn't make sense to you, remember that the GTX 1080 Ti and Titan Xp from Nvidia top out at 11.3TFLOPS and 12TFLOPS respectively. Equipped with 16GB of "high-bandwidth cache" using HBM2, this card differs from gaming GPUs. Note that it's "cache" not "VRAM" and should give you some indication of how this card is designed to be used.
Rumour and speculation are certainly fun. There are a few leaks kicking around for Vega performance so far, but it's so early, and people are likely working with basic engineering samples, pre-release drivers (obviously) and more. When we say take these with a pinch of salt, we mean a huge bucket of salt.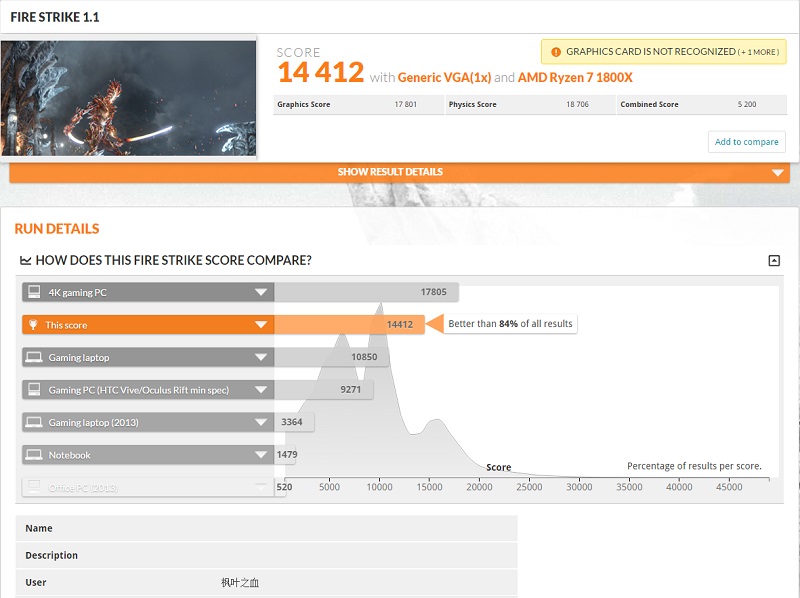 When is AMD Vega Released?
Update: The AMD Vega Frontier Edition will now launch first, most likely at Computex 2017. Although Raja has come forward to say that consumer gaming graphics cards are set to launch "shortly afterwards" so it could be July, even August before gaming cards hit the market.
Firstly, AMD Vega is on track for a Q2 release in 2017, so this would line up with our current understanding that the hardware would be ready and revealed at Computex 2017, which runs from 30th of May to the 1st of June in Taiwan, and eTeknix will be there to catch the latest. Therefore, it means that we don't have long to wait, and this would also mean a launch sometime shortly after the show in June or July.
"AMD's "Vega" GPU architecture is on track to launch in Q2, and has been designed from scratch to address the most data- and visually-intensive next-generation workloads with key architecture advancements including a differentiated memory subsystem, next-generation geometry pipeline, new compute engine and a new pixel engine," said AMD.
Recent rumours do suggest there will be supply issues at launch. This is most likely due to HBM2 manufacturing being difficult, and we expect production would improve, but big hardware changes like this often lead to this problem.
It's also believed that we could see an event this month, on the 16th of May, revealing some new hardware.
"AMD will finally be disclosing more information about its next generation CPU & graphics architectures Vega, Navi and Zen+ in 10 days," WCCFTech's Khalid Moammer reports. "The company is set to unveil its long-term CPU & graphics roadmaps for 2017 and beyond in a little over a week, sources close to AMD have told us."
How much will Vega Cost?
While it's currently unknown exactly how much Vega cards will cost, we will update you as soon as we do. However, what we do know is that these will represent the best cards AMD has to offer. As a result, you can expect them to be priced to reflect that. Most important of all, will they be cheaper or more expensive than Nvidia options? We think they'll be a little more affordable, at least going on what we've learnt from past launches.
Vega and Beyond!
Not excited by Vega? How about their next-generation of cards? AMD has confirmed the Navi will follow Vega, and use a 7nm FinFET design. Beyond that you can expect their "Next Gen" architecture to follow in 2020. More details here.
Last Updated: 18/05/2017