AMD Release FX-9000 Series Processors – FX-9590 and FX-9370
---
---
---
Ryan Martin / 9 years ago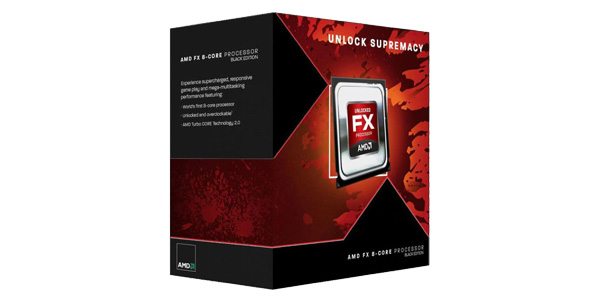 We heard a lot of rumours about AMD preparing some kind of "5GHz" FX processor and quite frankly after the Centurion FX processor rumour fizzled out we thought that was the end of that. But then something more plausible arrived about a week back as we heard about the AMD FX-9000 series CPUs and these were to be 5GHz processors but the 5GHz represented the maximum turbo frequency not the base clock. Today AMD have informed us of the official release of the FX-9000 series of CPUs which indeed are the latter, CPUs capable of reaching a max Turbo of 5GHz.
These new CPUs from AMD consist of the FX-9590 and the FX-9370. According to AMD these new CPUs will become available immediately but the initial release will be through system integrators and OEMs only. AMD did not mention if we will see consumer availability that allows you to buy these units individually but I think we can expect this in the next few months.
The FX-9590 and FX-9370 CPUs both run AMD Turbo Core 3.0 which allows the FX-9590 to turbo up to a maximum 5GHz and the FX-9370 to turbo up to a maximum 4.7GHz. According to AMD both these CPUs have eight Piledriver cores. The base clock of the FX-9590 is 4.7GHz while the base clock of the FX-9370 is 4.4GHz. Both have 8MB of L2 and L3 cache and reportedly support up to DDR3 2400MHz memory.
There is some worry among motherboard vendors as most AM3+ motherboard sockets are only designed for around 125W TDP with a little bit of overclocking headroom. Apparently the FX-9590 and FX-9370 have 220W TDPs meaning motherboard vendors will have to issue a compatibility announcement, some lower end and mid range motherboards just won't have the VRM to support these new CPUs. Although if these CPUs are only released through the OEM system integrator channel, then compatibility issues shouldn't be a problem as system builders will be given details on which motherboards they can put these CPUs in.
Apparently the OEM/System integrator pricing for these CPUs is $800 for the FX-9590 and $400 for the FX-9370.
What are your thoughts on these new CPUs from AMD?
Image courtesy of AMD