AMD Reports Dismal 2015 Financials
---
---
---
Samuel Wan / 6 years ago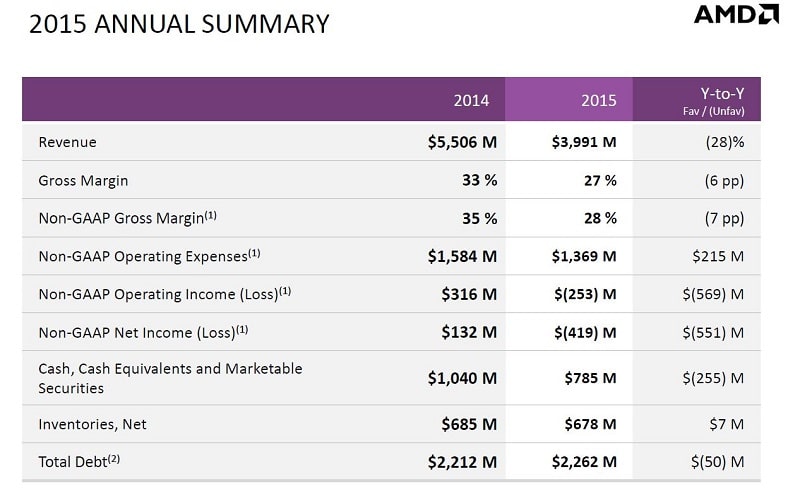 AMD just can't seem to catch a break these days. After seeing Nvidia surging ahead in GPU shipments for the past year and Intel continuing its dominance, we are now seeing it effects on AMD's 2015 financials. Compared to 2014, 2015 was dismal, with a 28% drop in revenue from $5.5 billion to $3.99 billion this year. More importantly, gross margins fell a few percentage points leading to $419 million loss for the year.
2015 stands out in particular as AMD had managed to earn a few million in 2013 and even earn a hundred or so million in 2014, one of their past years in a while. Those successes were driven by the console royalties from Sony and Microsoft and strong GPU sales. This past year has seen console sales continue to slow as their lifecycle grows older, while AMD has released many new GPUs of their own. The GPU side had long been the major income earner and Nvidia hit that hard with their popular GTX 970 and 980 cards with the 970, in particular, being exceptionally well selling. AMD did note that they gained back some market share late in the year with their new Fury lineup.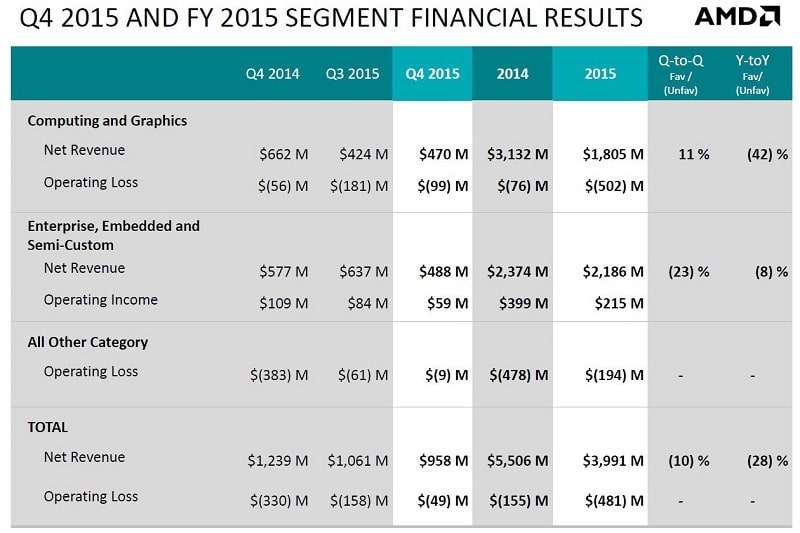 Lack of new CPUs and GPUS led to a 42% drop in Computing and Graphics revenue, largely accounting for the year's loss. 2016 should prove to be much better as expenses are expected to stay the same while new products like Zen and Polaris should drive up revenue. Polaris should help bring AMD back into balance with Nvidia while Zen will finally revive the ailing CPU side. With results as bad as this, it can only get better given what's coming down the pipeline.