AMD Responds to Recent Ashes of the Singularity Benchmark Controversy
---
---
---
Cernescu Andrei / 7 years ago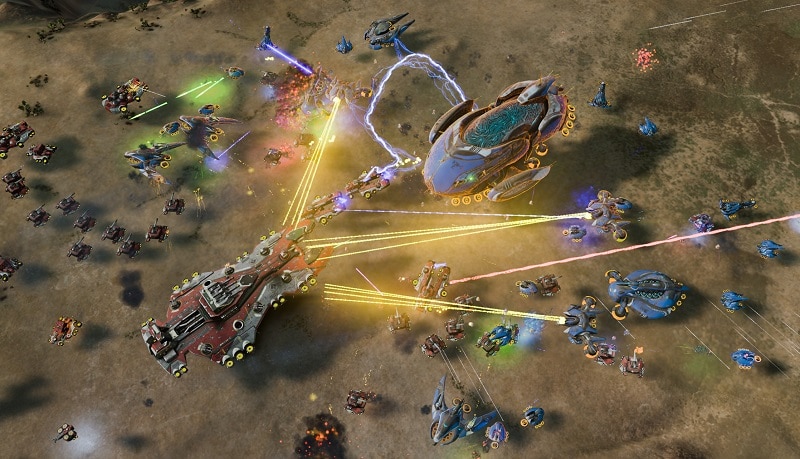 I'm sure that most of you have already seen AMD's Computex presentation by now, especially the part where two RX480 graphics cards were compared to one NVIDIA GTX 1080 using two Ashes of the Singularity benchmarks. The benchmarks saw AMD's Crossfire solution coming ahead of Nvidia's GTX 1080, which is definitely interesting since two of these AMD cards will reportedly cost less than one GTX 1080. However, the community noticed that the two side-by-side benchmarks were not exactly identical when it came to graphics quality, which is why many have speculated that the one for the RX480s was actually running at lower settings when compared to the other.
Not too long ago, AMD's Technical Marketing Lead, Robert Hallock has decided to address this controversy by claiming that NVIDIA's GPUs do not render Ashes of the Singularity properly, which might explain the visual differences spotted during the event.
"Ashes uses procedural generation based on a randomized seed at launch. The benchmark does look slightly different every time it is run. But that, many have noted, does not fully explain the quality difference people noticed.

At present the GTX 1080 is incorrectly executing the terrain shaders responsible for populating the environment with the appropriate amount of snow. The GTX 1080 is doing less work to render AOTS than it otherwise would if the shader were being run properly. Snow is somewhat flat and boring in color compared to shiny rocks, which gives the illusion that less is being rendered, but this is an incorrect interpretation of how the terrain shaders are functioning in this title.

The content being rendered by the RX 480–the one with greater snow coverage in the side-by-side (the left in these images)–is the correct execution of the terrain shaders.

So, even with fudgy image quality on the GTX 1080 that could improve their performance a few percent, dual RX 480 still came out ahead."
Apparently, AMD ran the test ten times before presenting it to the audience in order to make sure that the figures would check out. As for the system that was used for the benchmarks, Robert also went ahead and revealed its exact specifications, as well as the precise results of the testing sessions.
System specs:
CPU: i7 5930K.
RAM: 32GB DDR4-2400Mhz.
Motherboard: Asrock X99M Killer.
GPU config 1: 2x Radeon RX 480 @ PCIE 3.0 x16 for each GPU.
GPU config 2: Founders Edition GTX 1080.
OS: Win 10 64bit.
AMD Driver: 16.30-160525n-230356E.
NV Driver: 368.19.
In Game Settings for both configs: Crazy Settings | 1080P | 8x MSAA | VSYNC OFF
Ashes Game Version: v1.12.19928
Benchmark results:
2x Radeon RX 480 – 62.5 fps | Single Batch GPU Util: 51% | Med Batch GPU Util: 71.9 | Heavy Batch GPU Util: 92.3%
GTX 1080 – 58.7 fps | Single Batch GPU Util: 98.7%| Med Batch GPU Util: 97.9% | Heavy Batch GPU Util: 98.7%.