AMD Roadmap Leak Shows 2nd Gen Ryzen Coming Q1 2018
---
---
---
Ron Perillo / 6 years ago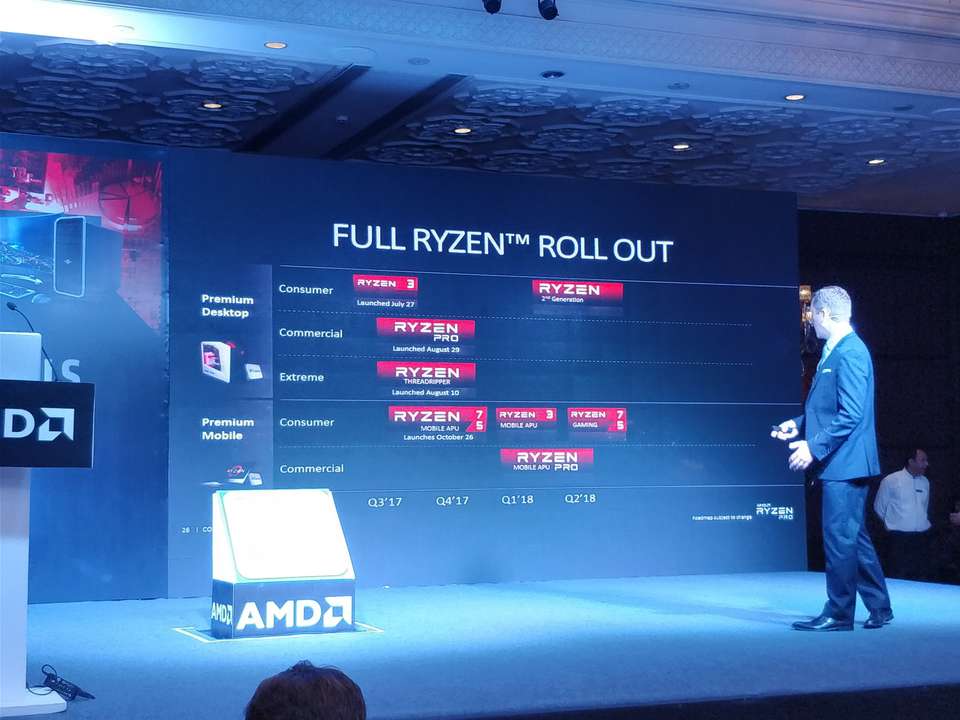 A new roadmap revealing AMD's roll-out for Ryzen has surfaced confirming the launch of the 2nd generation Ryzen CPU within Q1 2018. This is not to be confused with Zen 2, but is rather a Zen+ since it is a refinement of existing 1st generation Ryzen processors. AMD has been open about their plans ever since the initial Ryzen announcement. However, the clear timing is not available until the slide above via moepc.net is revealed from an AMD event.
AMD Processor Roadmap
To clear things up, one must be familiar with the naming scheme first. The current AMD processors available now are called Summit Ridge. These are built using 14nm process, utilizing socket AM4 and have up to 8-cores and 16-threads. The top end processor on this desktop line is the Ryzen 7 1800X which had an introductory price of $499. The Zen+ or the 2nd generation Ryzen processor referred to in the slide above is using a refined process. Although it will actually be using GlobalFoundries' 12LP FinFET technology instead of a 14nm refinement. It will be compatible with existing AM4 sockets while providing a performance uplift over the current AMD Ryzen desktop offerings.
That does not mean that there won't be new motherboards however. According to Digitimes, X470 and B450 motherboards are on schedule as well, with chipsets still designed by ASMedia. However, these will not be available until March 2018. Forwards and backwards compatibility is expected for the desktop CPUs. Although the 2nd gen Ryzen flagships are still going to be 95W TDP CPUs.
Pinnacle Ridge Specifications and Pricing
The following slide above has also leaked out according to KitGuru regarding the performance of these next generation Pinnacle Ridge CPUs. Starting on January 16 it is available for pre-order and will hit stores by February 1st. For the top-end Ryzen 7 desktop processors, the Ryzen 7 2800X replaces the Ryzen 7 1800X, while the 2800 replaces the 1700X and the 2700 replaces the 1700. I've made a table of specifications and pricing comparison below with the existing Ryzen 7 CPUs.

The increased core and thread count is very substantial. It goes from 8C/16T to 12C/24T, as if it is an HEDT processor. However, the much higher base and turbo frequency is hard to ignore as well. Best of all, the prices will remain the same as the launch price of the original line. It sounds almost too good to be true. One would have to wait for more information if this shakes out to be as real as the first slide above. Then again, this might explain why Ryzen prices have been slowly dropping in prices lately.