AMD Snowy Owl Embedded Zen CPUs Leaked
---
---
---
Samuel Wan / 5 years ago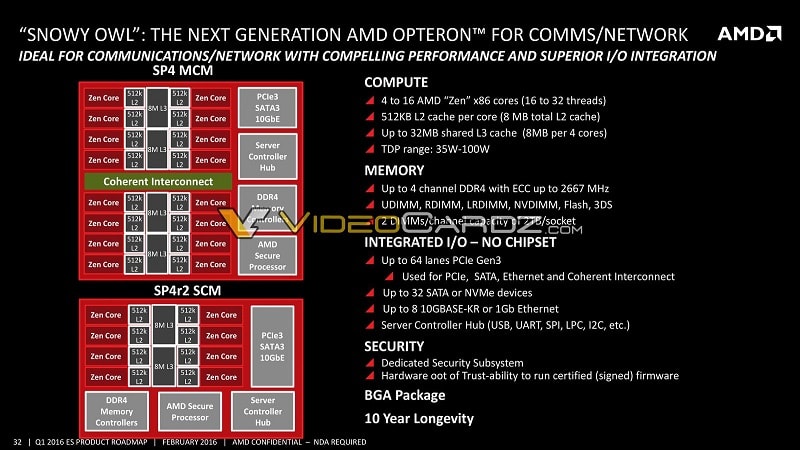 Earlier this year, AMD returned to the CPU market with their new Zen architecture. Due to relatively poor performing processors, the company is moving back into markets they had fallen behind in. The prime candidates were, of course, the staple desktop and enterprise markets. Now, AMD is moving back into the embedded market with Snowy Owl.
The embedded market powers all the mundane computing devices all around us from ATMs to POS and other consumer and business appliances. Despite it's wide scope, it is somewhat hidden from the mainstream. With Snowy Owl, AMD is marking a return to the performance embedded market. The new lineup will use the now familiar EPYC branding starting with the new EPYC 3251 SoC.

AMD Snowy Owl Tackles Intel's Xeon-D
The EPYC 3000 series SoCs will go head to head against Intel's Xeon-D. There will be both multi chip (MCM) and single chip (SCM) variants peaking at 16 cores/32 threads and 8 cores/16 threads respectively. Both series will use the SP4r2 BGA socket with integrated 10GbE and SATA or NVME controllers. Compared to Xeon-D, the core count is higher with more DDR4 channels, PCIe lanes and L3 cache. TDP will range from 35W to 100W to fit a wide performance profile. In keeping with the embedded market demands, AMD is promising a 10-year lifespan for Snowy Owl devices.
With the return to the embedded market, Zen is making its way into almost all of AMD's CPU markets. Due to the nature of the customers, Snowy Owl will have a tough time breaking back in. Customers have a long turn over period before upgrading and highly value consistency. However, AMD will likely compete on both performance and price. Given time, I expect AMD to have a strong showing as they continue to leverage Zen to seize back market share