AMD Unveil Workload Focused Radeon Pro V620 Graphics Card
---
---
---
Mike Sanders / 2 years ago
AMD has announced the release of its new Radeon PRO V620 GPU, built with the latest AMD RDNA 2 architecture which delivers high-performance GPU acceleration for today's demanding cloud workloads including immersive AAA game experiences, intensive 3D workloads, and modern office productivity applications at scale in the cloud.
With its innovative GPU-partitioning capabilities, multi-stream hardware-accelerated encoders, and 32GB GDDR6 memory, the AMD Radeon PRO V620 offers dedicated GPU resources that scale to multiple graphics users, helping ensure cost-effective graphics acceleration for a range of workloads1. Built using the same GPU architecture that powers the latest generation game consoles and PC game experiences, the AMD Radeon PRO V620 GPU is also designed to develop and deliver immersive AAA game experiences.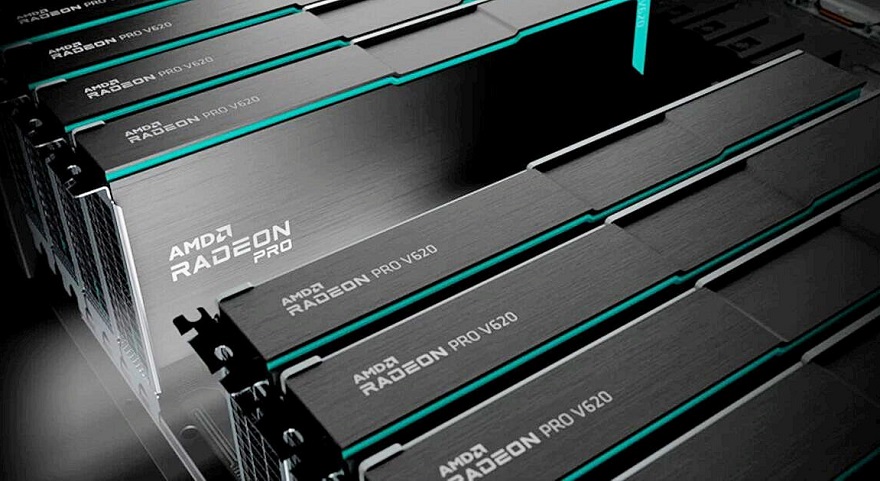 AMD Radeon Pro V620 Graphics Card
The AMD Radeon PRO V620 GPU introduces significant architectural advancements in the form of powerful compute units, a robust visual pipeline, and all new AMD Infinity Cache, enabling high-resolution gaming performance with the latest in visual technologies including Vulkan, DirectX 12 Ultimate and AMD FidelityFX. With the latest virtualization features, as well as AMD Infinity Cache and 32GB of GDDR6 memory, the AMD Radeon PRO V620 helps to deliver efficient and low latency content streaming to multiple simultaneous users, redefining cloud gaming.
Key features of AMD Radeon PRO V620 include:
Powerful Data Center GPU Solution – All new AMD RDNA™ 2 architecture, with 32GB GDDR6 memory and AMD Infinity Cache, as well as dedicated hardware ray tracing deliver remarkable performance for graphics-intensive workloads and games.
Advanced Hardware-Based Security Features – SR-IOV-based GPU virtualization scales to multiple professional graphics users as well as advanced security capabilities, helping protect valuable user data from another user.
Multi-Purpose Flexibility – Designed to support the latest AMD drivers and AMD ROCm™ software to facilitate a range of workloads: cloud gaming, DaaS, WaaS, and ML.
Supported Modern Applications – Full support for DirectX® 12 Ultimate, DirectX®, OpenGL®, WebGL and OpenCL™ to accelerate cinematic games and feature-rich applications and websites.
Specifications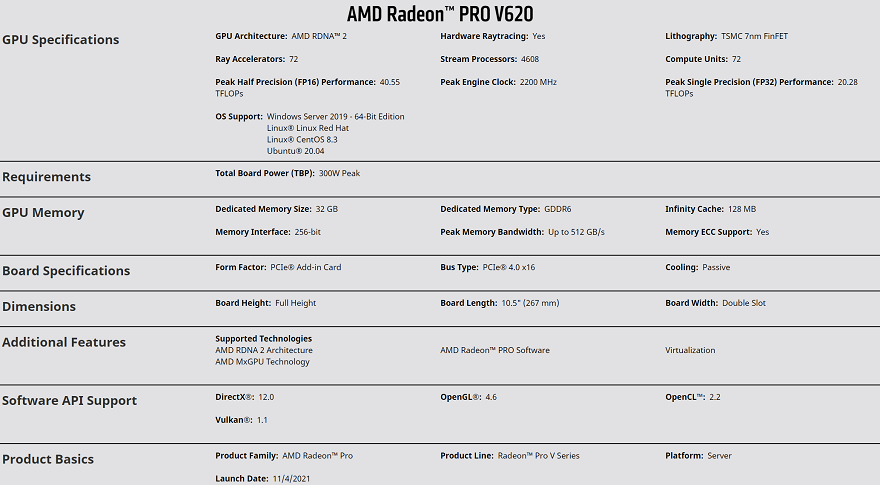 Where Can I Learn More?
Although AMD has confirmed that the Radeon PRO V620 should be hitting retailers imminently, they have not, at least at the time of writing, confirmed how much consumers can expect this to cost. If you do, however, want to learn more about this new graphics card release, you can check out the official product website via the link here!
What do you think? – Let us know in the comments!