AMD Unveils EPYC and Instinct-Powered 'Supercomputing for All'
---
---
---
Ashley Allen / 5 years ago
AMD is launching a new range of high-performance systems powered by its EPYC CPUs and Radeon Instinct GPUs. In fact, the company is hailing the move as delivering 'supercomputing for all', and we can see why: for example, system integrator AMAX is offering the [SMART]Rack P47, which boasts one PFLOPS of single precision compute performance and over 10TB or DDR4 per rack. EPYC is an immense Zen-based x86 server CPU series; for illustration, an EPYC 7601 outperforms Intel's Xeon Platinum 8180M by three-times per-pound/dollar.
Indeed, AMD made the announcement at this week's SuperComputing 17 conference in Colorado, revealing a host of OEM and partner systems, including Asus and Gigabyte. However, Dell's name is notably absent.
Furthermore, AMD unveiled an update to its ROCm open-compute platform for graphics. Version 1.7 includes mGPU support for Vega GPUs, plus support for TensorFlow and Caffe
EPYC and Instinct-Powered AMAX [SMART]Rack P47
The AMAX [SMART]Rack P47 uses 20x Inventec P47 to provide a PetaFLOPS of single precision compute performance. Specifically, one P47 features one 7000-Series EPYC processor, plus four Radeon Instinct MI25 graphics cards; in particular, each MI25 delivers 12.3 TFLOPS of single precision performance. In addition, the [SMART]Rack P47 features HPC-optimised [SMART]DC DCiM software for remote management and monitoring.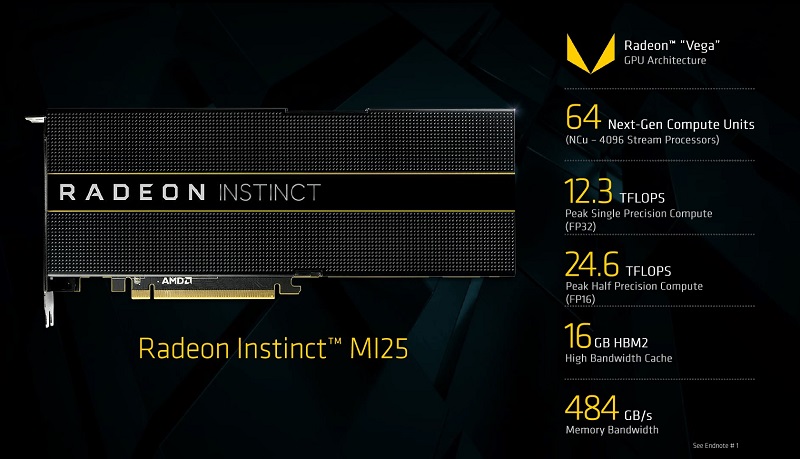 Julia Shih, VP of Business Development, AMAX, says:
"As a high-performance technology provider enabling enterprises to close the gap between scale up performance, compute density and cost, AMAX sees the P47 as a game changer. Starting from a single P47 platform, we can scale upwards to supercomputing-class performance by leveraging AMD EPYC, AMD Radeon Instinct, and the ROCm software platform to support Deep Learning, rendering, and a host of other workloads. The [SMART]Rack P47 is the first turnkey PetaFLOPS-in-a-Rack solution geared towards technical performance and business acceleration, married with ease of use. We are excited to announce that we are now taking pre-orders for both the P47 server and the fully-integrated [SMART]Rack P47, with delivery estimated in Q1 of 2018."
AMD EPYC and Instinct-Powered Supercomputer Providers
The following partners are now offering EPYC and Instinct-based systems or EPYC products:
OEM / ODM
Asus
Gigabyte
HPE
Supermicro
Tyan
Distributors
ASI Computer Technologies
Ingram
Synnex
Tech Data
System Integrators
AMAX
Boston
Boxx
Clustervision
E4
EchoStreams
Equus / ServersDirect
ICC
Koi
Megware
NEC
Penguin
Silicon Mechanics